Imagine a large gymnasium somewhere in Bordeaux, or a salle polyvalente, a multipurpose hall, with a gathering of a hundred Bordelaise winegrowers. They're dressed in jeans and tee shirts, work boots and sweaters. Dirt is their manicure. They chatter about the rainy spring but fine July, the start of veraison, their hopes for the vintage. They talk about rot and pests and global warming, about planting Cabernet on the Right Bank because nowadays it gets ripe — Oo, la vache!

They are all trying ardently to make the best wine possible. They are all worried about the same things. But they don't all farm the same way. Out of one hundred randomly-chosen vignerons, odds are that only ten are farming organically. And biodynamically? Only one.

The narrative, the mythos, is that it's too hard to work sustainably in Bordeaux. It's too wet. There is too much disease pressure. The approach is too arduous, yet yields are lower. Nobody can make a living that way. You must instead rely on the engineering feats and chemical concoctions of what's now called conventional agriculture (but which was once brand new agriculture) to address the vicissitudes of nature and reliably make good wine.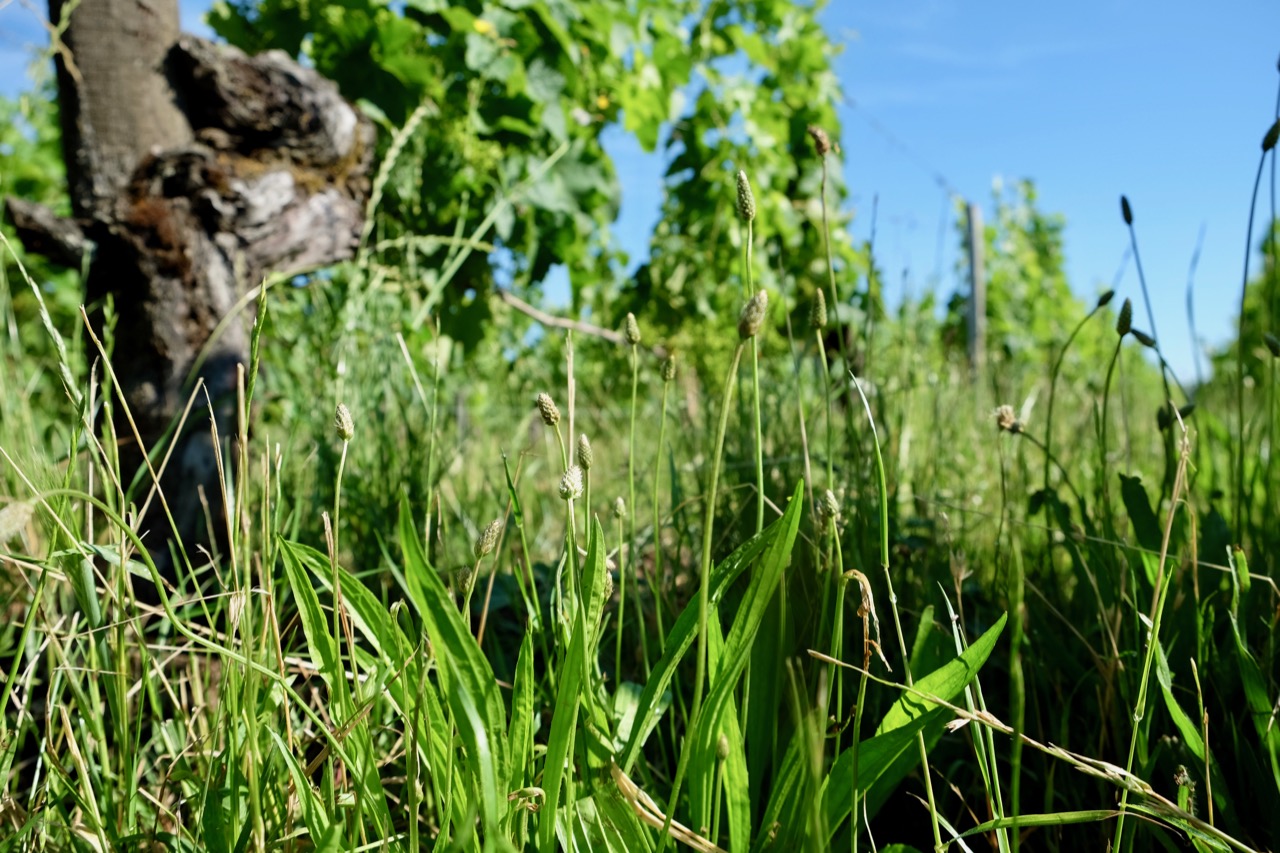 The Bordeaux Wine Council, or CIVB, has acknowledged that while industrial agriculture might be part of Bordeaux's deep history, it should not be part of its bright future. They have begun nudging growers toward an environmental certification program whose protocols limit the use of pesticides, fungicides, and herbicides, promote vineyard biodiversity, and reduce water and energy consumption in the winery. According to Sandrine Darriet-Froléon of the CIVB, who is also part owner of Château Dauphiné-Rondillon in Loupiac, sixty percent of growers are now pursuing some type of ecological initiative on their estates.
But full-bore (and certified) ecological farming remains the exception in Bordeaux, so rare that statistically it follows a power law. Out of the 100,000 hectares under vine, only 10,000 are organic, and only about 1,000 are biodynamic. The proportions roughly hold true among the vignerons, too. Of 6,300 estates, 470 are farmed organically, while fewer than 50 are biodynamic. In Bordeaux, biodynamics is the One Percent.
A handful of the grand châteaux have gone biodynamic, or are moving that way, like Pontet-Canet, Latour, d'Yquem, and Palmer. These large houses have the resources to support the more labor-intensive viticultural methods, and their bottle pricing assures continued solvency in cycles with reduced yield.
But Bordeaux is a region of smaller estates, averaging just 18 hectares. Among the tiny portion of those that are pursuing biodynamics, we find families living amidst their vines. They want to keep the poisons of chemical viticulture away from their children and animals. Some are in their –nth generation, and biodynamic approaches feel more in keeping with the practices of their forebears.
But if they are looking backward, they are equally looking forward, adapting their approach to make better wine. They are, of necessity, both philosophical and practical. Below are three.
Changing the system at Clos du Jaugueyron
Michel Théron and Stéphanie Destruhaut of Clos du Jaugueyron farm biodynamically in Haut Médoc and Margaux. I met with them recently at their home estate in Arsac, ten kilometers south of the town of Margaux. In 1988, Théron left his parents' estate in the Minervois to study winemaking in Bordeaux. The plan was to return to work his family's vines, but seasonal stints at a vineyard in Cantenac turned into a permanent gig when the owner offered pay for his schooling. Then Théron met Destruhaut, a bordelaise native who would soon become his wife and business partner.
The couple first acquired a small plot in Cantenac in 1993, but over time have expanded their holdings to nine hectares of Cabernet Sauvignon, Merlot, Teinturier, and Syrah. Although the vineyards had originally been conventionally managed, Théron wanted to "change the system" by introducing a more holistic way of farming. After tasting a range of conventional, organic, and biodynamic wines, he settled on biodynamics. "The wines had more freshness," he told me, and he also valued the soil-centric philosophy, the approach that favors polyculture and biodiversity.
They now make about three thousand cases each year, although in 2015, a good vintage, it was four thousand. I found the wines both sinewy and silken; they have a chewy core wreathed with herb-steeped fruits, but earn vitality from a sluice of finishing acidity. They feel alive but with long life ahead.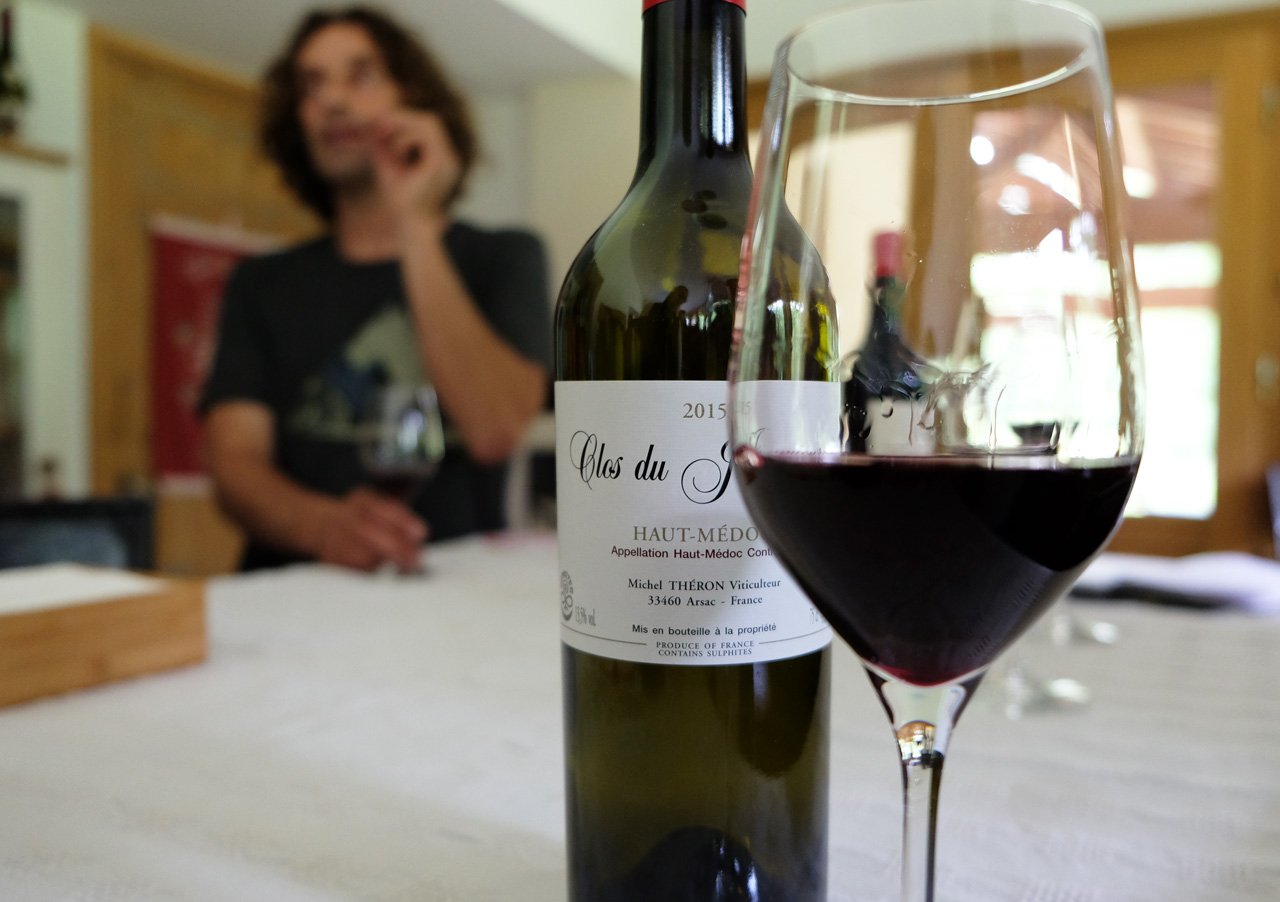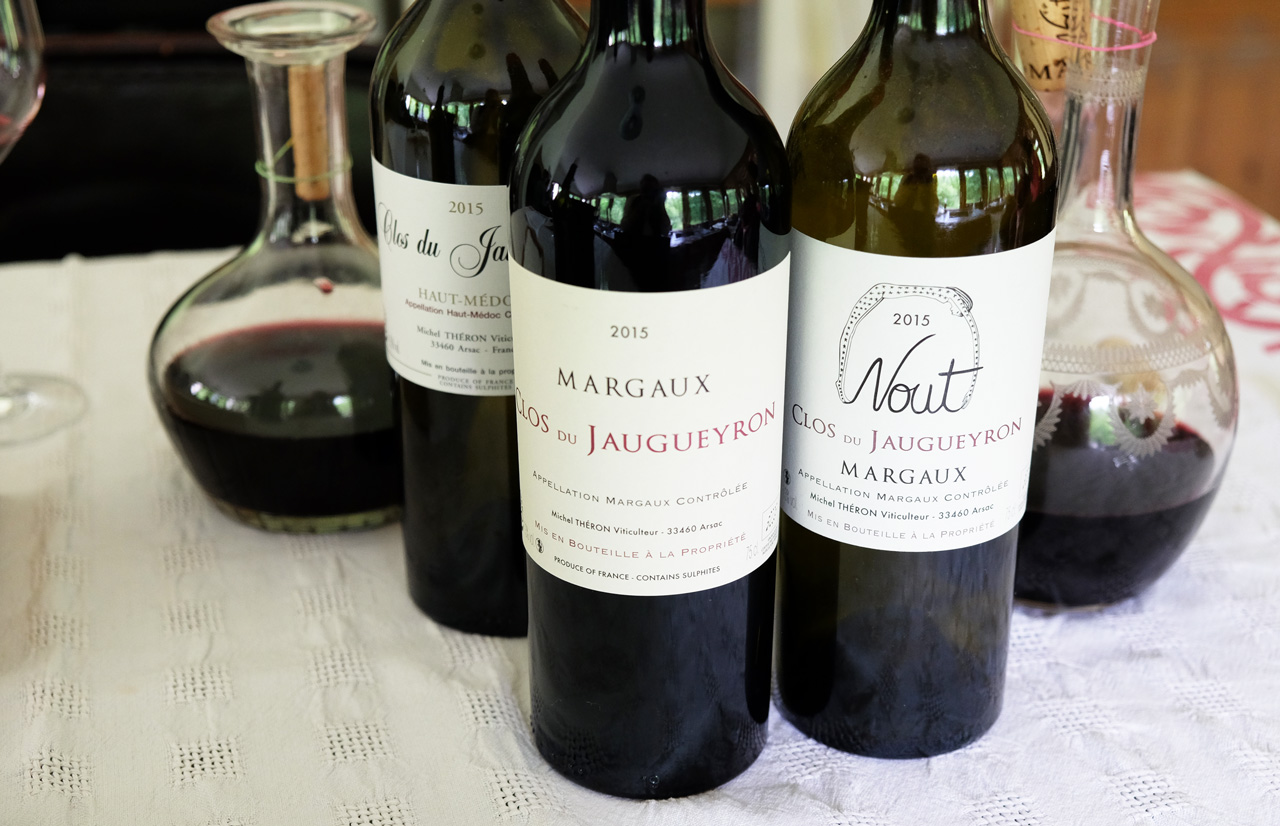 Théron foregoes any anti-botrytis treatments in his vineyard because he's found it thickens the grape skins and inhibits ripening. This allows him to pick earlier than his neighbors, reducing the risks of late season rot. The wines ferment with ambient cultures, then undergo a reductive élevage, first in 400-liter barrels and then in concrete. Théron believes this shores them up for long aging.
"I like the magnetism" of the concrete, he explained, mysteriously. Then he shrugged. "I prefer the taste."
Three generations at Château Brethous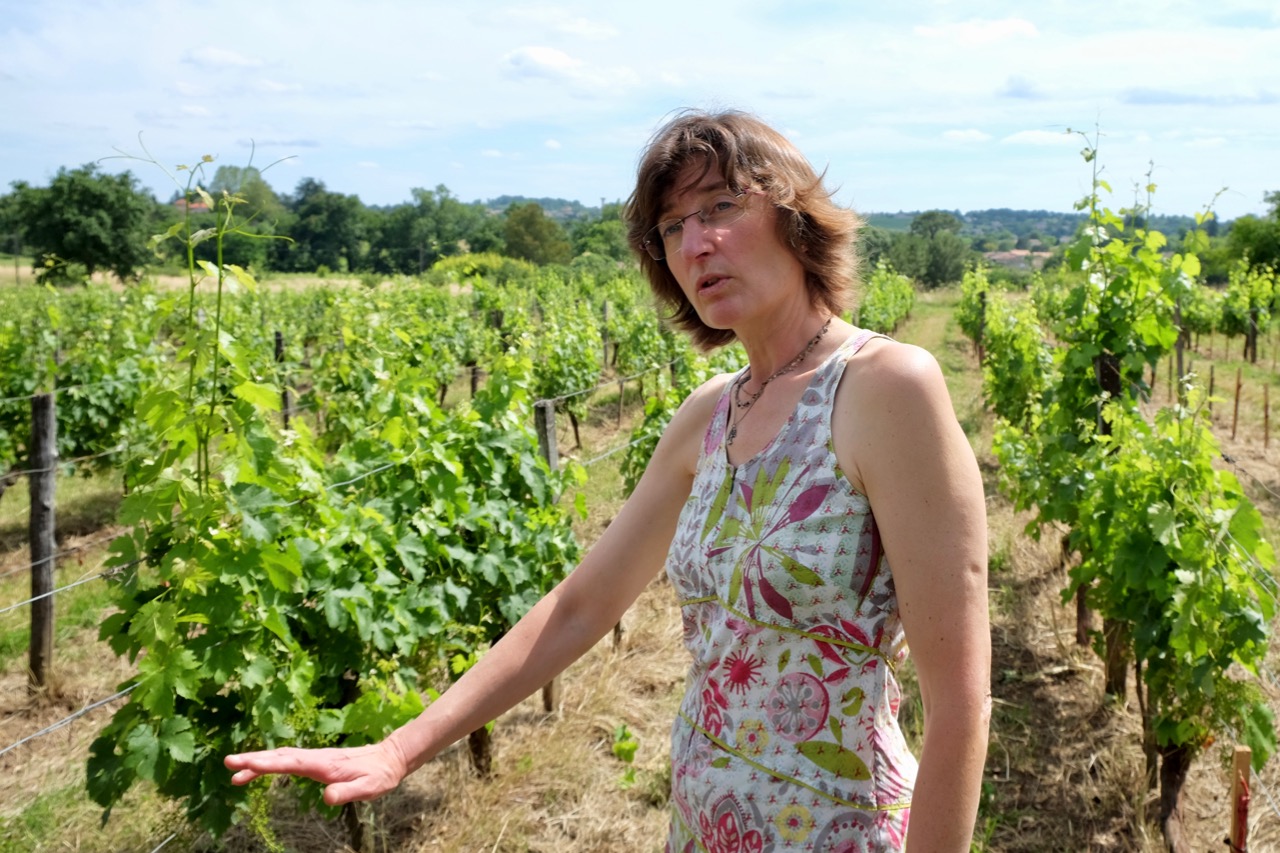 Cécile Mallié Verdier farms biodynamically at Château Brethous in Cadillac Côtes de Bordeaux. Verdier's parents purchased the 42-hectare estate in 1963, and her parents still live on-site, alongside Verdier and her husband, Thierry Mallié, and their children. In 2008, Verdier began to convert the 14-hectare vineyard to organic production and became certified organic in 2012. More recently she has transitioned the site to biodynamics, but she does not certify the wines with Demeter, having embraced the practices but not the paperwork.
I've visited Brethous twice, first in 2016 and again this past June. When I arrived recently the vineyard had just been mowed. "This year has been very good for grass!" laughed Verdier. Still, the vines felt alive, their leaves lightly dusted with bentonite clay, which Verdier uses against pests. It doesn't kill them, it just confuses them, she says (fine by her). The majority of her estate is Merlot, with a little Malbec, Cabernet Franc, and Cabernet Sauvignon. Yields are a modest 42 hectoliters per hectare; a back-of-the-envelope calculation puts her production at about 6,500 cases per year.
Verdier is light-handed in her chai. Even her prestige wine sees only a year of oak, as she prefers to let the fruit's tannins carry the wine. Her varietal Merlot is leafy and cherry-scented with hints of violets, rose petals, and lavender.
Verdier also makes a charming strawberry-red Clairet, a cuvée of Merlot, Malbec, and Cabernet Franc that macerates for three days. This utterly drinkable pink wine is redolent of rose hips and hibiscus, and clocks in at just 12% alcohol.
"The secret is to work," she said. "To work even if it's Sunday. That's possible for us because we live here."
A family story at Roland la Garde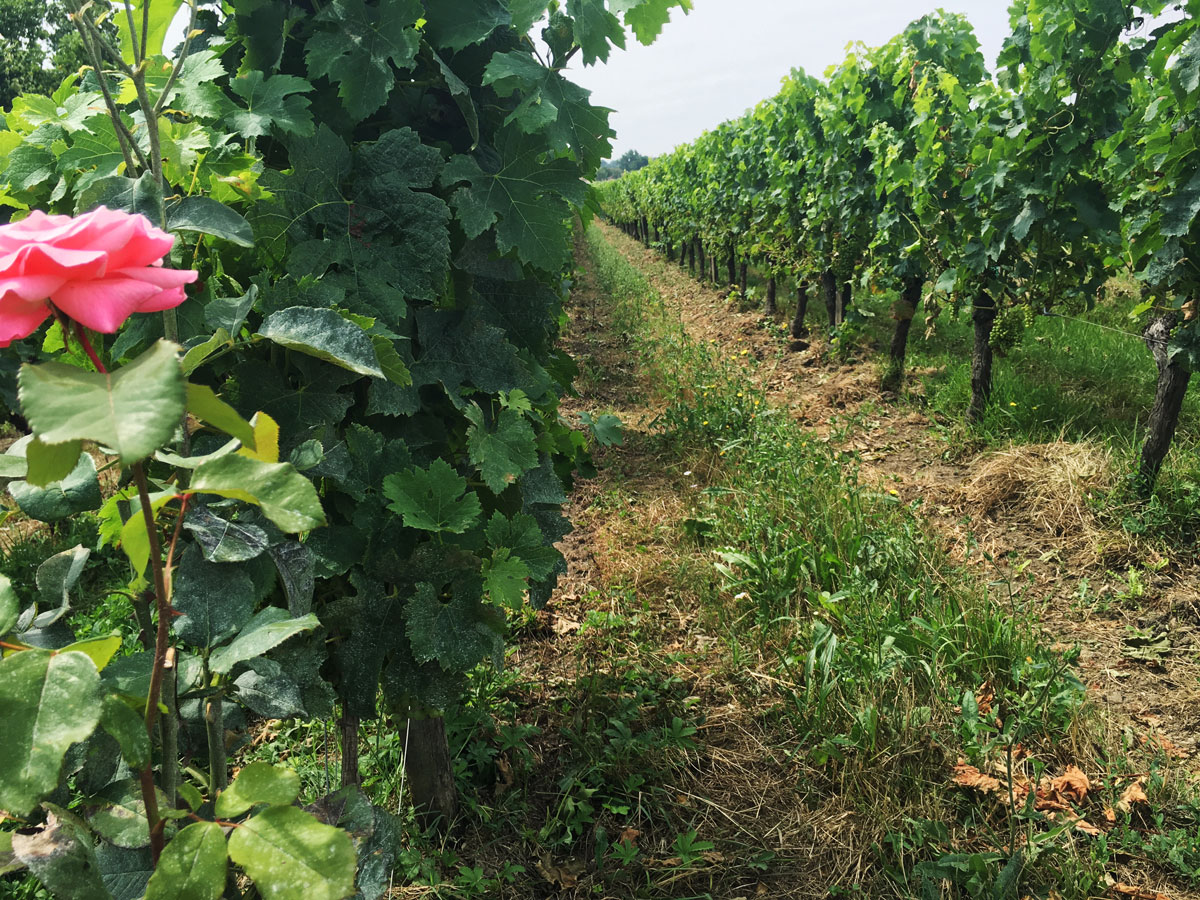 Château Roland la Garde, in Blaye Côtes de Bordeaux, is also among the One Percent. Bruno and Guillaume Martin, a father-son team in its seventh and eighth generations, manage 39 hectares, mostly Merlot and Cabernet Sauvignon with some Sauvignon Blanc and Muscadelle. They've been farming biodynamically since 2008 and Demeter certified since 2014, producing about 15,000 cases per year. The reds are deeply colored, fragrant of spice and black currants, and the whites are gingery and glittery.
The holistic approaches of biodynamics don't feel new to them, because their grandfather also farmed with a strong environmental ethos. "He was concerned for the air, the ground, and everything around us," Guillaume Martin told me, when I visited in 2016. "For him, it was the real job of a farmer to cultivate the ground and not kill everything. He followed the classic route of farming."
The Martins limit vineyard applications of copper sulfate (3 kilos per hectare are allowed each year, versus 6 for organics); copper is persistent in the soil and toxic to soil organisms — in other words, bad for the long-term health of "the ground." They apply biodynamic preps only as needed.
The pair also like to innovate by looking backward. They've recently been using clay amphorae to age Malbec, Merlot, Cabernet Sauvignon, and even Sauvignon blanc with skin contact. They believe that long macerations are about honoring what nature has provided. "We didn't invent this. It's been used for centuries," said Guillaume. These experiments keep the work fresh and advance the narrative. "If you do the same each year, it's boring," he said.
His father, Bruno, summed it up: "Chaque millésime, c'est notre histoire" — Every vintage is our story.
Many thanks to Wine Business, Wine Industry Insight, Alder Yarrow/Vinography, and Terroirist for recommending this article to their readers.
I'm grateful to the CIVB and the Côtes de Bordeaux for sponsoring my research travel. All wines were samples for review.