"I like to make cider because I like to drink cider!" Brad Koehler professed, as we sat down for a video interview in his modest tasting room in Cornwall, Vermont. Outside, the humid mid-July morning shimmered in the leaves of Windfall Orchard's two hundred mature apple trees. The day promised to be fine and warm, a stark contrast to my first visit with Koehler last January, with the landscape draped in a mantle of snow and temperatures dipping below zero Fahrenheit. Vermont is a land of extremes.

And yet this site, at the southern flank of the Lake Champlain Valley, is more fertile and verdant than the rest of the state and a little warmer, too, thanks to the lake effect. Koehler even magically keeps alive a drift of French lavender — no small feat given the stark Vermont winters.
"Perhaps some of the best apples in the world are grown in the Hudson Valley and the Champlain Valley," Koehler told me, making it a fine place for cider production. "We have an over 200-year history of growing apples, and it follows the tradition of cider making to the revolutionary days, where cider was the most prominently drunk beverage."
The orchard, planted here a century ago, boasts eighty heirloom apple varieties, along with a scattering of pear, cherry, and stone fruit trees. Koehler sells his yield into local markets, but reserves enough to produce dry cider and perry, plus a sweet ice cider.
Windfall is one of a small number of orchards in Vermont with fruit suitable for cider production. "In making a well-balanced, craft cider, there are different components," said Koehler. "There's sweetness, sourness or acidity, and bitterness, or tannin. In order for a cider to be well balanced, you need a combination of those different components. Most traditional dessert varieties have lots of sugar, a fair amount of acid, and no tannin. It doesn't produce a very good cider. The tannin is what creates the different flavor components as well as the ability of the cider to age well."
Koehler (right) giving me a tour of his impressive vegetable garden
Demand for ancient tannic apples is growing as dry heirloom ciders begin to capture American palates. Nearby, in Hinesburg, Jessika Yates of Yates Family Orchard has begun grafting some of her ancient dessert fruit to cider varieties. Down in Dummerston, some of Scott Farm's 130 varieties end up in Vermont cider makers' presses. Up at the Canadian border, in West Charleston, Eleanor Léger of Eden planted a cider orchard de novo to produce her ice and dry ciders (read my interview with Léger). But there are still only a handful of producers like Windfall and Eden making hard cider from their own estate fruit.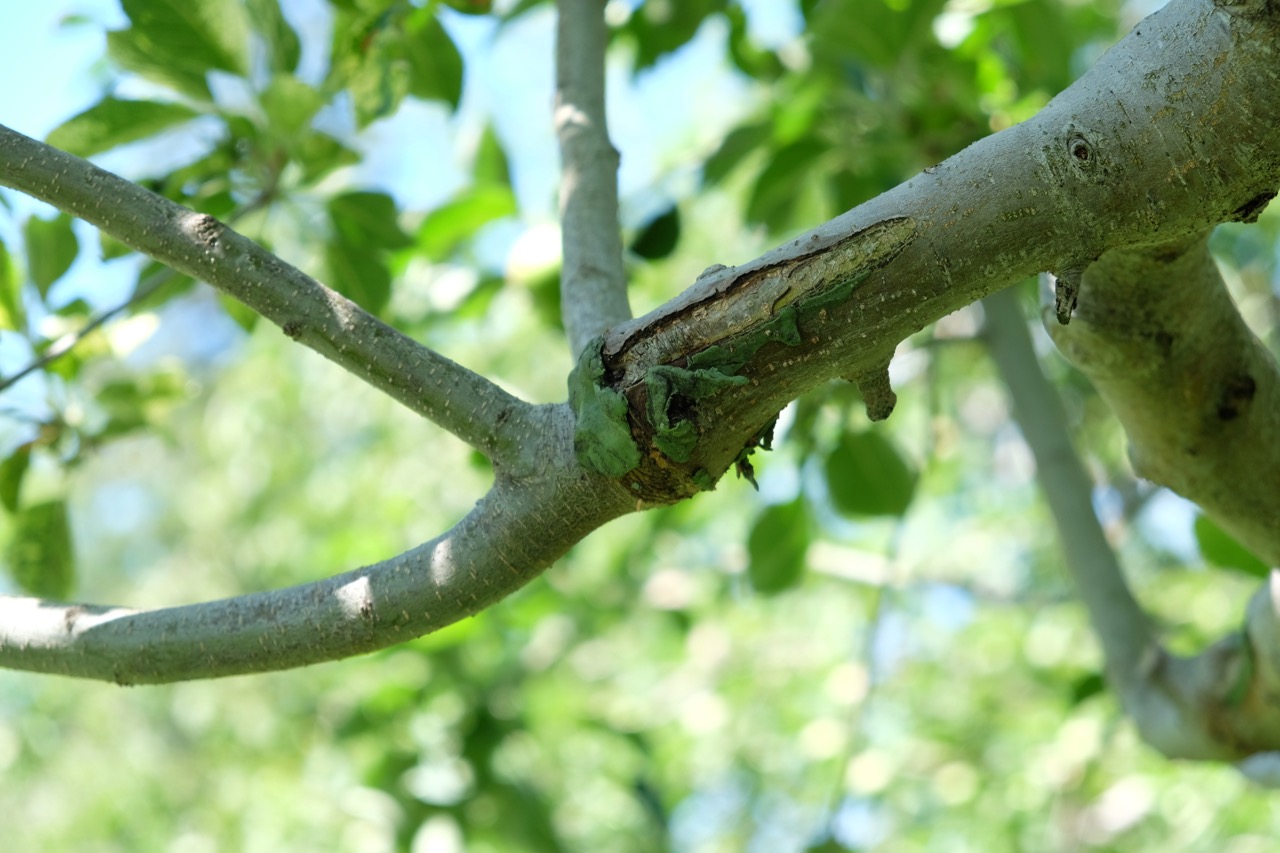 Koehler is in currently the midst of a ten-year project to transform more of his wood into cider. The grafting process is complex: it must be done during a short window in fickle spring, and the lead time is long. "It's usually a three-year cycle to graft the tree, and then about another three years to get full production," he said. "So it's a six-year window from start to finish, in terms of making that McIntosh tree produce all Golden Russet."
The grafting project is also critical commercially. While dessert fruit fetches about $5 per bushel, cider apples command prices of $18 to $25.
Although Windfall does have a small tasting room on-site, along with a splendid home-built pizza oven for pop-ups, there is no production facility here. Instead, fruit is trucked to Eden where Léger and cider maker Garrett Huber transform it according to Koehler's specifications. Fruit is milled and pressed at harvest only, never out of cold storage, then ferments with ambient wild cultures. The cider and perry are bottle-conditioned for sparkle and released without disgorgment.
Koehler's dry cider production is tiny by modern commercial standards, only about 275 gallons per year. It's a blend of thirty apple varieties, and its pale yellow robe is lightly scented of ginger and yellow apple. Its savory core has scintillant acidity, while the final pour is cloudier, delivering a mouthful of ripe apple touched with lemony acidity. (Read my full review.)
Koehler makes even less of his perry, only 80 to 100 gallons each year. It is a rarity, made with 90 percent pears supplemented with ten percent Hitchcock apples; most commercial perries have vastly more apples because of the scarcity of suitable pears. Koehler uses a mix of twelve pear varieties, including Comice, Seckel, Bartlett, and Asian, along with tannic wild pears foraged from 100-year-old trees south of his site. Flowery and aromatic, it reads like a melange of quince paste and russet apple, and is nicely tart with a bracing finish.
Windfall's ice cider is produced every other year, a result of the biennial boom-bust cycle of apple yields. Like the dry cider, it's made with about thirty varieties, mostly late season heirlooms. Koehler produces about 100 gallons, bottling it in 375 ml glass. It is a golden elixir, concentrated and apple-y but rescued from treacly sweetness by snappy tannins and a flash of flowery red-fruited acidity. It's a terrific pour with apple desserts.
Windfall's ciders are all gastronomic, meant to be served with food. That's one reason Koehler, who is also an experienced chef, likes to hold the pop-ups at the orchard: They show these ciders at their best. That's not always possible at a consumer tasting or farmers market, so in those cases he tries to get the customer to imagine it on the table, "to conjure a notion in their head, while they're tasting the cider, about what it might taste like with a piece of aged cheddar, or a piece of pork loin, or a raw oyster," he said. Although "ideally, the best educational settings are where we can do both."
Like many other cider makers of the current fine cider revolution, Koehler is always striving to raise consumer awareness and understanding of the beverage. One of his biggest obstacles? "To educate the customer that a dry cider can be really lovely and refreshing in the backdrop where the overwhelming majority of the cider on the market is a pretty sweet and pretty highly carbonated profile."
"Education is probably one of our great challenges," he said. "One customer at a time."
Many thanks to Terroirist and Wine Business for recommending this article to their readers.