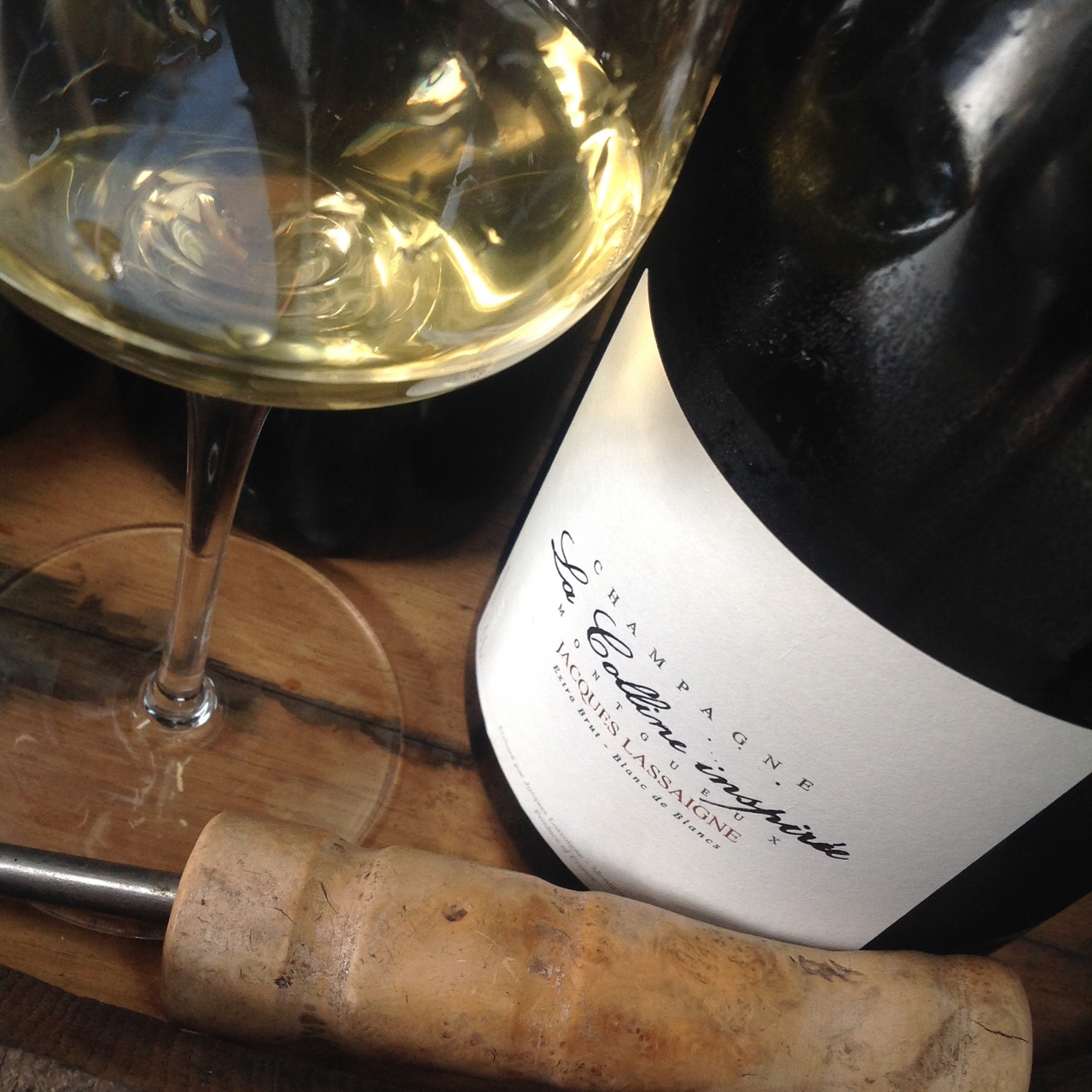 On a stainless day in early September, I visited Emmanuel Lassaigne of Champagne Jacques Lassaigne in Montgueux. It was the first day of harvest, and as I arrived Emmanuel and colleagues were beginning to load a traditional vertical Champagne press with Chardonnay clusters.
As they worked they flicked out stems and leaves, twigs, diminutive yellow snails, ignoring the busy ladybugs dotting the green berries with spots of inky red. I made this short video of the process:

Pressing Chardonnay at Champagne Jacques Lassaigne in a traditional vertical press, 2 September 2015
Montgueux, in Champagne's Aube département, is a bit of an outlier. The Aube is generally Pinot Noir country, given its slightly warmer clime and soils of older, fractured limestone. But beneath Montgueux itself lies an anomalous mass of chalk, making it more akin to the soils of the Côtes des Blancs 100 km north. Here, Chardonnay is the grape of choice, and the terroir has earned Montgueux the moniker "the Montrachet of Champagne."
Emmanuel Lassaigne, son of founder Jacques, owns 4.7 HA of Chardonnay vines here, and also buys fruit from selected neighbors. In Champagne parlance this makes him a "house" not a "grower," because grower Champagne must be made only from estate fruit.
But Lassaigne is perceived as a grower in part because of his small size, and in part because of his profoundly old-school attitude. He takes what the vintage hands him, vinifies parcels separately, and opts not to smooth the wine into a consistent style, year after year.
Lassaigne's vineyard was planted in 1954 and 55—in other words, it's old. "It's not good for quantity, but it's good for aromas," he told me. He's meticulous about viticultural practices, and buys fruit only from growers whose farming he trusts. This adds cost, but it pays off in quality.
"I pay more because I want to pay more. It's important to pay more," he said. "It's not a cooperative"—not a large group of farmers pooling their fruit, rendering all of their bottlings the same. Quality matters, and regionality matters, too. "I want to make wine from this village," he said.
Lassaigne adds only a tiny bit of sulfur to his Chardonnay just after pressing to preserve the clarity of the must, then never again. Wine is moved by gravity. Lots are aged in a mix of stainless and new and neutral barrels, but oak effects are subtle and never the main point.
More surprisingly, disgorgement is all done by hand—very rare in Champagne—because that minimizes the need to top up bottles with wine and, critically, sugar. Dosage in his wines is minimal or zero. (Watch this video of Emmanuel manually disgorging a bottle.)
I asked Lassaigne to say more about his non-interventionist approach. Why no sulfur, no sugar?
"No sulfur, because you want to drink it, and if there's a lot of sulfur, you can't," he said plainly.
"No sugar, because if you have sugar in your mouth, you have"—he swiped his hand sideways across his lips—"something wrong… I don't know how to say it in English."
How do you say it in French? I asked.
"I don't know!" he said, laughing.
Tasting his wines that day, what struck me most about them is their plangent clarity. They seem to shine with an almost vitreous luster. They are transparent, like glass. There is nothing in the way of the wine, or in the way within the wine. There is no sulfurous heat, no brimstone. They're cooling, salty, too, and almost bitter. Sipping them feels like holding seashells in my mouth. I loved them.
I asked Lassaigne about his biggest challenges. He paused. "What I do here is always in the limit," he said at last. "We don't use any products. Yields are low, because of the culture"—meaning philosophy, approach, stylistic attitude. "It's a choice. But, it's always at the limit."
So, why work this way, I asked, if it all feels so knife-edged?
"Because it's challenging!" he said. "And challenging is very interesting. Doing the same thing is boring."
TASTING NOTES
NV Champagne Jacques Lassaigne "Les Vins de Montgueux" Champagne Brut Nature
A zero dosage mix of 2012, 2011, and 2010 base wines. A perfume of sweet orange flowers, apricots, and almond paste yields to a body that's savory and clattery, like shells clacking together in your mouth. Its green tea, hoppy bitterness finishes with salted herbs.
NV Champagne Jacques Lassaigne "Le Cotet" Champagne Extra Brut
Lassaigne disgorged this bottle for the tasting, ergo no dosage. Ninety percent of blend derives from the 2012 vintage, with reserve wine from 2008, 2006, 2004, and 2002. It's linear and focused, and snaps at the tongue like a flint striking rock. There is also chalk, salt, a flame of green acid. Not about fruit.
2007 Champagne Jacques Lassaigne Champagne Extra Brut
Again, just disgorged, so no dosage. This is a prismatic, citrus garden of a wine steeped in Mandarin orange peel, orange-ginger, and lemon custard. Geometric on the palate but with salted hazelnuts at its edges.
NV Champagne Jacques Lassaigne "La Colline Inspirée" Champagne Extra Brut (magnum)
This wine was vinified in barrels and is a blend of the 2011, 2010, and 2009 vintages. It's piquant, with white pepper, ginger, nutmeg, and grass. The body is clean, angular, and salty, and reads almost like lager beer. The white spices return at the finish.
2010 Champagne Jacques Lassaigne "Haut Revers du Chutat" Lieu Dit à Montgueux Blanc Coteaux Champenois
This is a still wine. With a little air it begins to read like a Puligny-Montrachet, slightly oxidative but with a balance of fine flowers and spice, minerals and crunch.
NV Champagne Jacques Lassaigne Rosé Champagne
Emmanuel no longer produces this wine, which is a blend of 85 percent Chardonnay and 15 percent Pinot Noir. The scent mingles melon, pink grapefruit, and cedar, and the body suggests a sweet pine needle green-ness. There is no fruit to speak of on the palate; what dominates is—as with all of his wines—minerals, minerals, minerals.
Travel was sponsored by the CIVC and the U.S. Champagne Bureau. All wines were tasted at the winery and were media samples for review. Lassaigne's East Coast importer is Jenny and François.
View my Sample and Travel Policy.
Follow me on Twitter, Facebook, Instagram, and Delectable.