Terroir Review aims to tackle food's most important questions, to stimulate both appetite and mind.
Terroir Review is a publication about nature, culture, food, wine, and place. Part creative nonfiction journal, part food magazine, we focus on terroir-driven foods and the people who make them.
We are headquartered in northern New England, but the editorial scope is truly global, highlighting international foodways and the people who labor to reimagine them for modern palates.
Launched in 2008, the site rapidly grew to become a respected voice in independent wine journalism, winning awards and accolades for its feature writing, wine reviews, and commitment to journalistic and creative excellence. View all awards and accolades.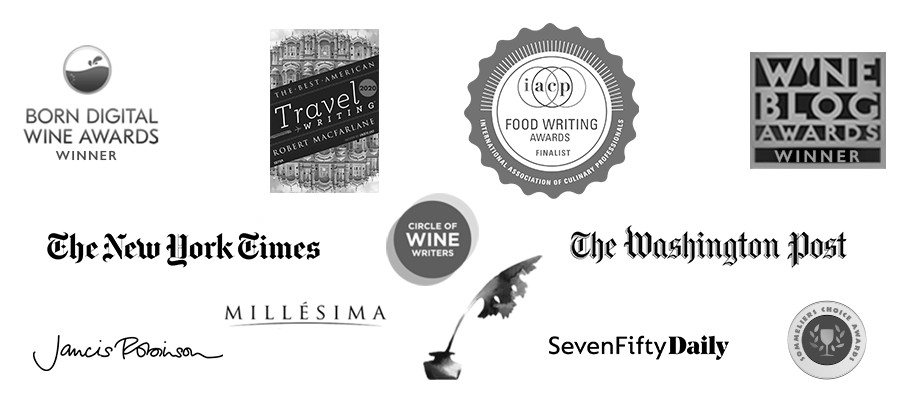 About Meg Maker
Meg Maker is founder and publisher of Terroir Review. She travels extensively to taste with producers, hear their stories, and see first-hand what links them to their land.
Meg's interest in food, agriculture, nature, and place was first sparked after college during the years she lived on a smallholder farm in New Hampshire. There, five unrelated householders maintained a huge organic garden of fresh and storage crops, raised hens for eggs, and cut and split nine cords of wood to heat their leaky farmhouse. She and her husband now live within four miles of this farm and continue to grow food to supply their table.
Although she was academically trained as a fine artist and art historian, these early agricultural experiences prompted her to pursue further coursework in molecular biology, ecology, botany, and plant physiology so she could gain deeper perspective on the natural forces at work in farm and field. Later, she completed a Master's degree in creative writing, focusing on the artful craft of telling true stories. It was during this graduate work that she became interested in food generally and wine specifically as lenses through which to look at issues of culture, history, tradition, and modernism.
Since 2009, Meg has traveled routinely throughout Europe and North and South America to research local wine and gastronomy traditions. She has developed special expertise in the wines of France, Italy, Spain, Portugal, California, Oregon, Washington, New York, and Vermont. Her research, criticism, and storytelling are driven by support for organic, sustainable, and regenerative agricultural practices, and she valorizes the work especially of small farmer-producers. Also a cheese expert, she's an ardent proponent of American farmstead and artisan cheeses. Find a full list of her freelance clips on her personal website, Megmaker.com.
For two years, Meg served as the communications and consumer marketing director for Bonny Doon Vineyard and its iconoclastic winemaker, Randall Grahm. Since 2012, she has worked as a freelance writer and independent editorial consultant, helping organizations and individuals focus their writing on the stories and ideas that matter most to readers. She has helped launch four wine publications in addition to Terroir Review.
Meg has contributed features, commentary, criticism, and poetry to myriad wine and food publications, including Pix/The Drop, Art of Eating, Trink, Serious Eats, Alimentum, Meininger's Wine Business International, Edible Communities, Somm Journal, Tasting Panel, Beverage Media, Palate Press, and others. Her work has won praise in The New York Times, Vinography, Terroirist, and elsewhere, and her efforts to decolonize and expand the lexicon of wine have been covered by The Washington Post, SevenFifty Daily, Jancisrobinson.com, and other outlets. Meg has earned first place prizes and been finalist in the Wine Blog Awards and Born Digital Wine Awards, and was Finalist for the 2022 IACP Food Writing Award for Beverage Focused Column. One essay from Terroir Review, Barefoot in the Douro, was listed as Notable in Best American Travel Writing 2020.
Meg has spoken and served as panelist or presenter at international conferences, discussing contemporary ideas about writing, the editorial experience, wine criticism, and terroir. Recent venues include Unified Symposium, Vinitaly/Wine2Wine Verona, Top Drop Vancouver, CiderCon, and the Wine Media Conferences.
Meg earned a Bachelor's degree summa cum laude and Phi Beta Kappa in Visual Studies, and a Master's degree in Liberal Studies/Creative Writing, both from Dartmouth, where she was awarded the Adelbert Ames Fine Arts Prize and the Master's Thesis Excellence Award for Creative Writing. She is an active fine art painter, illustrator, and photographer and has served on the board of directors of AVA Gallery and Art Center. She's also a Certified Specialist of Wine, is Hon. Secretary of the Circle of Wine Writers, and has been a fellow at the Symposium for Professional Wine Writers.
Land Acknowledgement
Meg Maker is a settler who lives and works on the land of the Western Abenaki, close to the long river these original inhabitants called Kwanitekw. She acknowledges that her ancestor, Pierre Piché, emigrated from France in 1605 to work in the fur trade on the land of the Cree people in what is now Québec, and that subsequent generations of her family inhabited the land of the Eastern Abenaki, specifically of the Kennebec and Androscoggin in what is now Maine. These territories remain unceded, and the first people continue to live and thrive in this region despite generations of displacement and dispossession.
Territory and culture are inseparable. Humans are integral to the concept of terroir, as agriculture, hunting, foraging, and wild-crafting practices create a dialog with the land that is circular and self-reinforcing. The original inhabitants shared knowledge and techniques of their foodways with the new settlers, offering seeds and plants and technologies for hunting, fishing, farming, and maple sugaring. Many of the beloved contemporary foods of this region are rooted in these ancient practices.
Terroir Review acknowledges the authority and territorial legacy of indigenous peoples worldwide, and commits to interrogating contemporary foodways in light of these traditions.
Connect
Learn more about Meg on her personal website, Megmaker.com, and follow her @megmaker on Instagram, Facebook, Bluesky, Threads, Mastodon, and LinkedIn.
Follow Terroir Review on Instagram.
Or just get in touch.