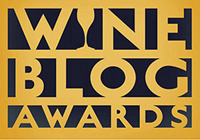 I'm surprised and pleased to announce that a story I wrote recently for Palate Press has been selected as a finalist for "Best Blog Post of 2012."
The story was one of five finalists chosen as outstanding examples of feature writing on wine and wine-related topics. This is a new category for the Wine Blog Awards, and it reflects the organizer's aspiration to recognize individual stories as well as complete online publications.
In making their selections, judges considered the "quality of the writing, the expression of the blogger's unique voice, and insightful expression by the writer." All of the selected stories are fine examples of the genre, and I'm honored my article is among them.
My piece, "You Just Opened a What? Tips to Make Food More Wine-Friendly," was a companion to an earlier story on wine and food pairing. Together these articles reflect both my belief that wine and food should be enjoyed together, and my passion for helping others learn how to enhance that enjoyment.
The award process is now open to popular vote. If you enjoy my writing, I welcome your support. Polls are open for only about a week, through 26 July 2012. Please cast your vote here. And thank you.