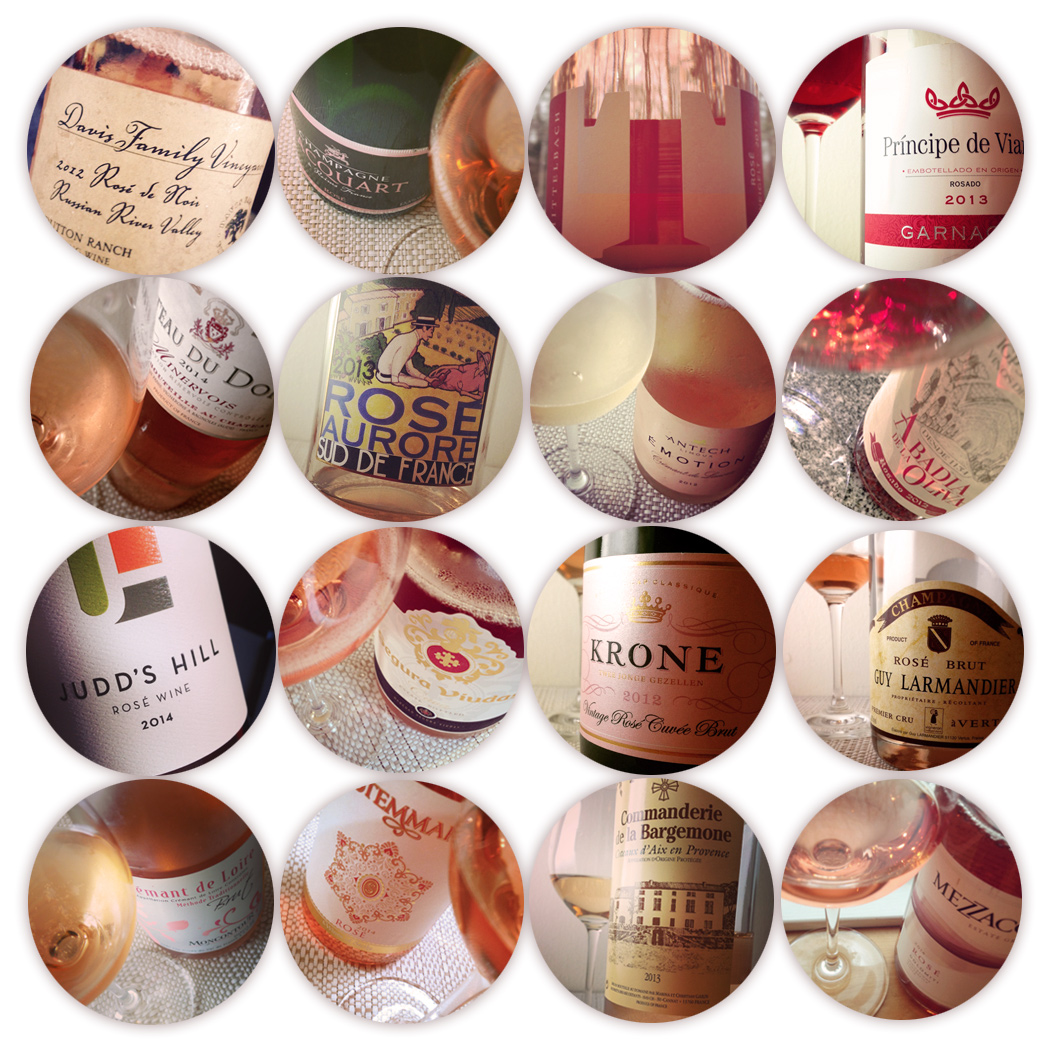 The ground is greening, the birds are nesting, and fellow wine writers are plugging rosé in earnest. It must, at last, be summer.
Rosé is for summer, yes. Also: fall, winter, and spring. The best rosé is a year-round wine, with crackly acidity, juicy berry fruits, lilting herbs, and a stony finish that brings it all down to earth. These qualities let rosé pair beautifully with fresh and salty cheeses, fish and seafood dishes, an aïoli platter, and charcuterie. It also pairs beautifully with nothing more than a lawn chair and a hat.
Below is a bouquet of sixteen rosés that hail from around the world—France, Spain, Austria, Italy, South Africa, and the United States. They're made from a colorful palette of grapes, including rosé stalwarts like Pinot Noir and Grenache, plus gatecrashers like Zweigelt, Trepat, Lagrein, and Nero d'Avola.
Nearly half are sparkling wines, because pink and bubbles create a charming synergy. And while true rosé Champagne's expensive, I've included a few sparklers starting at $10, cheap enough to turn a Tuesday night into a cause for celebration.
No matter when you drink it, rosé should be free of worldly care—and make you feel that way, too.
Starting in the upper left of the photo above:
1. 2012 Davis Family Vineyard Rosé of Pinot Noir Dutton Ranch, Russian River Valley
This traditional method wine is pale shell pink with an orange gleam. The perfume suggests mint-macerated strawberries and sea air, with notes of biscuit, cantaloupe, and orange peel. The texture is creamy and very smooth, and its fine pearly mousse offers more strawberries and a finishing, umami savoriness. Multi-dimensional and lovely.
$55 (sample)
2. NV Champagne Jacquart Brut Rosé Champagne
A gorgeous light tawny rose color. Yeasty brioche aromas mingle with cranberry, toasted almonds, and hazelnuts. The wine's glittery, fine-textured body is redolent of marzipan, nut, croissant, and red berries. Dry but not too Brut, this is a deeply toasty Champagne with abundant pastry and strawberries; truly voluptuous.
12.5% abv | $50 (sample)
3. 2013 Mittelbach Tegernseerhof Zweigelt Rosé Niederösterreich
Zweigelt makes a zesty rosé, its top notes of flowers and spice balancing the grape's keen acidity and nearly Rabelaisian earthiness. This wine is quite demure, with delicate, blooming red berries and a finishing note of spearmint. I like to pair it with fresh cheeses.
12.5% abv | $22
4. 2013 Príncipe de Viana Garnacha Rosado Navarra
A deeply saturated strawberry-rose color with a fragrance of macerated strawberries, cracked pepper, and Thai basil. The acidity is modest but the body has a subtly grippy texture and a spectrum of red berries, watermelon, mint, and spice. Juicy and not too serious.
12.5% abv | $14 (sample)
5. 2014 Château du Donjon Rosé Minervois
A winsome shell pink with glints of tangerine and a captivating perfume of mountain air, spring petals, and crushed thyme. The wine has a fresh-washed, sea-breeziness that complements herb-steeped berries and melon. A slightly bitter, briny snap adds interestingness to the finish. It would be great with seafood.
12.5% abv | $12 (sample)
6. 2012 Côté Mas Rosé Aurore Sud de France Languedoc IGP
Spirited and peppery, this blend of Grenache, Cinsault, and Syrah has aromas of strawberries, mint, and a whiff of spring flowers. Pale shell pink, not quite onion-skin, it's crisp and pleasing on the palate. It also has a surprising amount of texture, likely owing to regular lees-stirring, but overall feels refreshing and uncomplicated. Great for picnics.
13% abv | $10 (sample)
7. 2012 Antech Rosé "Émotion" Crémant de Limoux
Luxuriant orange-gold color with a shell pink rim. Aromas of yeasty biscuit and yellow melon contrast pleasant with the wine's spritely bubbles and mouth-popping red berries, citrus, and herbs. A blend of Chardonnay, Chenin Blanc, Mauzac, and Pinot Noir; serve with young cheeses, sushi, and salads.
12% abv | $17 (sample)
8. 2012 Abadia de la Oliva Rosado Riberas IGP
Deep rose color with an herbal perfume and flavors of strawberries and bitter peels. It's quenching and uncomplicated, but has more tannin and structure than most rosé, which lets it pair well with more robust fare like meats and aged cheeses.
13.5% abv | $14
9. 2014 Judd's Hill Rosé California
Made of equal parts Zinfandel from Lodi and Syrah from the Sierra Foothills, hence the "California" appellation. A gorgeous deep rose color with a body that suggests spring berries, watermelon, and basil. Very light-textured, with modest acidity and lots of watermelon on the palate, too, and a minty-herbal finish.
13.9% abv | $26 (sample)
10. NV Segura Viudas Brut Rosé Cava
The color of pink tourmaline with a fragrance of May flowers and strawberries. Bracing and clean, its creamy mousse suggests more juicy red berries and citrus. Made from Trepat with a modest amount of Garnacha, it spent 12 months en tirage. It's astonishing to find a traditional method rosé this good at this price.
12.0% abv | $10 (sample)
11. 2012 The House of Krone Rosé Méthode Cap Classique WO Western Cape
Pale shell pink with quiet bubbles. Aromatically it offers toast and nut beneath highlights of ripe pink berries and Anjou pear. Its creamy mousse yields pastry, strawberry, and marzipan, but it has a hefty, savory bottom note. A blend of Pinot Noir and Chardonnay; pair it with aged cheeses, a salad course, or roasted poultry.
12% abv | $20 (sample)
12. NV Guy Larmandier Brut Rosé Premier Cru à Vertus Champagne
Gorgeous deep shell pink with aromas of biscuit rounded with crushed hazelnut, ripe apricots, and field strawberries. The palate is mouth-filling and creamy, with dark red berries and a savory, toasty finish. Elegant and multifaceted. I love this wine.
12% abv | $60
13. NV Moncontour Crémant de Loire Brut Rosé
Pale, peachy-onionskin color with a fine foam and herbal aromatics. Appley and bright, this traditional method Cabernet Franc suggests strawberries, birch, and sandalwood. It's bigger at the finish than at the front, which begs another sip.
12.5% abv | $20
14. 2014 Stemmari Rosato Terre Siciliane IGT
Made from the black-skinned Nero d'Avola, the wine has a beautiful, deep rosy pink color. Brisk and cooling, it suggests minty strawberries washed by a sea breeze. Its body of watermelon and spring berries has a resinous edge and crisp, steamed-linen creases. A snap of bitterness at the finish keeps it serious.
12% abv | $10 (sample)
15. 2013 Commanderie de la Bargemone Coteaux d'Aix en Provence
Pale onion skin pink, like a pallid shell. The body is restrained, too, with a breath of mint and field strawberries. Flavors of strawberry, melon, and rinsed linen dissolve into a stony finish. A quintessential Provençal rosé.
12.5% abv | $23
16. 2014 Mezzacorona Rosé Dolomiti IGT
Made from Lagrein grown in the Dolomites, the wine is a gorgeous deep pink with a perfume like mountain air, new pink fruits, spring flowers, and field herbs. The palate suggests strawberries, rose petals, and fresh lavender, and it finishes sharp. Youthful, lighthearted, and an absolutely screaming deal.
12% abv | $9 (sample)
Follow my wine reviews on Delectable and Vivino.