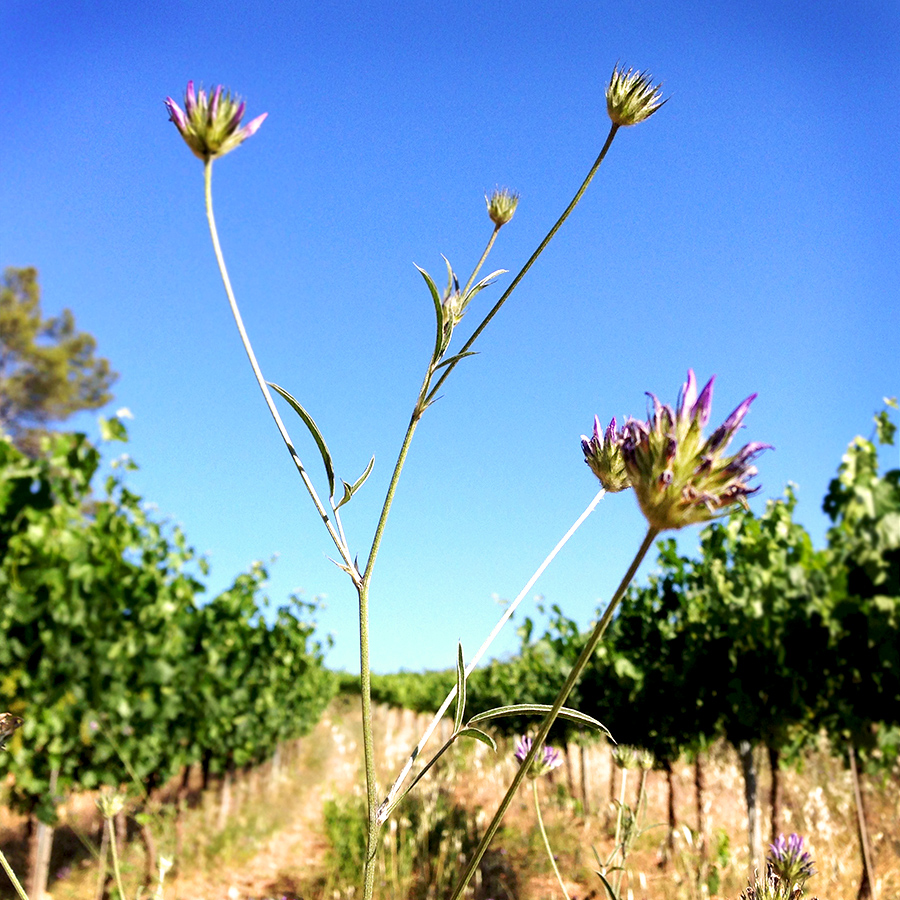 Wild herbs in the vineyard of Les Valls – Las Torres
High in Catalonia, Spain, a mountain hunches its scrub-spined shoulders against the sky. It is a kettle of life. The patchwork of forest and field is home to eagles, foxes, boar, high-pitched birds, insects, burgeoning flora—and vineyards. I visited the site last June, but sitting before an amber fire in January, snow crystals circling the house like icy fireflies, I can't stop thinking about the buzzing, thriving, chaotic vitality of that place, and of the family who turns its fruits into wine.
Josep and Joan Cusiné Carol are brothers. They grew up nearby, at Parés Baltà, and as boys helped their family tend the vines, cultivate vegetables, raise chickens and pigs, and turn the savory yield into wine and preserves, jamón and sausages. Although the estate had been in vine since the late 1700s, it wasn't until the 1980s that their grandfather, Joan Cusiné Hill, and their father, Joan Cusiné Cusiné, began to shift production toward quality wine.
In 2000, Josep and Joan, now the third generation, inherited the operation, which included the original Parés Baltà estate vineyard and four others in Catalonia, a total of 200 hectares. Josep's wife, Marta Casas, and Joan's wife, Maria Elena Jimenez, now make the wine. The women came to winemaking by way of science; Marta had trained as a pharmacist before switching to enology, and M. Elena had been a chemical engineer. The men manage the business, the women manage production, and the family operation produces sixty thousand cases of wine per year, half Cava, half still.
Merlot vine in the vineyard of Les Valls – Les Torres
The day I visited was warm. Josep and Joan greeted me at the winery, a white stucco facility skirted with a row of half-round windows that made the building look lidded and sleepy in the heat. Joan, slender and animated, was wearing a pale blue shirt that was crinkling and steaming in the cauldron of the day. His generous smile lit his dark brows from underneath. Josep, also lean but slightly more swarthy, was wearing pink to complement Joan's blue. His gaze was seeking, penetrating, but like his brother, his eyes twinkled when he smiled.
The men toured us around the facility. Like many of the young winemakers in Penedès, the family is trying to up their game. Whereas older generations aimed for volume, selling their fruit to local coops, the new target is excellence, including single-vineyard and single-varietal wines. "We aren't planning on growing in bottles," Josep said. "But we are planning on growing in quality."
But what's old is also new again. In the midst of the barrels stood a large amphora. It was made from clay the family harvested from the hillside vineyard, near a spot where they discovered a kiln dating from the fourth century BCE, used by the Iberic people. They're experimenting with using these amphora to ferment a microcuvée of Xarel•lo, one of the autochthonous grapes, normally blended into Cava, which they believe produces exceptional varietal wine. "Xarel•lo is quiet on the nose, but the potential is on the mouth and the capacity for aging. We're happy this grape is becoming the flagship of the area," said Josep.
Clay vineyard soils, and an amphora made from that clay, used to ferment a varietal Xarel•lo
Soon we were scrambling into the family's rugged SUVs and heading high into the hillside above the village of Torrelles de Foix, and into the vineyards of Les Valls – Les Torres that splay across it. We stopped at the foot of the hill so Joan could unhook a chain barring the way. Endangered eagles nest at the top of this mountain, he explained, so the rural authorities have blocked off the site to keep gawkers at bay.
We began jolting and jerking along the washed-out track that passes for a road, up to an elevation of nearly 700 meters. In the dense woodsy blackness on either side of us lay ruins of ancient vineyards terraced against the hill's steep pitch. Pine and oaks long ago succeeded the vines, giving the woods the appearance of a magical tree garden.
We emerged from the cooling pines under a blazing canopy of sky. Joan pulled the hand brake as I extricated myself from the Land Cruiser. Before us was a Merlot vineyard, Joan explained, gesturing broadly. He pronounced it mer-LOTT. Across from us lay Tempranillo, and plots of white and red Grenache. Farther still lay Mencia and Pinot Noir, plus Sauvignon Blanc. Above us, at the top of the hill, was Chardonnay and Parellada, and—improbably—Gewürztraminer. Given that this was only one of their five vineyards, I asked how many different grapes they grow. Joan cracked his broad smile. "I'd say a lot."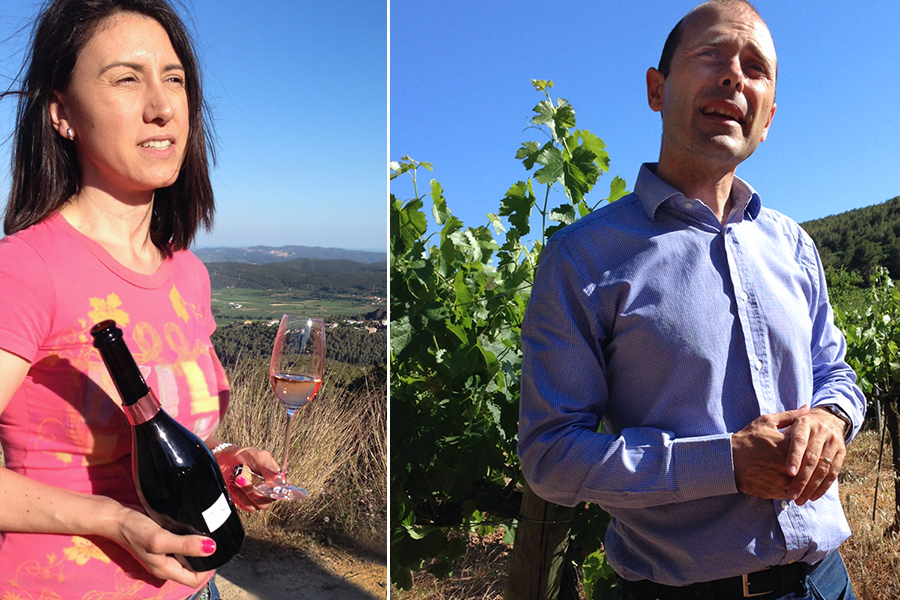 Winemaker Marta Casas and co-owner Joan Cusiné Carol
As we kicked into the vine rows, my black cloth shoes quickly dusted over. It had been a dry year, and unseasonably hot. The vineyard had no irrigation despite the thirsty-looking soil. It's allowed by the appellation laws, Joan said, but "It's not part of our philosophy."
That philosophy is biodynamics. His family has practiced organic and sustainable viticulture here for over forty years, but for the last three years have been fully Demeter-certified biodynamic. In some sense the shift harkens back to older, traditional cultivation methods. Many farmers in the area continue to follow El Calendario del Payés, a farmer's almanac from Catalonia dating to the nineteenth century. It outlines the year's solar and lunar cycles and stipulates best planting and harvest times.
"My grandfather was doing many things that we are doing, without knowing it"—without thinking of it as a formal system, Joan said. "But for us it was a natural step to go further." Permaculture is part of the system, as are animals. The family keeps over 300 sheep for meat and grazing in the mountain vineyards, while another flock provides manure. They wild-harvest herbs for their biodynamic preps—wild ortiga (nettle), manzanilla (chamomile), diente de léon (dandelon), and coda de caballo (horsetail fern, or equisetum, rich in silicates). They also raise bees for honey and wax.
As we spoke, birds called to each other through the forest in high, clear whistling. I wandered further into the vine rows flourishing with grasses and broadleaf plants, the ripe seeds and burrs sticking to my shoes like Velcro. Ants twinkled their antennae amicably at one another at the entrances to their dusty homes. Winged wasps and bees wavered between purple vetch and sweet pea, drunk on nectar.
I stopped and crouched, snapping photos, marveling. Through my lens I saw a dizzying variety of plants belonging to dozens of families, genera, and species. There were grasses, composites, legumes, alliums, and woody and herbaceous plants of all stripes. Many were nearly identical to their North American counterparts, others less similar but readily guessable. I could name yarrow, vetch, rosemary, thistle, thyme, wild asparagus, ilex, blackberry, wild lettuce, fennel, sweet pea, wild grapes, wild oat, mallow, ivy, verbena, clematis, clover, scabiosa, alfalfa, daisy. And more.
Diverse vegetation in the biodynamic vineyard (click to view larger)
We piled back into the cars and rose even higher, the roadway washouts throwing us against one another inside the cabin. Finally we pulled into a clearing at the top of the hill. Marta was waiting for us. Compact and strong, she was a rosy vision in the rippling heat: hot pink tee shirt, hot pink nails, holding a bottle of rosé Cava. It was a microcuvée called Rosa Cusiné, made from Garnatxa (Grenache) grown in the hillside vineyard below.
For the return trip to the winery, Marta waved me into her tiny car so we could talk plants. As we zipped down the mountain on the (mercifully paved) road, I asked her what it was like to have joined a family operation with so much history already behind it. Acceptance had been a little bumpy, she confessed. Until his death in 2010, Joan and Josep's grandfather was actively involved in the enterprise, principally in viticulture. "Grandfather said, 'You have a chemistry degree. Don't use pesticides.'" Marta recalled. "We said, 'Don't worry, Grandfather. We'll just work in the winery.'"
But you can't make great wine in a winery—you have to attend to the vineyard, too. Gradually, the two women and their husbands started making changes to the growing practices, building soil and vine health and, notably, reducing yields. Their grandfather was volubly scandalized. He had survived the lean times of the Spanish Civil War, and the thought of green harvesting was anathema. He confessed he loved the resulting wine, Marta said, "But he told us, 'See! You'd have more of this wine if you hadn't dropped the fruit!'"
Marta Casas and Joan Cusiné Carol
I was especially curious about Marta's trajectory from hard scientist to biodynamic winemaker. I'm a long-time organic gardener and value biodiversity and polyculture, two of the core tenets of biodynamics. I've admired many biodynamic wines and even worked for two years for a biodynamic winemaker. Still, I admit skepticism about the approach. It's true that many of the protocols Rudolf Steiner outlined in his lectures introducing biodynamics were based on traditional practices honed over centuries—like those referenced in the farmer's calendar. But others seemed based solely on Steiner's mystic philosophy, Anthroposophy. None of these practices are specifically stipulated for viticulture, so biodynamic winegrowers have had to adapt agricultural recommendations to the delicacies of vineyard management. Practitioners say biodynamics works for them, even if they can't explain why. But I'm the kind of person who likes explanations.
Marta Casas is, too. "I studied pharmacy, then enology," she told me. "My sister-in-law studied chemistry, then became a winemaker. When you study Anthroposophy, it's everything you didn't know. It's not the rules you learned as a teenager or at university. It seemed without order—and I am an ordered person."
Still, in 2011, having committed to transitioning from organics to biodynamics, both couples enrolled in an Anthroposophy course offered 100 km away. Josep and Joan's father thought it was a sect. It was a leap of faith for Marta, too. "The teacher said, at the beginning, 'You're here for a reason.' I said, No! I thought the teacher was crazy."
But gradually, the more she studied and committed to the practice, the more sense the system began to make inside her. "You start to see behind things—behaviors, actions. Little by little you understand: Biodynamics is not a square, it's a circle or a spiral. It's all connected. It's like a switch going on, Poom!"—she took her right hand off the wheel to snap her fingers. "And suddenly it clicked. This is the thing for us to do. We have the forest, the sheep, the vineyards. We can do it."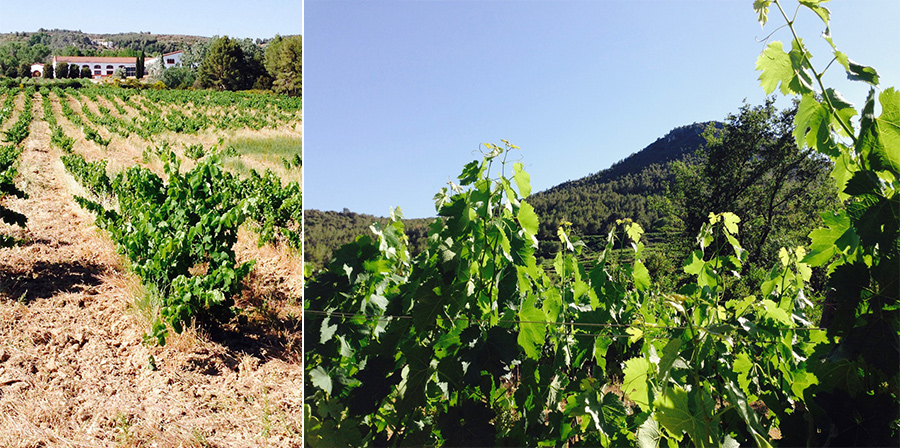 Parés Baltà estate vineyard (L) and Les Valls – Les Torres vineyard
We arrived at the winery. I felt parched but saturated, too, and mentioned how inspired I was by the diversity and ecological richness I'd seen up on the hillside. "Interesting," said Marta. "The Demeter inspector was here in May and he was fascinated by the biodiversity in the mountain vineyard, too. And he sees a lot of vineyards! But we think having the vineyard inside the forest helps biodiversity—because of the interconnection of the animals, flowers, herbs. The eco-chain is bigger."
As we sat for a tasting of their rich array of bottlings, I asked the team what effects they'd seen in the wines since switching to biodynamics. "We need more time to see the difference in the wines," Joan conceded. "The changes will be coming, but not in the first years."
Wine. It takes generations.
TASTING NOTES
NV Parés Baltà "B" Brut DO Cava
A Cava made mostly of Parellada with a dash of Macabeo and a tiny bit of Xarel•lo. It's toasty, with lime and powdery flowers and a palate like white grapefruit. 11.5% abv
2010 Parés Baltà "Blanca Cusiné" Brut Nature Gran Reserva DO Cava
An elegant vintage Cava with nut, lemon peel, and brioche on the nose—it's like lemon-nut pastry garnished with white flowers. The creamy body is cleansing, with accents of vanilla bean, citrus, and field herbs, plus a big bitter-almond finish. A blend of Xarel•lo, Pinot Noir, and Chardonnay, with 30 months of aging. 12% abv, disgorged October 2014
2014 Parés Baltà "Calcari" Xarel•lo DO Penedès
A still wine redolent of grapefruit peel, resinous herbs, field herbs, sunlight on citrus, bitter candied peels. It has a bewitching floral-herbal essence, like yellow flowers and beeswax steeped in honey. The body finishes in sweet melon and a blaze of acid. Really lovely. 12% abv
2014 Parés Baltà "Cosmic" DO Penedès
A blend of Xarel•lo and Sauvignon Blanc, the latter of which dominates the nose—green musk, green melon, and green citrus—but with a hit of beeswax, too. It's a big mouthful of a wine, more fruit-centric than the other wines in the tasting. 12.5% abv
2012 Parés Baltà "Indigena" DO Penedès
Ripe and raisined, with prune, plum, saturated red fruits, and pronounced drying tannins. Marta said that of all of their wines, this one is most susceptible to the influences of the biodynamic calendar: If it's a flower or fruit day it's great, and if it's a root or leaf day it's horrible. (We were tasting on a fruit day.) 15% abv
2014 Parés Baltà "Indigena" Blanca Garnatxa DO Penedès
Made from Grenache Blanc fermented in stainless and aged four months on lees. It's light-textured and somewhat delicate, suggesting white petals, yellow citrus, and Crenshaw melon. 12% abv
2012 Parés Baltà "Hisenda Miret" Garnatxa DO Penedès
A dark, floral wine like black rose petals steeped in cranberries and purple plums. It's ample but with powdery tannins and surprising glittery refreshment. 15% abv
2012 Parés Baltà "Electio" DO Penedès
This barrel-fermented Xarel•lo effuses honeyed pear, nutmeg, vanilla, and spiced peels; it reads like a sweet orchid cast in beeswax. Soft and full, demure and lovely, it would be great with mild cheeses. 12.5% abv
2013 Parés Baltà "Mas Petit" Garnatxa Cabernet DO Penedès
A wine that blends Garnatxa's red raspberry sweetness with Cabernet Sauvignon's red currant astringency. Fresh fennel, pink petals, spiced cranberries, and drying tea-tannins add dimension. 14% abv
2014 Parés Baltà "Blanc de Pacs" DO Penedès
Floral (from the Parellada), fruity (from the Macabeo), with good body (from the Xarel•lo), the wine offers a perfume of dusty floral paperwhites and yellow citrus. Its savory, almost bitter body has medium acidity, and dusky musk blooms again at the finish. 11.5% abv
2011 Paris Baltà "Absis" Microcuvée DO Penedès
A blend of Tempranillo, Merlot, Cabernet Sauvignon, and Syrah grown in a vineyard near the sea whose soils are full of marine fossils. This is wine with presence but a silky texture and a body reminiscent of herbed plums, rosemary, and sunshine. 14.5% abv
1996 Pacs del Penedès Dominio Cusiné 1790 Selección Privada DO Penedès
The body is suffused with sherried black plums, prunes, leathery raisins. There's plenty of bottle age, with tawny-tea tannins, demure fruit, and a texture like chamois suede. The grapes derive from the same seaside vineyard as in the Absis, but this wine is made only in excellent vintages. Marta said, "It is our treasure." 14% abv
Many thanks to Wine Business for recommending this article to their readers.
Travel was sponsored by Wines of Spain and the European Union. All wines were tasted at the winery and were media samples for review. Imported by USA Wine Imports.
View my Sample and Travel Policy.
Follow me on Facebook, Twitter, and Instagram.