Typically small old-vine Zinfandel cluster at harvest 2014, Stampede Vineyard (credit: Randy Caparoso)
Zinfandels that are earthy and racy, reminiscent of cherries and black bramble fruits. Zinfandels that are graceful and limpid, reminiscent of juniper and rose petals. Six different wines, each unique, each with a signature personality—all Lodi native.
Actually, Lodi Native. The project is a collaboration of winegrowers and winemakers in Lodi, Calif., who are working to highlight the juicy wisdom of their region's ancient Zinfandel vineyards. The effort takes pot shots at the stereotype of Zinfandel as a syrupy, boozy, fruit-bomb, a confected product oaked to oblivion. The aim here is to produce Zinfandels with charisma, plus a key attribute of truly singular wines: site expressiveness, the sense of where they're grown.
Where they're grown is Lodi's Mokelumne River corridor, in the southern part of the appellation. The six vineyards in the project dot a twenty-mile stretch below the river, reaching from the south-west corner of the AVA eastward and upriver toward Clements Hills (see map).
The average age of the vineyards is nearly ninety years, with the oldest plantings dating to 1901. The vines are anchored in parched soils ranging from powdery silt to sandy loam. Such well-drained sites have conspired to keep phylloxera at bay, so many of the century-old vines remain own-rooted. The meager conditions also make for small, concentrated clusters and incredibly low yields, even in good years. The 2013 vintage, tasted here, was a good year, so these old crones were relatively fruitful.
The Lodi Native mechanics are straightforward, if meticulous. Each family grower partners with a Lodi winemaker to produce a single wine unique to that site. Viticulture and enology protocols are tightly controlled. The growers commit to sustainable viticultural practices, while the winemakers agree to use ambient yeasts and neutral oak, and to forgo acidulation, water additions, and other tinkerings in the cantina (read the full details here).
The driving force behind these low-intervention methods is to keep the polish of winemaking from obscuring the fruit's individuality. My only quibble with the project—and it's a small one, because I value their aims—is that the truest assurance that what's in the bottle is the taste of terroir, not winemaking, might be obtained by one winemaker working across all six sites. But given that the six Lodi wineries in the partnership are also busy winegrowers producing their own house lines, collaboration governed by strict protocols is likely the only practical option.
The 2013 bottling was the project's second year, and it has continued in subsequent vintages. The wines are sold on the Lodi Native website as a six-pack only, for $180. That makes the average bottle price highly competitive with other well-made, old-vine Zinfandels, and given their high quality, even a tad low.
Most consumers won't open all six bottles at once (although it would be one hell of a party), but tasting through the suite ensemble is a good way to compare and contrast each wine's distinctiveness and personality. If you do pop all six corks in one seating, I recommend this tasting order: Stampede, Marian's, TruLux, Wegat, Soucie, Schmiedt Ranch.
But I've listed my notes below by geography, following the river vineyard by vineyard from west to east. Because site matters.
TASTING NOTES
2013 Lodi Native by m2 Wines Zinfandel Soucie Vineyard Mokelumne River, Lodi
The Zinfandel was grown in the oldest block of the Soucie Vineyard, planted in 1916 and now farmed by fifth-generation grower Kevin Soucie. The head-trained vines are own-rooted in powdery silt soils, and this westernmost zone of the AVA enjoys the cooling effects of the San Joaquin fluvial basin. M2 Wines winemaker Layne Montgomery has taken the fruit and produced a shimmering red velvet wine with a fragrance of smoked brambles, blueberries, and stewed fruits. The body is concentrated and earthy, like red berry essence to which has been added a dash of smoked salt and clove. There's a flare of spice at the finish. This is a Zin for lovers of the racy, chesty, throaty style. 15% abv
Wegat Vineyard (credit: Randy Caparoso)
2013 Lodi Native by Maley Brothers Vineyards Zinfandel Wegat Vineyard Mokelumne River, Lodi
The Zinfandel in the 21-acre Wegat Vineyard was planted in 1958, field-budded onto St. George rootstock anchored in sandy loam. The vines are head-trained, Medusa-like. The vineyard is now overseen by Todd Maley, whose family has been growing wine grapes in Lodi since 1863. Winemaker Chad Joseph of Maley Brothers has extracted from these low-yielding vines a potent elixir, muscular and deeply concentrated, suggesting blueberries and black bramble fruit. Accents of resinous herbs and menthol give it an almost tonic quality, like a tincture of summer. It might be the perfect cure for seasonal affective disorder. 14.5% abv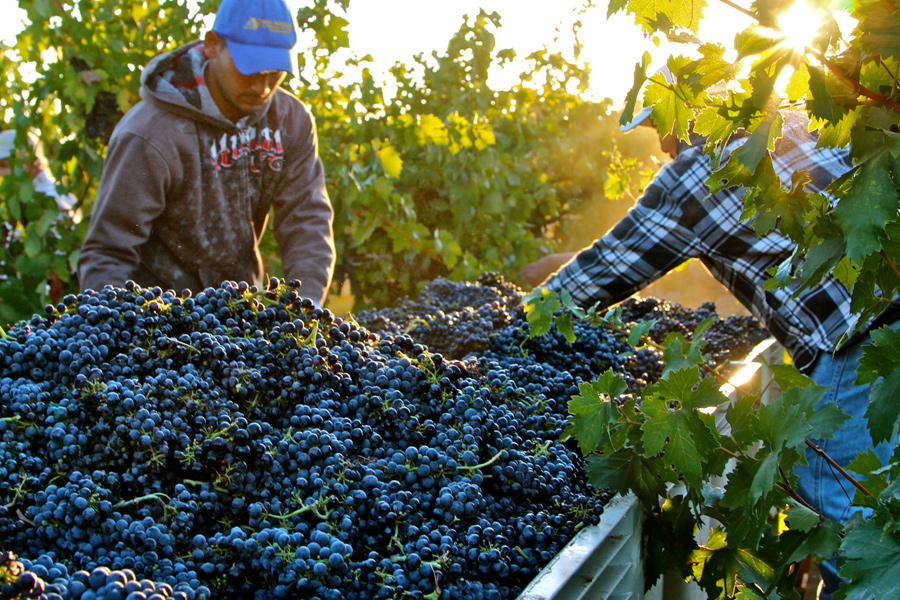 TruLux Vineyard (credit: Randy Caparoso)
2013 Lodi Native by McCay Cellars Zinfandel TruLux Vineyard Mokelumne River, Lodi
The loamy sands of TruLux Vineyard were planted in the 1940s, but these tall, head-trained vines produce unusually loose, open clusters. TruLux is farmed by winegrower Keith Watts, and although he and McCay Cellars winemaker Michael McCay picked early, at 24.6˚ Brix, the resulting wine remains generous. Its deep ruby body roils with a smoky undertow, and the black brambly fruits finish with an alluringly bitter, almost walnut astringency. It's ample, brooding, intellectual, gothic—the Laurence Fishburne of Zinfandel. 14.5% abv
2013 Lodi Native by St. Amant Winery Zinfandel Marian's Vineyard Mokelumne River, Lodi
The Zin in the sandy loam soils of Marian's Vineyard was planned in 1901, and the vine wood is crazed, cracked, and warty. In most vintages the yield hovers at two tons per acre. The vineyard is now managed by Jerry Fry and his son, Bruce Fry, and the entirety of the production goes to St. Amant winemaker Stuart Spencer. This wine is fragrant of red plum skin, and its luminous body is stained black with cherries. But there's a dark undertow and kind of loamy forest-floor earthiness, making it a bit of yin and yang: a generous wine and a wine of gravitas, but lightsome, too, like a laughing Buddha. 14.5% abv
Schmiedt Ranch (credit: Randy Caparoso)
2013 Lodi Native by Macchia Wines Zinfandel Schmiedt Ranch Mokelumne River, Lodi
A wine that's smoky, earthy, fleshy, and utterly concentrated, the most muscular of the suite. The body is deep purple-garnet, more opaque than the others, and the fragrance is of fruit rendered to its purpled essence. The Zin is grown in an eight-acre, own-rooted vineyard planted in 1918; it has been farmed by the Schmiedt family for the last thirty years. The calloused vines now labor to produce even tiny clusters, with high skin to juice ratios and yields of only about one ton per acre. Winemaker Tim Holdener of Macchia Wines has used this fruit to produce a potion so dense it doesn't really behave like a table wine. Perhaps the best approach is to sip it thoughtfully while reflecting on the improbability of wringing such blood from a hundred-year-old soul. 15.9% abv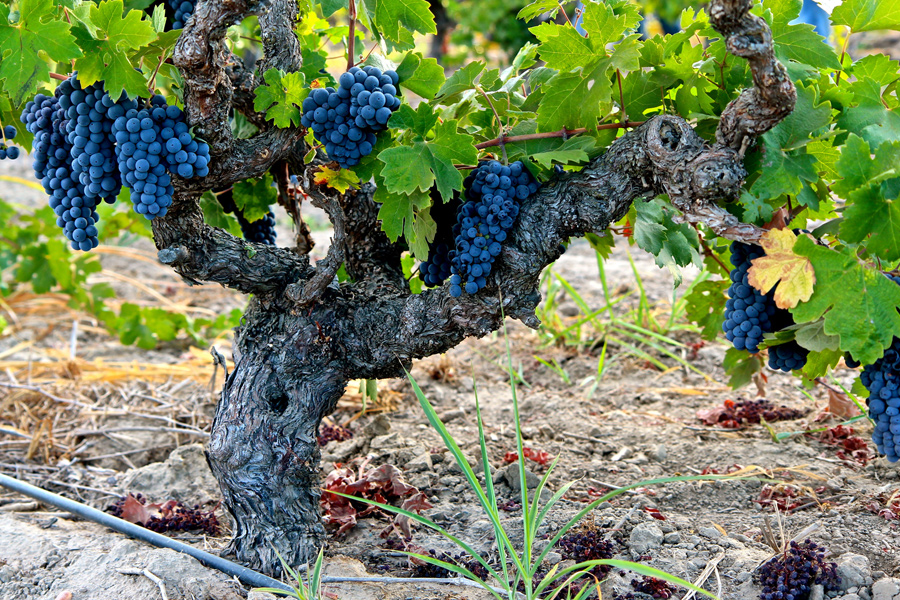 Stampede Vineyard (credit: Randy Caparoso)
2013 Lodi Native by Fields Family Wines Zinfandel Stampede Vineyard, Clements Hills, Lodi
Stampede Vineyard, the easternmost site in this sextet, was planted in the 1920s and 1940s. The Zinfandel vines are still mostly own-rooted, and a smattering of Mourvèdre and Mission vines keep them company (and their fruits find their way into the bottle, making this the only field blend in this lot). The site is now tended by brothers Jeff and John Perlegos, and winemaker Ryan Sherman of Fields Family Wines has handled the fruit with utmost finesse. The wine is a pale red garnet, very limpid, and its perfume of rose hips, rose petals, and dried cranberries mingles with the resinous freshness of spruce and pine forest. It's delicately articulated, glassy but not brittle—more simply transparent—with flavors of bitter almond, cranberry, and juniper. The structure is silken, with supple, powdery tannins and acid that glows like starlight at the finish. A remarkably genteel, graceful, and elegant Zinfandel, a Zinfandel that deliciously defies convention. 13.9% abv
Many thanks to Wine Business and Vinography for sharing this article with their readers.
All photos courtesy of Randy Caparoso, used by permission of Lodi Native.
All wines were samples for review. View my Sample Policy.
Follow me on Facebook, Twitter, and Instagram.