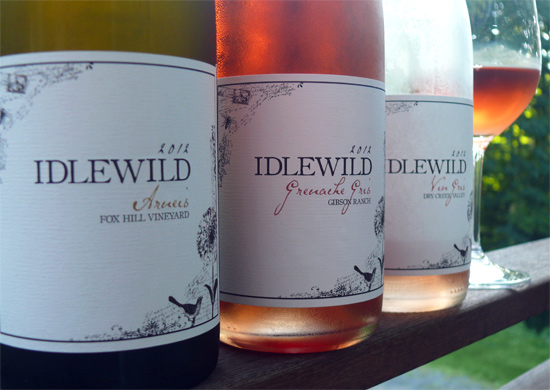 A few months ago, I received three tiny bottles from Sam Bilbro and Jessica Boone Bilbro of Idlewild Wines in Healdsburg, California. All were shiners, unlabeled tank samples of their 2012 vintage of Cortese, Dolcetto, and Carignan. One of them was still finishing malolactic. None of them had knit together yet.
Since tank samples are unstable, I opened and tasted them right away. They were curiosities: the Cortese a nutty mouthful of Asian pear and beeswax, but with a fresh, breezy aspect; the Dolcetto was elegant and supple, with a pleasing bitter-apple snap on the finish; the Carignan tasted like meaty roses. Are there such things as meaty roses?
All of the wines had a bewitching ineffability. Was it because they were tank samples, those gangling adolescents of winemaking? Or do these wines truly have an essential curiousness? I won't know until I taste them again, but that'll have to wait—they're still months from formal release.
Happily, Idlewild also sent along three full-sized bottles from their 2012 vintage: a Vin Gris of syrah; an Arneis (which is somewhat rare in California); and a not-quite-rosé, not-quite-orange wine made from grenache gris (which is extremely rare everywhere).
Naturally, these wines were more self-possessed than the tank samples, more settled-in and ready. But they were no less beguiling. They reminded me of the seashore, fresh-washed with hints of herbs and salt, sweet in the way that sea air is sweet, meaning not truly sweet, but dulcet, silvery. Anchoring the breeze was a curious, biscuity savoriness that gave the wines heft and substance.
The combination is enchanting. These are wines that bring your nose back into the glass, keep you swirling, keep you tasting. They're not readily knowable. And that's not a bad thing.
T A S T I N G N O T E S

Idlewild Wines
Arneis, Fox Hill Vineyard
2012
14.2% ABV | Price: about $28 (media sample)
Fox Hill Vineyard is located southeast of Ukiah on the Talmadge Bench in Mendocino. Soils are gravel and sandstone. The 2012 vintage was easy on this low-yielding grape. Fruit was harvested before the heat of the day, and the fermentation proceeded slowly to preserve freshness and develop complexity. The wine aged on lees in half neutral French oak and half stainless.
Pale, clear yellow with aromas of toasted nut, Asian pear, quince, and cream. The texture is broad but the wine has lively lemon, quince, and apple acidity. The nose seems to have even more body than the body does. It would be wonderful with cream, fish, almonds, or all three.
97 cases produced
Idlewild Wines
Grenache Gris, Gibson Ranch
2012
12.6% ABV | Price: about $28 (media sample)
The fruit derives from one-hundred-year-old, dry-farmed grenache gris vines anchored in gravelly loam. The grape is uncommon in Europe and nearly unheard of here. Fruit was subjected to five days of carbonic maceration before being foot-stomped. The juice was then kept in contact with skins and stems for three additional days to extract tannins before being pressed. Fermentation was slow and cool. The wine aged for a few months in neutral French oak, on lees.
Deep coppery pink, the wine has aromas of wild strawberries, brushy herbs, rose hips, and beach plum. Creamy on the tongue, it offers savory notes and a broad, spreading texture. Although it's hardly fruit-driven, there are notes of ripe, macerated strawberries. The finish is like cream, nutmeats, and hazelnut.
122 cases produced
Idlewild Wines
Vin Gris, Dry Creek Valley
2012
13.6% ABV | Price: about $22 (media sample)
The Bilbros took fruit in exchange for their labor retraining an older syrah vineyard from cordon to head-trained, and decided the harvest was perfect for a pink wine. The berries were gently whole-cluster pressed, and fermentation was cold and slow. As with the Arneis and Grenache Gris, this wine spent a few months on its lees in neutral French oak.
Rosy coral with deep salmon highlights, the wine has aromas of rose petals, violets, jasmine, and a hint of tropical fruit. There's an almost-saltiness to it, too, and it's broad and bready, with biscuit notes and substantial creaminess. Very leesy, almost too leesy, but with balanced acidity and a little squeak of tannin that keeps it in sharp focus.
70 cases produced