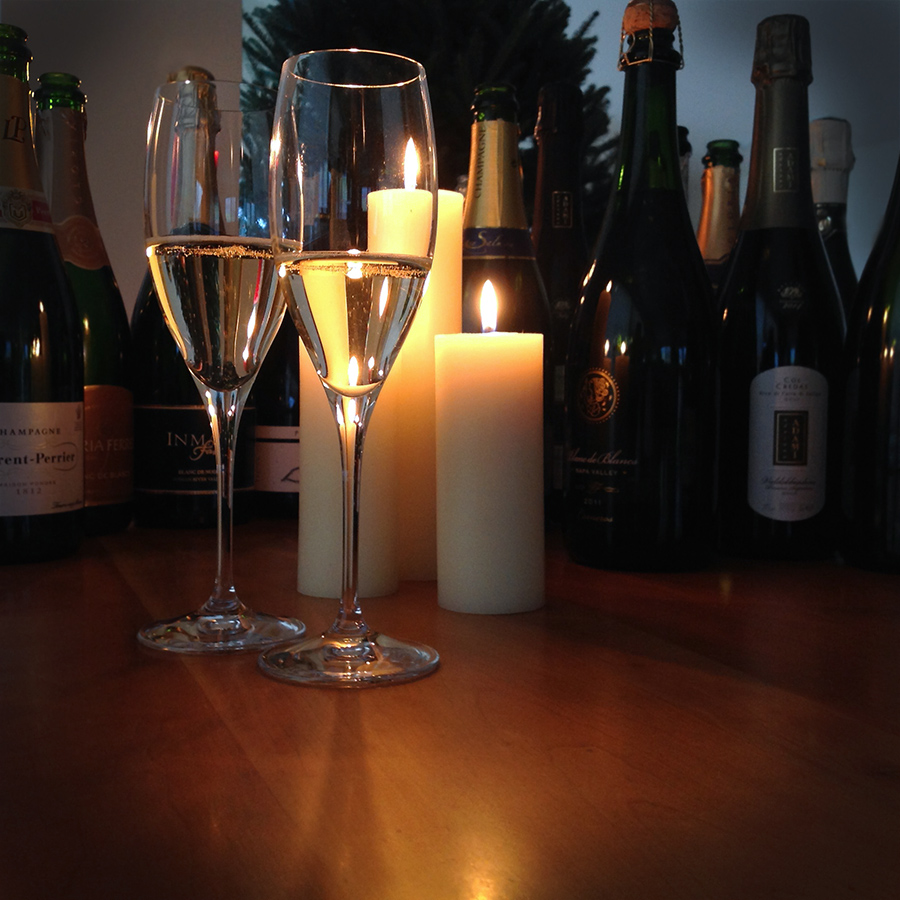 In our first installment of this series, we tasted sparkling wines I had dubbed Opulent. Now let's turn to Elegant.
Elegance is, naturally, in the mouth of the beholder. To me, elegant sparkling wines are a study in contrast. They're distinctive and characterful without trying too hard. They're expansive but not overly generous. They're lacy-textured but springy, too. They are cleansing and persistent, powerful and graceful. Perhaps balance is a key requirement, along with dovetail precision in the growing and making.
Plus, there must be acid. Not just standard-issue acid, but acid as an attenuated armature within the wine that stands it up and gives it tensile strength for long aging. And because there must be acid, there must also not be over-sweetness to dull the polish.
The apotheosis of this Elegance idea is perhaps best expressed in the monocru, zero dosage Champagnes of Emmanuel Lassaigne (which I wrote about last month). But there are others. Here are some.
Elegant Sparkling Wines
2008 Joseph Perrier Blanc de Noirs Brut Nature "Cuvée Royale" Champagne
A zero dosage wine whose active mousse calms into generous fine skeins of bubbles. Aromatically it suggests salt hay, salted flowers, and dried orange peel, and the body is dry but not as strident as some brut nature. The long finish is savory, with abundant umami flavors and a texture like cold steel. This wine is somewhat unlike the rich Joseph Perrier house style, but I loved its straight arrow of acid and minerals.
12% abv | $70 (sample tasted at the winery) Imported by Michael Corso Selections
NV Ferrari Brut Rosé Trento DOC
Ferrari's rosé is earthy, with an almost-iron core wound tight with minerals and crackling acid. There are traces of pale berries, peach skin, and melon, but despite these subtle fruit notes and the anticipatory charms of its alluring, pearly salmon color, there is nothing fleshy about this wine. It feels serious and grounded, a rosé with a dignified structure and plenty of authority and weight. It's a blend of 60 percent Pinot Noir and 40 percent Chardonnay that spent 24 months sur lattes; this bottle was disgorged in 2015. Unlike most nonvintage wines, this one has the structure to age. Buy a case now, drink three bottles with holiday meals, drink another three next spring, and hold the rest for three years, minimum.
12.5% abv | $36 (sample) Imported by Palm Bay
2009 Champagne Mailly Brut Rosé "l'Intemporelle" Champagne
Mailly's rosé is perfumed like jasmine, like a white flower garden, like roses. There's some pastry, here, but the wine has the same texture and persistence and citrusy finish as the Brut. Indeed, it's made with the same cuvée and dosage, but includes two and a half percent red wine, imbuing it with a fetching pink color and decorating it with a garland of berries and flowers.
12% abv $120 (sample tasted at the winery)
NV Laurent-Perrier Brut Champagne
A Brut made from 45 percent Chardonnay, 40 percent Pinot Noir, and 15 percent Meunier, about 20 percent of which is reserve wine, aged a minimum of three years prior to disgorgement. Diminutive pearly bubbles lace the golden body then fizz into a fine-grained mousse. The preponderance of Chardonnay imbues the wine with a tangy green-gold pop, which the long lees aging polishes to a luster. Overall this wine is less about biscuit and toast, more about wet rocks and minerals, although the structure and high production values suggest giving it a year or two of bottle age.
12% abv | $45 (sample) Imported by Laurent-Perrier
2010 Llopart "Imperial Panoramic" Brut Nature Gran Reserva Cava
A mellow fragrance of green citrus, pear, and biscuit resonates with flavors of tart green apple and honeyed cream. The wine has scintillant glints and a remarkably crisp texture given its long repose en tirage. Five grams per liter of residual sugar offsets its crackly acidity, and the blend includes 15 percent reserva base wine for creaminess and depth. Made from 40 percent Macabeu, 30 percent Xarel•lo, and 10 percent Parellada with 42 months of aging. It's lip smacking but serious, too, and extremely well priced.
11.5% abv | about $21 (sample tasted at the winery)
NV Champagne Cazals Brut "La Chapelle du Clos" Champagne
A mono-parcelle Champagne, 100 percent Chardonnay, grown on Delphine Cazal's ten grand cru hectares in Le Mesnil-sur-Oger. The wine suggests pear and bread, doughy brioche, apple. It's bright-textured but with lots of fresh pears and pear nectar on the tongue, plus rounded stone fruits and dried apricots. The cuvée is all from the 2006 vintage, but the bottle's not vintage labeled. I asked Delphine why not. "Because I'm crazy!" she laughed, but went on to express her disdain for those who choose wines only by the label—in French, a buveur d'etiquette. "I don't want to prejudice the drinker," she shrugged. "I don't want to be imprisoned by the label."
12% abv (sample tasted at the winery)
2012 Inman Family Wines "Blanc de Noir, OGV Estate" Russian River Valley
Another mono-parcelle wine, this one all Pinot Noir grown at the estate's Olivet Grange Vineyard. Fruit was whole-cluster pressed, with the free run juice and first two tailles vinified separately. Harvest for the winery's rosé Brut Nature was completed a week later, and selected top cuts of both wines were used in the final cuvée. This blend was then put en tirage and rested on lees for three years. It was disgorged in October 2015 and capped with zero dosage. (Phew!) The result is the palest straw-gold color, with a scent of biscuit and almond and citrus. Its fine, quiet perlage yields green apple acidity and a finishing flare of lemon and stone. It has the spine to age. It is also the shining exemplar of "attenuated and elegant," so let's stop here.
12% abv | $68 (sample)
Read the other articles in this series, Sparkling Wines for Now: Opulent, Refreshing, and Interesting.
View my Sample Policy.
Follow me on Facebook, Twitter, Instagram, and Delectable.