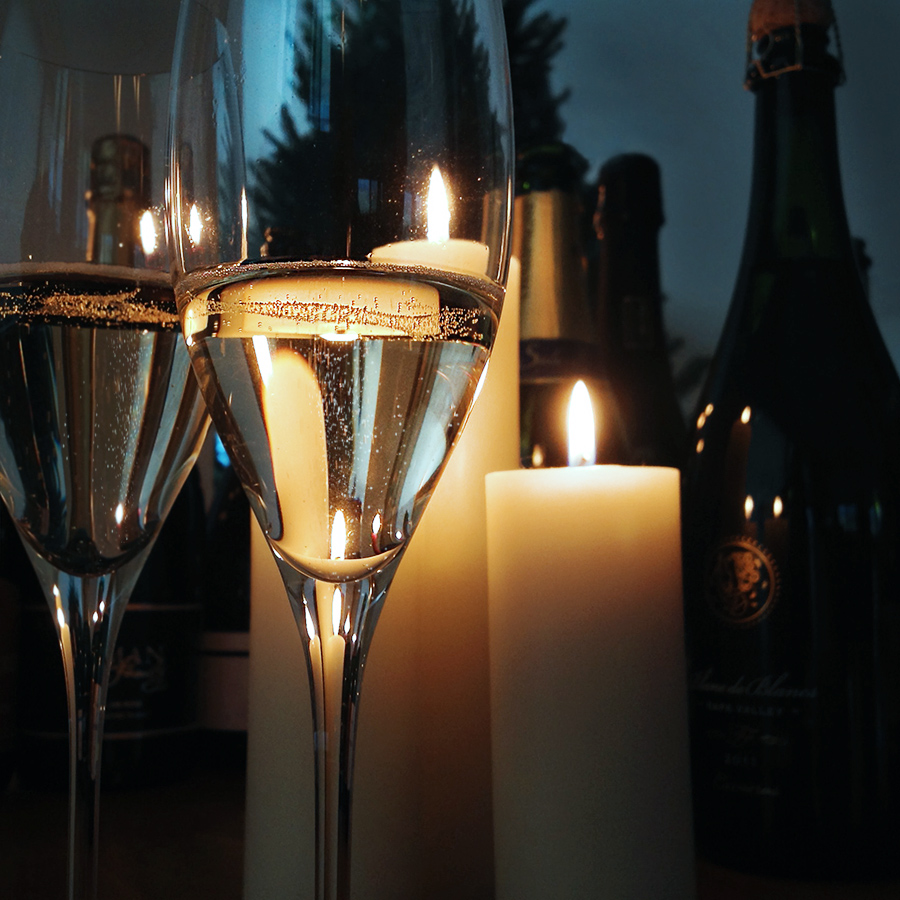 Our series concludes with a handful of wines that don't fit neatly into stereotypes.
What makes a sparkling wine interesting? Unusual grapes. Unexpected regions. A twist in the making. An element of frisson. So Old-World they've lost traction in the New. So new nobody's noticed (yet).
This is perhaps the hardest category of the four in this series, because it requires me to justify the interestingness of each wine. Your mileage will vary. Explore.
Interesting Sparkling Wines
2014 Ca' dei Zago "Colfòndo" Prosecco DOC
Unlike Charmat-method Prosecco, which undergoes its second fermentation in a tank, col fondo Prosecco is old school. It's essentially a pétillant naturel, which finishes its fermentation in bottle. That makes it only lightly sparkling, and because it's also not disgorged, it's somewhat cloudy, too. (Read more about col fondo here.) It can be a little reductive at first, needing some air, and this wine is a good example: closed for the first fifteen minutes or so, with a leesy-bitter aroma and a kind of flinty matchstick quality. But with some time it opens up, suggesting white flowers (typical in Glera-dominant wines), plus ginger, pears, lemon peel, lemon-pears. It's completely dry and quite yeasty, cloudy, very lightly sparkling. Biodynamically grown, and low sulfur. Why bother? Because it's savory, broad and spreading, a perfect foil for cured meats and aged cheese. Because it changes compellingly after opening. Because it's apparently simple but evidently not.
10% abv | $22, Imported by Jenny & François Selections
2013 Bele Casel Prosecco Col Fondo Asolo DOCG
Perhaps you're not yet convinced of the charms of col fondo. Like the Ca' dei Zago, this one needs a few minutes of air, but then it blooms open. It's proteinaceous at first, later more citrusy, with a strong vein of earth, like clay and wet stones. Its strident cleansing acidity is accentuated by a fizzy mousse, but mostly it's crunchy, with minerals and salt and almond-extract bitterness (which is adorable). The finishing hit of yeasty lees adds textural, savory abundance. Not your fairy godmother's Prosecco.
11% abv | $20 (sample) Imported by Petit Pois Corp.
NV Bagrationi 1882 Classic Extra Dry Georgia
A dry sparkling wine from the country of Georgia, made from Chinebuli, Mtsvane, and Tsitska grapes (perhaps enough intrigue right there). The fragrance has a faintly grapey fruitiness, suggesting musk melon and white flowers, and its active, crackly body feels green-citrusy but with a welcome bitter kick. This is a Charmat method wine so its complexity is modest, but the approach highlights the fruit's freshness and pure flavors. More interesting than much standard-issue Prosecco at this price level. Pair it with fresh cheeses, crackers, and snacks.
12% abv | $13 (sample) Imported by Pacific Wine Distributors
2013 Altos las Hormigas Colonia Las Liebres Bonarda Rosé Brut Nature Mendoza
If Malbec is Argentina's concertmaster, Bonarda plays second violin. This red grape, originally from the Savoie, is less muscular and powerful, more floral and demure. It's usually made as a still, pale red wine, but here it's been turned into a Brut rosé sans dosage to good effect. I visited Argentina this spring and while I tasted many varietal Bonarda, none were sparkling. This fruit was grown in the Uco Valley in low-fertility limestone soils. It was pressed, vinified with native yeast, bottled for a secondary fermentation, then aged on lees for six months. Its tourmaline pink body emits quiet pearly bubbles that burst in a frisson of apple-mint, strawberry blossom, and barely-pink berries. Its freshness is countered by a slightly peppery finish that adds depth. Not too serious; instead, unconventional and delicious.
10.5% abv | about $25 (sample) Imported by Skurnik
NV Champagne Salmon Brut Champagne
This wine is unusual in that it's made from 100 percent Meunier, a red grape that's mostly a lesser blending variety in Champagne. It's a deep gold color with fine, smooth bubbles, but it's also curiously scented, very grassy, like birch bark, autumn leaves, ginger, toasted bamboo, alfalfa. It's savory and dry and sharp on the tongue, with a kind of birch-ginger, tea leaf, lemongrass herbaceousness. Curious, but its flavor grew on me. Serve it with Japanese-inflected cuisine.
12% abv | $45 (sample) Imported by Soil & Vine
2001 Ferrari "Giulio Ferrari, Reserva del Fondatore" Brut Trento DOC
If this were Champagne, nobody would bat an eye, but this is método classico from Italy. It's made following the same process, but it has only a slender toehold in America. This wine is 100 percent Chardonnay, grown the Dolomites at 500–600 meters of elevation in the estate's Maso Pianizza vineyard. It was vinified with Ferrari's own yeast strains and then aged a minimum of ten years prior to disgorgement. The 2001 vintage is the current release—which gives you some idea of how seriously Ferrari takes its prestige cuvée. The wine is deep gold with tiny, fey bubbles, incredibly quiet but pervasive. The aromas are prismatic, expansive, with nuts and toast, stones and wet chalk, preserved citrus peel, dried apricot, bitter almond, marzipan. The texture is soft and tremulous, a cloud of pillowy mousse lit by a bright flame of fruit, surrounded by a corona of minerals and salt and ginger. I visited the winery in 2013, and this wine is precisely like the light against the mountains. Why "interesting?" Because it deserves to be experienced.
12.5% abv | $120 (sample) Imported by Palm Bay
Read the other articles in this series, Sparkling Wines for Now: Opulent, Elegant, and Refreshing.
View my Sample Policy.
Follow me on Facebook, Twitter, Instagram, and Delectable.