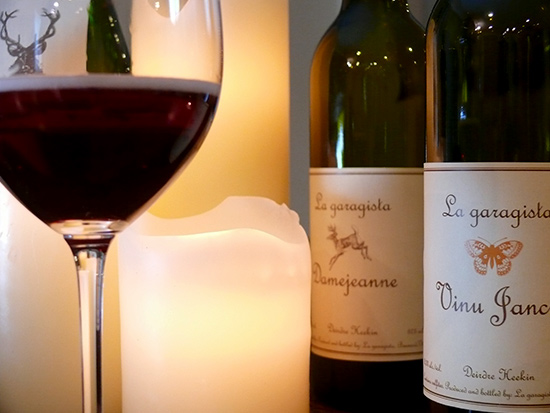 There's real wine being made in Vermont, and Deirdre Heekin is one of the project's leading pioneers.
A writer, designer, and restaurateur, Deirdre recently added winemaker to her list of accomplishments. Her winery, La Garagista, has released only two vintages, but the wines are already winning accolades. Natural wine proponent Alice Feiring praised the 2011s in her subscription newsletter, and Rouge Tomate, cited by the New York Times as one of the city's best restaurants for wine, just added her 2012 orange wine to the list.
Such success for any winery's second vintage is improbable, but for a Vermont winery it's nearly inconceivable. The first Vermont vineyard was planted only in 1996, and there are still just a couple of dozen licensed wineries in the state.
Deirdre and her husband, Caleb Barber, planted their own small vineyard on their land in Barnard in 2008. While those vines reached for toehold, Deirdre began experimenting with grapes from the biodynamic Mina Brothers Vineyard in Vergennes. She released her first vintage in 2011, and 2013 saw the first substantial harvest from her own estate fruit.*
Vermont's bitter winters demand grape varieties that tolerate temperatures dipping south of –30°F. Most producers, including Deirdre, rely on European-American hybrid grapes bred to take the cold, like La Crescent, Marquette, and Frontenac Gris. While these varieties evince some of the aromatic aspects of their European progenitors, the wines are leaner, with less structure and ripeness. Many winemakers tinker to tune their sweetness and body to please consumer palates.
Not Deirdre. For inspiration, she looks to cold-climate regions like Austria, Germany, and Northern Italy, and angles for a style that's light-bodied, savory, and supremely food-friendly. Her winemaking approach is as old-fangled as possible. "All wild yeast, no de-acidification, no chaptalization, no funny business—nothing," she says.
Fruit is hand-harvested and foot-tread, and fermentation starts naturally with ambient yeasts. Wines are raised in glass demijohn to preserve their elegance and freshness, with occasional bâtonnage to enhance savoriness. They're exposed to air when Deirdre checks progress, earning them an oxidative note. Sparkling wines are made in a pétillant naturel style. All wines are bottled unfiltered, with minimal sulfur addition.
I've just tasted several from the newest vintage, some not yet released. These are real wines: surprising, mercurial, delectable, savory, sometimes exquisite. All of them love air; in fact they don't just tolerate being open, they seem to embrace it, rising to a crescendo on their second or third day before tapering slowly to a whisper. They change in the glass, too, from first aromas to lingering savory finish, from first glass to last. These wines are serious, meant to be taken seriously.
"Vermont is the new frontier of American wine," Deirdre says, with genuine optimism. "The new frontier is the northern frontier."
T A S T I N G N O T E S

La Garagista
La Crescent "Vinu Jancu"
2011
12.5% ABV | Price: $20 (375 ml)
Vinu Jancu means "orange wine" in an old Sicilian dialect. The grape is the white La Crescent, fermented with skin contact to extract phenolics and tinge the wine amber gold. Bottled unfiltered, the wine is somewhat cloudy, with quiet aromas of honey, beeswax, yellow apple, lily of the valley, and pastry, almost like pear tart. Very savory on the palate, it reads like chestnut honey without the sweetness, and has notes of biscuit, pear, nut, and waxy flowers. The acidity is modest but the wine flowers open at the finish in a long tart flame.
La Garagista
La Crescent "Vinu Jancu"
2012
12.5% ABV | Price: $20 (375 ml)
A deep burnished gold color, the wine is wildly perfumed, redolent of antique roses, gardenia, sweet ginger, and orange liqueur. Deeply savory on the tongue, it's leesy and almost bitter, like bitter almond, with a vein of saline minerality running through it. There are more rose petals here, plus other flowery notes, along with chestnut honey and roasted hazelnut. The texture is almost waxy, and the acidity feels modest.
La Garagista
Red Blend "Damejeanne"
2012
12.5% ABV | Price: $20 (375 ml)
"Damejeanne" is the onomastic forebear of "demijohn," which we sometimes call a carboy. The name's a hat-tip to the vessel in which all of Deirdre's wines are raised. A blend of 70% Marquette and 30% La Crescent, it has a deep garnet color with aromas of rose petals, sweet tea, sweetgrass, and herbs, and a juicy spark of black plums. On the palate it delivers a tang of juiciness that's like biting the skin of a ripe red plum, and there are flavors of pomegranate and tea.
La Garagista
Vin Mousseux "Capreolus"
2012
12.5% ABV | Price: $52
The same blend of 70% Marquette and 30% La Crescent as in the Damejeanne, here made into a pétillant naturel sparkling wine. The body is deep garnet red with fine skeins of bubbles. Its aromas are floral, like roses; salty, like sea air; herbal, like green grass; savory, like hard cider, or wax, or pastry. The palate yields red berry fruits and spring flowers, more roses, ripe strawberries. The mousse is creamy, with a fine-textured perlé finish. The leesiness works well in this wine, adding a savory bitterness that grounds it and keeps it from too-prettiness.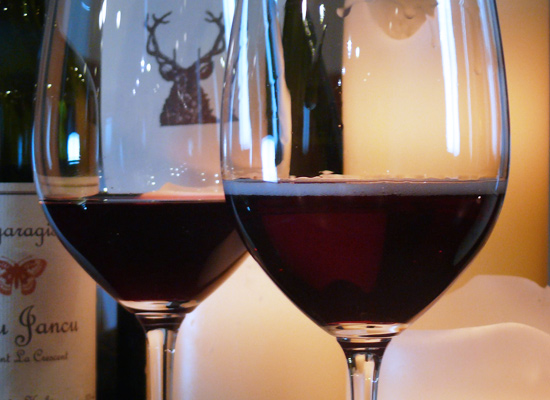 * For more on Deirdre's back story, see my previous articles, Deirdre Heekin's Bitter Alchemy and Deirdre Heekin: Vermont Garagista with a European Sensibility.
All wines were received as media samples.
Many thanks to Wine Business Monthly, Wine Industry Insight, and Terroirist for recommending this article to their readers.