There is no greater demonstration of a winemaker's aplomb than when he places his wine alongside its competition, and invites others to taste. This is exactly what the directors of Ferrari winery did for our group of wine professionals last September, and it was a tasting that will ring in my memory years hence.
The setting: Ferrari's winery in Trento, Italy, perched on the shoulders of the Dolomites. The assembled: twenty sommeliers, wine directors, wine buyers, and wine writers from the United States, Britain, Hong Kong, and Sweden. The wines: twenty-four vintage and non-vintage méthode traditionnelle sparklers from Italy and France, including, of course, Ferrari's own.
Ferrari's liquid competition on the table included wines from exceptional Champagne houses like Moët, Perrier-Jouët, Veuve Clicquot, Guy Larmandier, Krug, and others, plus sparkling wines made in the traditional style from Italy's own Franciacorta and Trentodoc appellations. The tasting was staged in four flights of six wines each, beginning with non-vintage house cuvée, moving to non-vintage rosé, then proceeding to vintage whites and the top cuvée. There was one Ferrari wine in each flight.
The question before us all was simply, What do you think?
Yes, Ferrari had carefully chosen all of the wines they would show alongside their own. True, the tasting was conducted at the end of a three-day educational tour of Ferrari's properties, including vineyards, winery, cellar, restaurant, and historic villa. On previous days we'd formally tasted through their full lineup of Chardonnay- and Pinot Noir-based wines made in the Champagne style, known in Italy as metodo classico.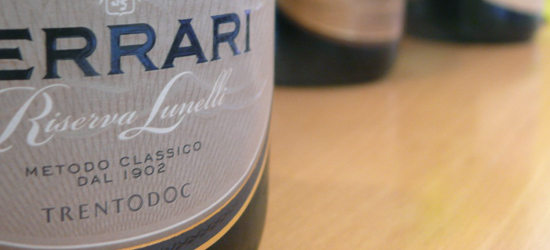 Because it was harvest, we'd been able to taste their winemaking end to end: raw harvest fruit, newly dry must, the wines themselves—even their grappe made from pomace dregs. We'd been treated to presentations by the winery's leadership, an aerial tour of the Dolomites by helicopter, and a talk on mountain viticulture by Attilio Scienza, an instructor at the University of Milan (yes, a lecture on grapes from "Professor Science"). We'd drunk Ferrari's wines at superbly prepared lunches and dinners, and they'd showed beautifully with all manner of cuisine. Let's just say that by the time the first sips of this grand tasting passed our lips, we had become acclimated both to the elevation and to Ferrari's wines.
They stood tall. Amid opulent Champagnes, filigreed Franciacortas, and chiseled, succulent Trentodocs, Ferrari's sparklers showed brightness and depth. They are wines with glittery acidity, creamy mousse, lovely cut, and a broad, spreading savoriness that underpins both aromatics and bite. This savory quality renders them supremely food-friendly, capable of moving fluidly from dinner's opening bell through antipasto, primo, secondo, and cheese course.
The style Ferrari strives for is "vertical" said Ferrari's C.E.O., Matteo Lunelli, meaning "clean, fresh, and elegant." He attributes the wines' balance and integration in part to exceptional cold-climate grapes, produced by the winery as well as by 400 growers with whom they partner to supplement estate fruit. All of these vineyards—some sited at nearly 1,000 meters in elevation—are sustainably managed using practices that enhance biodiversity and encourage beneficial insects and flowers. Trellising is in the pergola style traditional in Trento, which takes advantage of diurnal shifts in exposure to preserve acidity during ripening.
"The challenge is to have a wine that's soft in your mouth not because of sugar," said Lunelli, "but because of the grape itself."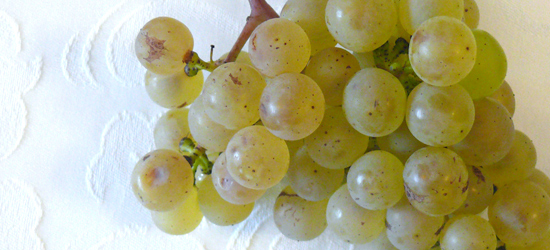 But fruit is only part of the story. Ferrari is equally scrupulous in its winemaking and cellar protocols. After primary fermentation, wines go through malolactic fermentation in tank to sidestep distracting buttery notes produced when malolactic takes place in bottle. Riserva wines repose in neutral Austrian oak tank for nine months of sur lie aging, with bâtonnage, to enhance their savoriness and creamy texture. All of their wines enjoy long bottle aging on lees before disgorgement; 2001 is the current vintage on the market. In fact, Ferrari has listed disgorgement dates on their labels since the 1980s, so they're not exactly newcomers to the late-disgorgement trend. Use of sulfur is extremely modest. Remuage, the daily process of turning each bottle a fraction of a rotation prior to disgorgement, is all done by hand—for one million bottles.
Since its founding in 1903, Ferrari has developed a reputation within Italy as a luxury brand, one poured at celebrations spangled with sports heroes and politicos, movie stars and magnates. Outside of Italy, though, Ferrari's wines are less known. Our presence at the winery was quite openly an exercise in spreading the brand, and that grand tasting of twenty-four premium sparkling peers was designed to demonstrate Ferrari's mettle (and great quality-price ratio) against some of the finest Champagnes and Champagne-style wines in the world.
Still, the perception Ferrari wanted us to take away from the tasting was not one of luxury, but of quality. "I don't like 'luxury' as a term," said Lunelli. "We prefer to talk about excellence, tradition, and craft." It's a tradition that reaches past Ferrari's own century mark to embrace five centuries of winemaking in Trentino. And this aesthetic of skilled traditional handiwork, Lunelli said, is "something you can find in a cheese, or in a dress—or in a bottle of Ferrari."
In other words: taste our peers' wines, and taste our wines, and see if we shine brightly in the pantheon of exclusive sparkling wines. But even if you think we do, please don't think of us as exotic, or luxe, or recherché. Think of us as craftsmen, and think of our wines as a food, handmade in high mountain valleys, for your table.
T A S T I N G N O T E S

FLIGHT ONE: NON-VINTAGE HOUSE CUVÉE
Ca' del Bosco Cuvée Prestige Franciacorta – Brightly floral top notes commingle with green apple and green fruit aromas. Flavors of lime peel complement an elegant, creamy mousse.
Bellavista Cuvée Brut Franciacorta – Round yellow apple notes lead a palate that's sweetly floral, with ringing acidity and a fine-boned structure. My notes say, "reserved and elegant, like a tall lady in a Botticelli painting."
Ferrari Brut Trentodoc – Key lime and lemon peel polish a nicely textured mousse that flowers into a starburst of acidity at the finish. Minerally and savory, this wine has spine.
Moët & Chandon Impérial Champagne – Floral jasmine aromas with hints of yellow apple sit atop a lightly flavored palate with a surprisingly coarse texture.
Veuve Clicquot Ponsardin Cuvée Brut Champagne – This wine is unpleasantly sour, like sour milk or lemony cheese, with a note of oxidation mid-palate.
G. H. Mumm Brut Champagne – Savory aromas, almost earthy, yield to a salty mid-palate, and the finish is deeply spreading.
FLIGHT TWO: NON-VINTAGE ROSÉ
Maso Martis Brut Rosé Trentodoc – This wine is curiously quiet, and its flavors feel flat, almost ironed-out. The finish is bitter.
Berlucchi Cuvée Imperiale Max Rosé Franciacorta – Aromas of red berries are top-noted by yellow apple. Clean and fresh flavors of yellow plums complement the fruit notes. It would make a nice aperitif.
Ruinart Brut Rosé Champagne – A leesy nose and smooth, quiet red fruit flavors characterize this solid, if perhaps overly reserved, sparkling rosé.
Ferrari Rosé Trentodoc – Minty aromas with notes of red apple hit a high note over this most savory of the flight. Its herbal and leesy aspects both render it excellent with food.
Perrier-Jouët Blason Rosé Champagne – A lively sweet vanilla scent complements red plum, biscuit, and nut. This wine has a terrific pearly texture and big, toasty body.
Laurent-Perrier Cuvée Rosé Champagne – Savory, nutty aromatics dance with flavors of red berries and a hint of oxidation. Love the texture.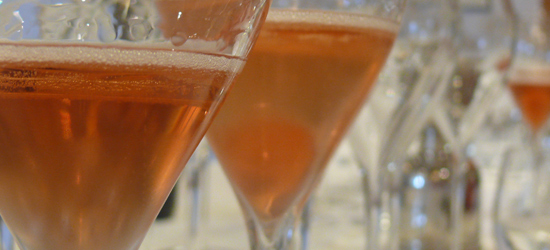 FLIGHT THREE: VINTAGE WHITE
2007 Bellavista Gran Cuvée Brut Franciacorta – A delicate floral nose offers the scent of apple blossom, blackberry blossom, and ephemeral spring flowers. The mousse is fine-textured; this wine feels intricate.
2004 Cavit Altemasi Riserva Graal Trentodoc – Green apple, sour apple, green fruits, green grapes. (Did I mention that it's malic?)
2005 Guy Larmandier Grand Cru Champagne – Savory, toasty aromas of baked nut round-out a finely detailed, pearly texture. The contrast works.
2006 Ferrari Perlé Trentodoc – Umami aromatics, almost soy sauce, spread into a broad, mid-palate that's so savory it's like cured meat. It's a wine that loves food.
2004 Perrier-Jouët Belle Epoque Champagne – Aromas of caramel, roasted almond, and burnt sugar dominate, but while the nose is sweet, the palate feels a bit sour.
2002 Veuve Clicquot Ponsardin Champagne – Opulent and grand, the wine's flowery aromatics slide into notes of salt, baked caramel, nut, and biscuit.
FLIGHT FOUR: TOP CUVÉE
2006 Bellavista Vittorio Moretti Franciacorta– Brioche and croissant filter through high notes of mint, flowering herbs, and spring blossoms. The palate is minty and very lean. This wine feels fragile, as if it needs protection.
2002 Ca' del Bosco Annamaria Clementi Franciacorta – Aromas of caramel, brioche and roasted hazelnut carry forward seamlessly onto the palate, where the wine's delicate texture poses a nice contrast.
2004 Dom Pérignon Champagne – Lean and very leesy, it's creamy but with very little personality. It's perhaps far too young?
2001 Giulio Ferrari Riserva del Fondatore Trentodoc – Glorious yellow fruit and leesy notes are balanced by lively acidity. This wine has a gorgeous sprightliness for all its savory gravitas.
2004 Bollinger Grande Année Champagne – Toasty nut mingles with bright white flowers and green apple aromatics; it's at once serious, lively, and beautifully integrated.
2000 Krug Millésime Champagne – The wine is deeply savory all around, with notes of aged cheese, toast, and roasted nut. Quite wonderful.
Many thanks to Wine Business for recommending this article to their readers.