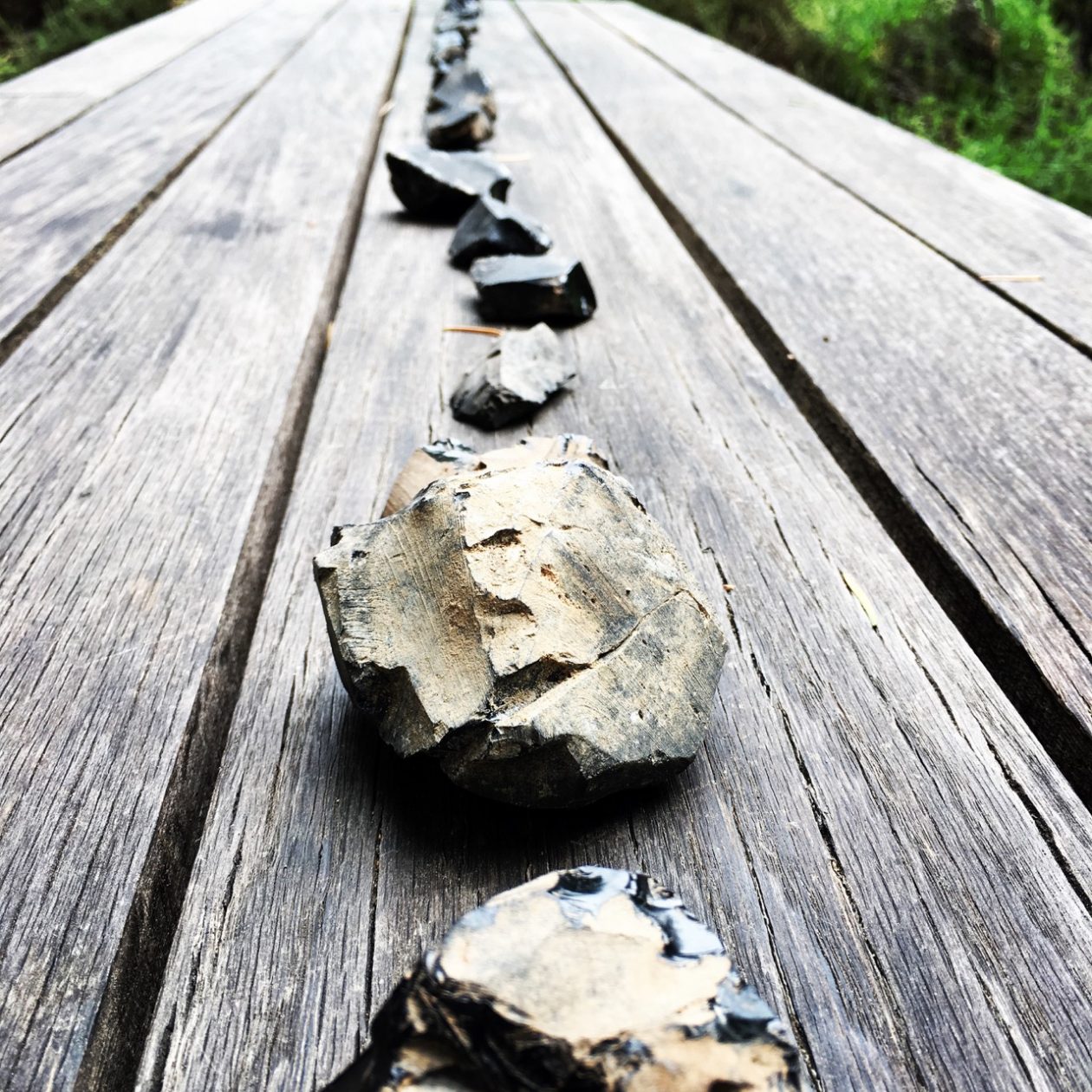 Obsidian gathered from Failla's estate

Ehren Jordan and his wife, Anne-Marie Failla, launched Failla Wines with the 1998 vintage. She's a former banker with Morgan Stanley who now handles the books. He's a former ski bum turned sommelier turned cellar rat turned, well, 2008 Winemaker of the Year for the San Francisco Chronicle.

Let's back up.

Jordan grew up on the East Coast, majored in classical archeology and art history, then wended westward, landing gigs as a sommelier in Colorado and then, farther west, as a cellar hand at Joseph Phelps Vineyard.

He knew he wanted to make wine, but that liberal arts degree had left gaps in his training. So he pulled up stakes and moved to the northern Rhône to get boots-on-the-terroir experience with Jean-Luc Colombo, a galvanizing wine modernist (by French standards, at least) and ardent advocate of organic viticulture.

In 1994, after two years in France, Jordan returned to California and began making wine for newly launched Neyers Vineyards, working for a stake of the profits. Soon Failla and Jordan married, and when Larry Turley of Turley Wine Cellars and Marcassin came looking for help, Jordan added the backstop of a full time winemaking job.

He remained at Turley for eighteen years, producing beautiful and substantial wines, mostly Zinfandels. Opulent and chewy, with alcohol levels often reaching into the upper teens, they garnered abundant critical praise. Having tasted many Turley wines from the Jordan era, I was surprised to find I liked them. I gravitate toward fine-boned wines with sharp edges and corrugated tannins, wines that slosh amicably with food. But the Turley Zins, especially the old-vine wines, and especially with bottle age, somehow seem to wrangle extract and acidity and, yes, EtOH, into a magical equilibrium.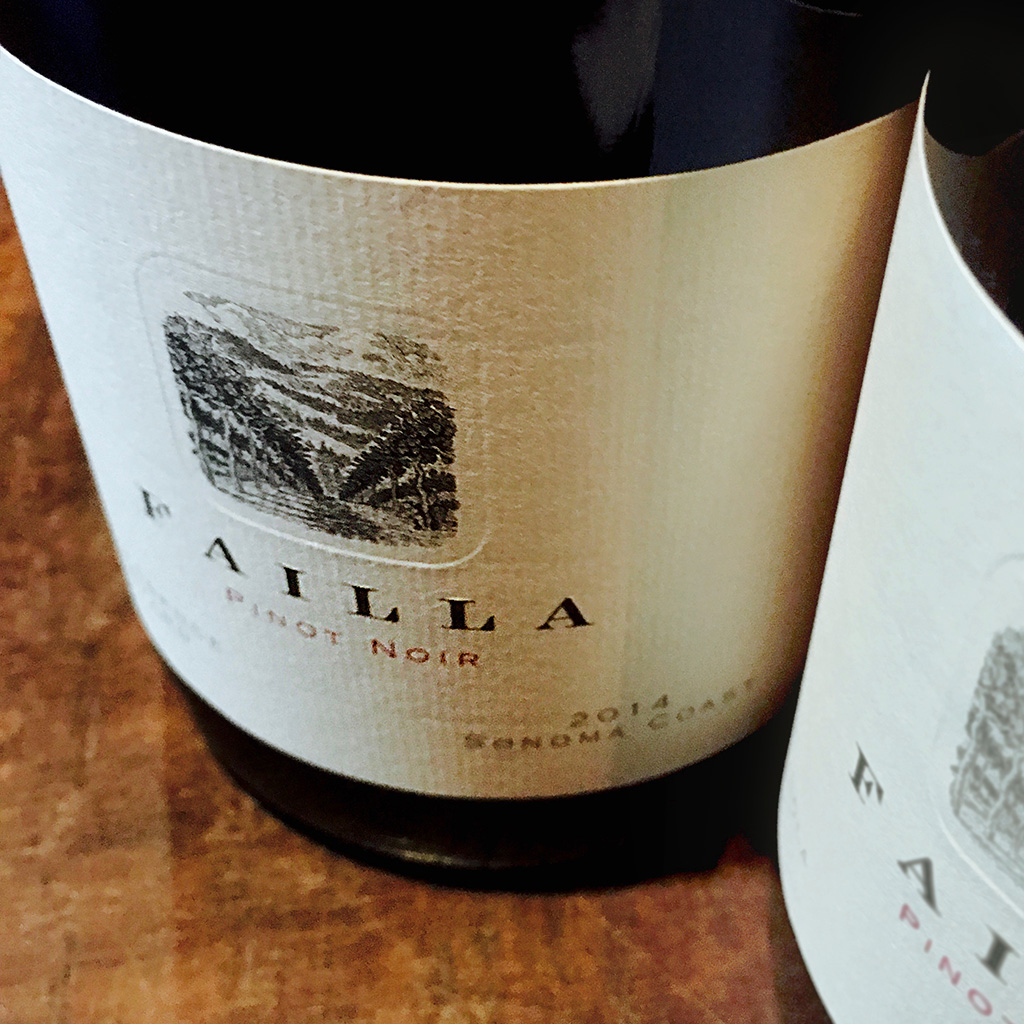 Despite the demands of working for two wineries and managing properties up and down California—even earning a pilot's license to commute by Cessna—Jordan cooked a plan with Failla to launch their own label. The first wines,[1] released in 1998, harkened back to that two-year Rhône stage: six barrels of Syrah and six barrels of Viognier.
But that same year Failla also began planting vines in a parcel they'd purchased in Cazadero, in the Fort Ross-Seaview AVA. The ninety-acre plot lies just above the fog line a couple of miles from the Pacific, and it's a cold growing zone, where fruit can struggle to ripen. But this appellation has earned admiration for producing restrained, cool-tempered wines, with proven by examples from neighboring vineyards like Hirsch, Peay, Flowers, Martinelli, and Marcassin.
Failla planted the new estate to Pinot Noir, Chardonnay, and Syrah (a suitcase clone from Cornas). It yielded its first harvest in 2001. The vineyard is organically managed, hand-cultivated, and off-grid, and it's also dry-farmed, no small feat during recent drought years.
Meanwhile, the winery continues to source about eighty percent of its fruit from other growers, mostly in the Sonoma Coast, Sonoma Valley, and Russian River, to flesh out production to about sixteen thousand cases. Pinot and Chardonnay are the anchors, plus a little of that Jordan heartthrob, Syrah.
Failla's winemaking facility and cave in St. Helena, Calif.
The style? I'd call it old-fangled modern. Failla picks early, ferments with ambient yeast, and uses mostly neutral oak. The Chardonnay is fermented in a mix of oak barrels and concrete eggs (the cellar houses fourteen eggs now, with six more on order). Wines are never fined nor filtered, and are bottled without cold stabilization.
Jordan does use a portion of new French oak, and all the whites go through the softening step of malolactic fermentation, but they're a far cry from the creamy, buttery, sweet-seeming style these treatments can engender in the New World. Instead, they're elegant, classical, with a stoniness and succulence that links them to Burgundian whites.
Meanwhile, the Syrah is Northern-Rhône meaty, spiked with pepper and earth—it's one of the few New World Syrahs I've tasted that truly echoes the Northern Rhône. The Pinots are crystalline and correct—not for Burgundy, this time, but certainly for cool-climate California.
In 2004 Failla acquired a crumbling ten-acre apple orchard in St. Helena, carving an impressive cantina-cum-cave into its stony hillside. The new facility opened in 2008, and also includes a modest tasting room, which I visited in June. The stars didn't align for a meeting with Jordan, but I was able to taste some of the current releases to produce the notes below.
Some writers have expressed astonishment that a single winemaker might excel at such diversity of styles: Zinfandel and Pinot, Syrah and Chardonnay, wines of ripeness and wines of restraint. Me, I credit the liberal arts—or rather, its roots, namely the restless mind, the impetus to reconcile classicism and modernism, to question orthodoxy, to reinvent. In short: to learn, to be, and to do.
At his new site, Jordan ripped out the grizzled apple trees and planted a few acres of vines. The grape—is anyone surprised?: Zinfandel.
TASTING NOTES
2014 Failla Chardonnay Estate Fort Ross-Seaview
Fruit was whole-cluster pressed and vinified with ambient yeasts in a mix of concrete eggs and French oak barrels. It smells musky, with a lift of petrichor and salted honeydew. The texture is silken, threaded with cultured cream and shot with bitter citrus and the pungency of oregano. It's saline, too, briny, with focused acidity. $48
2014 Failla Chardonnay Haines Vineyard Napa Valley
Stylistically similar to the Estate Chardonnay, made similarly, but it's less herbal, more ample, with more structure and ripeness. Its handsome citrus fruit is carried on waves of creamy lemon, and the finish is lacy, salty, lingering. $58
2013 Failla Pinot Noir Lola Vineyard Russian River Valley
A floral, spicy Pinot with a fragrance of sweet tomato, raspberries, and pink petals. Then wine comes down to earth with suggestions of wet stone and a coffee-herbal essence in the middle. The finish is succulent, sharp, cleansing. $48
2014 Failla Pinot Noir Pearlessence Vineyard Russian River Valley
Where Lola was floral and fey, Pearlessence is its zippy younger sister. Peppery and zesty, it reads almost like a Gamay, with crackling pink peppercorns and pink grapefruit acidity. A drift of nasturtium flowers—very spicy—adds lift, and the finish is like biting a ripe sweet tomato. $58
2013 Failla Pinot Noir Estate Fort Ross-Seaview
A complicated, finely articulated wine, its fragrance mingling wild roses, rose hips, raspberries, and sweet herbs with a stony, wet clay earthiness. The acidity is lively and the fruit skews tart and linear. With ten minutes in the glass, it begins to yield a perfume of purple flowers. Youthful but elegant and quite compelling. $75
2013 Failla Syrah Estate Fort Ross-Seaview
An American Syrah that truly evokes the Northern Rhône. The scent is meaty, earthy, greased with bacon fat and crackling with pepper and herbs and black olives. Graphite-like tannins and firm acidity carry savory notes of cured meats and black fruits. Structured but not opulent, and very dark. $62
All wines were media samples tasted at the winery on 15 June 2016.
[1] The couple's original label was Failla-Jordan, but at the behest of Jordan Vineyard and Winery, they pivoted to Failla.