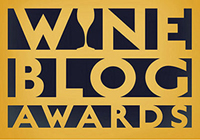 Nominations opened today for the 2012 Wine Blog Awards, recognizing excellence in wine writing by those who self-publish online. I'm pleased already to have been nominated in the categories of Best Writing, Best Wine Reviews, and Best Overall Wine Blog. Submissions are anonymous, so I don't know whom to thank, but Thanks.
As you probably know, I consider myself writer first and subject matter expert distant second. I value writing that both describes an experience and makes clear why that experience matters. Taste is one of the most ineffable of subjects, one of the hardest to speak and write about, and this is exactly why I love to write about it. I like the challenge of describing the indescribable.
More important to me, though, is that while you and I may agree broadly about the superficial aspects of something that passes across our palates—the wine is citrusy, the wine is tannic—each of us will also feel private resonances below the level of these exogenous factors. Taste will stimulate evocations, associations, reminiscences, memory triggers, and these will be wildly different for each of us. These evocations deeply matter, and deserve as much attention as, and maybe more attention than, the superficial commentary of the tasting note. Food and wine are the architects of memory, as well as its powerful provocateurs.
If you like what you read here, and especially if a particular post has grabbed you this year, please consider supporting me by nominating the post or the blog as an entirety. Through May 30, you can submit your nomination here.
Thank you,
Meg Houston Maker