I slipped first one leg, then the other, over the brink of granite, my pale calves disappearing into the pulp. I'd expected it to be cool like the stone, cool like the sulfur bath that had purified my naked feet, cool like the black night settling around the cantina. But it was warm, or off-warm—body temperature.

Twenty people had already labored here for hours, arms linked in ranks, rhythmically marching in the trough. Their thin shirts were now wet with exertion, their skin sticky with fruit sugar and sweat. The pressure of their feet had popped open the grapes, exposing green flesh to blood-red skin, staining the must wine-dark.

I was a guest here, a writer traveling with three others who'd come to see port wine being made. Now we were to help make it ourselves, following a centuries-old ritual in one of port's oldest estates in the Douro Superior, Quinta de Vargellas. This was our planned after-dinner amusement. For our dance partners it was simply the end of a long harvest day.

Cue the music. Cue the Americans. It was time to dance in the food.
This part of the upper Douro reaches east across Portugal to Spain, where it swaps its name for Duero. The remote area has been accessible by road only since the 1980s. Centuries ago there was only the river itself, and the boats called barcos rabelos that transported casks downriver for long aging in the warmer, more humid cellars in Porto and Vila Nova de Gaia. From there, the fortified wine was shipped to ports across Europe, the British snatching the lion's share. The railroad arrived in the late nineteenth century—Vargellas has its own train station—and only much later came automobiles. But still today, the roads are treacherous and serpentine, nauseating.

This was my first visit to Portugal, and my first experience visiting port producing vineyards and wineries. After I'd accepted the invitation, I had been stricken with anxiety. Port is hard: hard to make, hard to understand. There are many styles, and the best port takes decades to mature. I had tasted little of it. My understanding was fastened not to the anchor of taste memory but to the bland dryness of books. I worried that my weak port knowledge would out me as unworthy and unwelcome, even though I had been invited.

I attempted to calm my pre-trip jitters by doing homework on the region, soils, laws, history. I read as much as I could find about my hosts, the Fladgate Partnership, and their 500 hectares that include historic port houses Fonseca, Taylor, and Croft. I had been advised to pack stylish clothing, swapping my de rigueur vineyard-visit wardrobe of jeans and field boots for skirts and blouses. It's kind of—smart, the organizer had warned. These were aristocratic houses, led by British families who had maintained ownership for generations—Croft was founded in 1588. The people who steward this legacy are, functionally, nobility. I'm not. Not that I don't know how to hold a fork, but my life is more or less self-made. My husband and I own a small plot of land in New Hampshire, where we grow our own fruits and vegetables and chop our own firewood and haul our own recycling to the transfer station. This handmade, rural aesthetic is also the lens through which I write about wine: as an agricultural product, tied to its place and making. Being a writer often requires me to move fluidly between the realms of labor and luxury, holding myself at a respectful distance. I had mostly gotten used to that contradiction: wine as an elixir coaxed from stone by rough hands. Port is a handmade wine, but it's also a luxury good—glamorous, aristocratic, expensive. This trip to the Douro would bring that high-low tension into high relief.
All of the journalists in our group had flown red-eyes into Porto, where we were to spend our first night. After a brief rest, we were greeted by Robert Bower, an eighth-generation member of the lineage now in control of Fladgate. We took a tour of our hotel, the Yeatman, a Fladgate property perched above the tile-roofed warehouses in Vila Nova de Gaia. Then, as the sun slanted on the Douro, we piled into cars and sped across the river to Porto for a welcome dinner at a bustling, brightly lit restaurant in the city's old center.
As dinner drew down, I could feel the jetlag seeping into my bones. Finally, we rose from the table. Robert sprang first to the door. Who likes gin?
I like gin. I like its cooling juniper snap on a clear-eyed day. But I'd had enough of just about everything after my flight and short, sluggish nap. I wanted to say no, no thank you, to take a car back. But then—
Yes. I thought. Say yes. Say yes because you are in Portugal, and it's your first time here and it's a Saturday night and the city is waking up at last, and it's not too far, says Robert, a short walk. Say yes not because of now, but because of later. Say yes because you will remember going, but you will forget not going.
We worked our crooked way on foot along the broken cobble streets of old Porto. Robert was hazy about the address until suddenly we were stumbling into a bar, a virtual temple to gin, shiny and dark and lined with bottles in impossible colors. Two deft tenders were making drinks over the din, administering a space-age ice machine whose swirls of frigid smoke tinged the air flame blue as it disgorged its contents. The drinks were specialized, complicated, and colossal, each glass the size of a cantaloupe.
I can't drink all that, I chuckled into the dark, to nobody in particular. Robert smiled at me and ordered for us all. The point is not to drink it. The point is to taste it. It was smooth, delicious, and comically enormous. I sipped as much as I dared.

Finally, we waved down our driver, who had meandered along behind us and parked while we dallied. Perhaps he hadn't anticipated this late-night side trip. Or, knowing our host, perhaps he had. I watched the dark neighborhoods slide by, humming with fatigue and food and gin and a headful of unintelligible Portuguese. I don't remember going to bed. Or I should say, going to bed is not what I remember.

The next morning, Sunday, we were off early, piling into a big black Mercedes bound for the train station while Robert chased our route up-river in his own car. Our driver was a petite woman in her fifties, the spouse of last night's driver—it's a family business—who insisted on lugging my bag to the station curb. Her English was rough (but better than our Portuguese) and as we wheeled out to the platform, she pointed to our tickets and to the station wall, shouting Pin-YOW, Pin-YOW. We all blinked at each other, uncomprehending. Pin-YOW! she said again, until it finally clicked.
The train snaked along the Douro, jerking into every local station to expel and ingest passengers. The cars were jammed with city dwellers headed to the countryside for Sunday dinner with family. Across from me a woman clutched three children to her lap, the legs of the eldest dangling against my shins. The late September air was hot, and the air conditioning in our train car was broken. By the time we reached Pinhão and disembarked we were melted and cranky. Robert, cheerful, met us at the station, and our mood lifted as we split into cars for vineyard and winery tours.
We worked our way up the river through the middle section of the Douro known as the Cima Corgo. We stood on an overlook above Quinta do Ventozelo atop sixty-degree slopes. Here the land falls away in schist terraces that trace the river like contour lines scrawled by giant cartographers. We stomped through vineyards, tasting sweet black grapes and plucking ripe figs from trees planted at the margins. And we traipsed through three wineries, Quinta da Roeda, Quinta do Panascal, and Quinta de Nogueira, to see the grapes arriving and follow them through the process that transforms berry to mush to wine.
Port winemaking starts out like red winemaking: The grapes, a mix of ancient local varieties like Touriga Nacional, Touriga Francesa, and Tinto Cão, are picked and crushed, and the yeasts go to work on the grape sugar, turning the juice into alcohol. But then the making diverges. After only a few days of fermentation, and before the yeast has gobbled all of that sugar, the winemaker adds grape spirit, called aguardente, to the must, raising the alcohol concentration to between eighteen and twenty percent. This kills the yeast and stops the fermentation, and once the juice is drawn off, the result is a sweet, fortified, but very young, port wine.
Because the grape juice is in contact with the grape skins for only a short time, and because the grape spirit further dilutes the color, the first phase of winemaking is agitative to coax out polyphenols, anthocyanin, and color compounds and make a deeply red wine. Historically this step was done in huge, shallow granite troughs, called lagares, where the grapes are worked by foot-treading. The human foot is thought to be the perfect instrument for this step, exerting just the right amount of pressure to crush the grapes while body heat warms the juice and primes it for yeasts. But treading is labor intensive, so this traditional approach is now reserved only for the top vineyard fruit, the stuff that deserves gentlest handling and fetches highest prices. The rest of the fruit, and in years the vintage is poor almost all of the fruit, is mechanically worked, crushed and agitated by contraptions that sit astride these lagares, or in stainless steel tanks outfitted with mechanized paddles.
And then there is the question of fortification. About one-fifth of the liquid that ends up in a bottle of port is grape spirit, so it contributes significantly, and can detract significantly, from the finished taste experience. Until 1992, port producers were required to use a spirit produced within Portugal and sold to them by the government. Quality was poor. When Portugal joined the European Union, such protectionism was forbidden, and Port houses swiftly shifted to using a higher quality French grape spirit—essentially un-aged brandy—to ensure a fluid, neutral taste. I had a chance to try a tiny sip of this, and it was a blaze of alcoholic lightning that nonetheless delivered crystalline purity and almost-sweetness.
At the end of our day's winery visits we piled back into the cars and headed farther up the Douro to Quinta de Vargellas. This was the part of the trip I had been fuzziest about. We're staying at a quinta? All of us? And we're to bring clothes for dining, plus a swimsuit? There will be late-night "entertainment?" What kind of entertainment?

You'll see, Robert had said.

But—is it a hotel? Will there be others?

You'll see.

The autumn afternoon was drawing to a close, and as the breezes of the day settled, the river sank into a quiet, shining mirror of the landscape. The road into Vargellas covered some of the steepest and most spectacular wine terrain I've seen. The Mosel is a close match for its mix of angle and aspects, but in the Douro the stone terraces, built over centuries, are part of the visual miracle.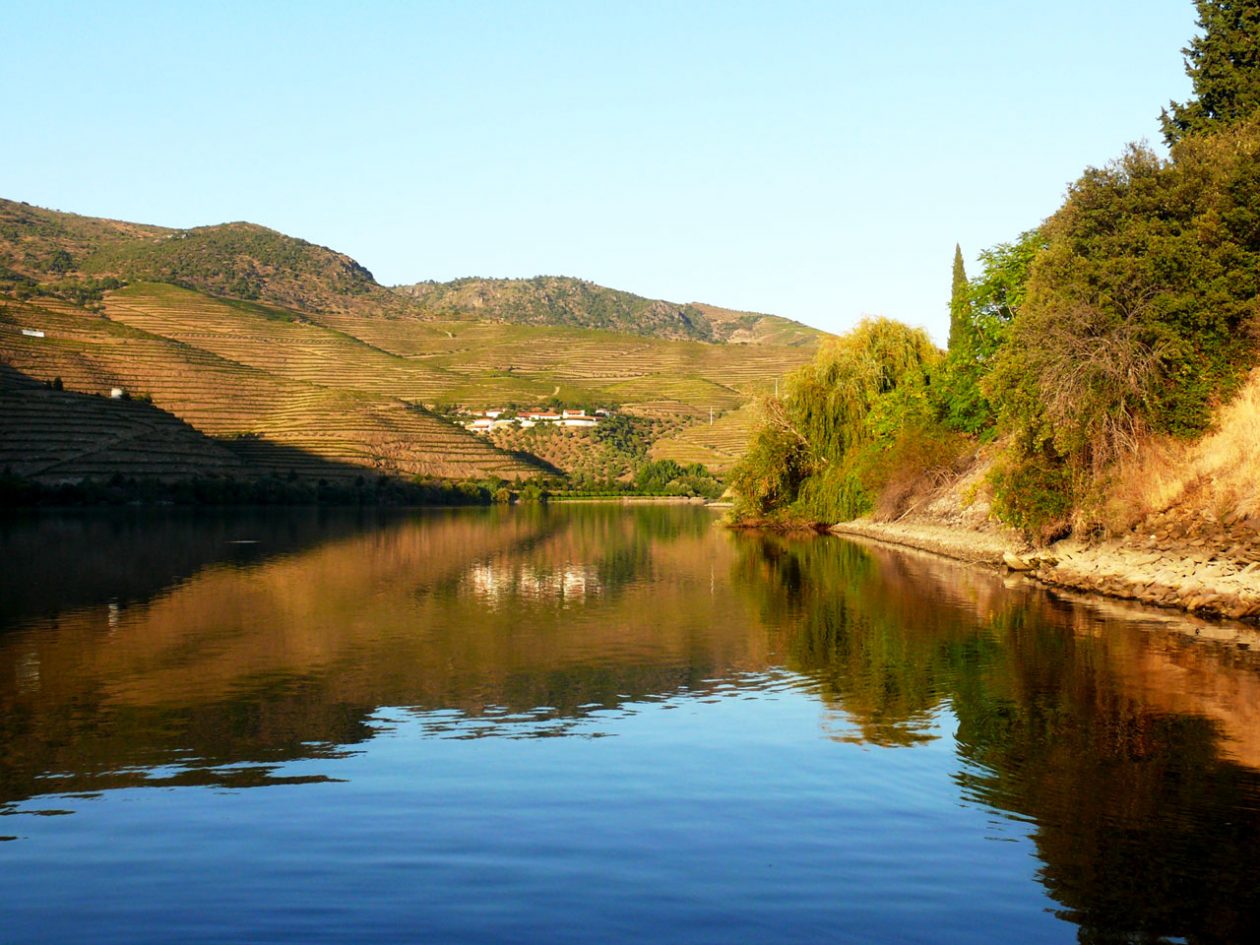 As we wended down into the valley toward Vargellas, Robert finally gave us a sense of what to expect. This is a family estate, he said, and our hosts would be Alistair and Gillyane Robertson. He is Fladgate's Non-Executive Chairman, the company's elder statesman, and although they live in Porto, they like to come here at harvest, to be present for the spectacle.
We pulled along a narrow drive to a white manor perched above farm buildings, and parked. Robert bounded from the car. Through here. I'll get your bags! We bumped our luggage along the stone path to the back wing of the house as our hosts came out to greet us, wearing broad smiles and leisure clothes. Alastair, topped by a mop of silver hair, looked easygoing in red chinos; Gillyane was fearlessly glamorous in a bathing suit and gauzy caftan. They looked tanned, relaxed, and genuinely happy to see us.
Gillyane showed me to my room, her colorful silks drifting behind her. As we passed through the corridors I caught glimpses of the household staff: a shadow of motion in the kitchen, a swish of skirt in the hall. Here was a discreet industry, laboring to make the home feel effortless. My room was in keeping with the rest of the house: elegant, antique, aristocratic. There was bed and a dressing table. There was a private bathroom with a long stretch of marble and an enormous tub. And there was a breathtaking view, through a window thrown open, of the silent Douro wreathed in vineyards.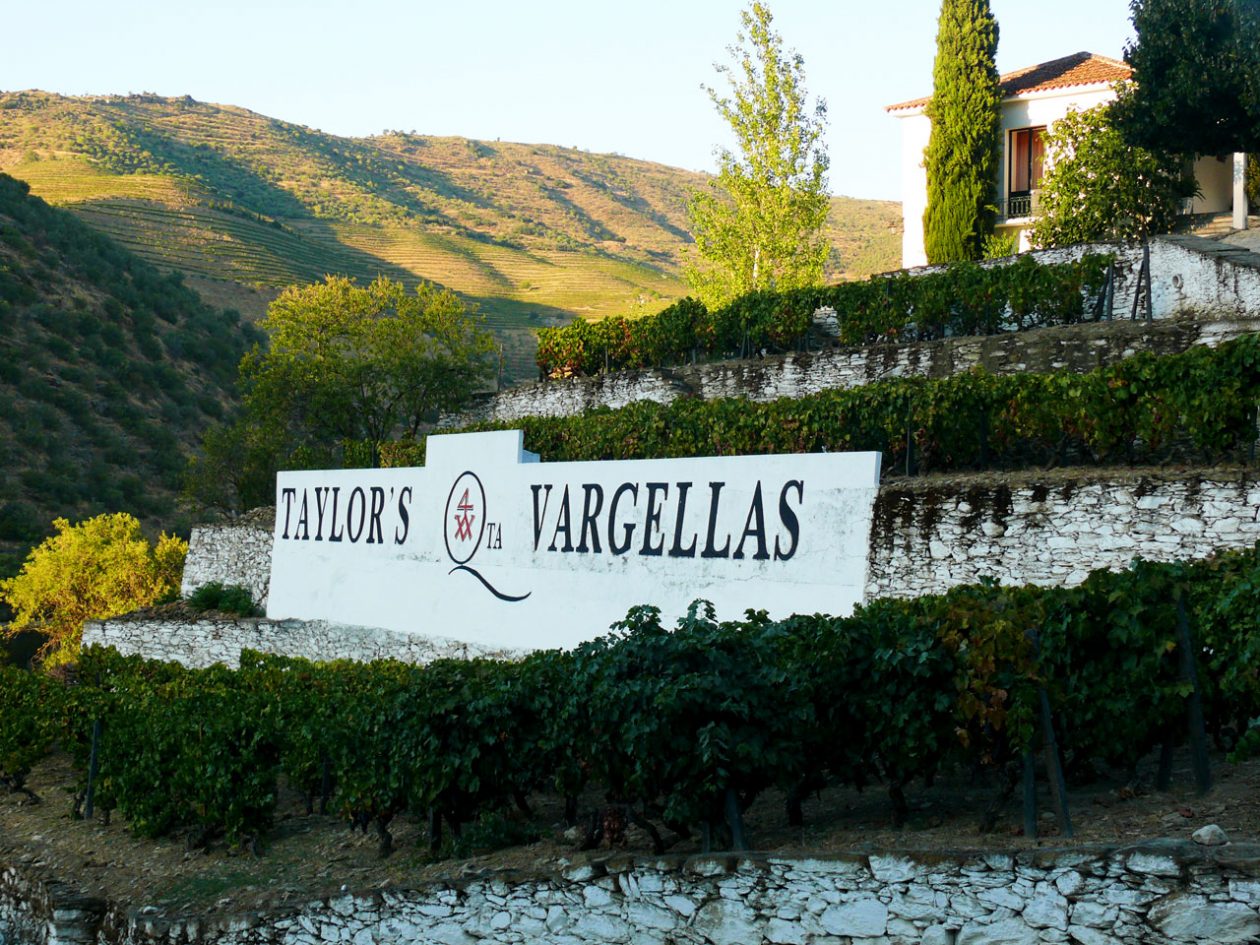 I was instructed to freshen up and meet on the terrace. Bring a bathing suit if you want to swim!
We re-assembled and picked our way down the path to the river, the black Labrador padding behind us, carrying a ripe lime he'd snagged from the tree near the swimming pool. Gillyane snapped jokes and waved at elements of this working quinta: the workers' quarters, the vineyard, the cantina. Soon we were on the plain of the river and crossing the railroad tracks at Vargellas's stop, then scrambling into a motorboat moored at a small dock. Moments later Alastair was piloting us downriver while Gillyane, chuckling, the wind tossing her light hair, was mixing white Port tonics, crowning them with mint, and handing them around. The river twists and jags below Vargellas, and as we motored we kept breaking in and out of sunlight, the canyon of river switching on and off in the blazing late afternoon. We passed a monument, inscribed at Brobdingnagian scale on the canyon wall, that was a tribute to an ancestor who had died in a boating accident. Gillyane and Robert swapped turns telling the tragic story, which involved a pipe of port, a prideful port shipper, his wife, and her petticoats.
We returned to the dock jolly from the cocktails and the fresh lift of evening air off the river. We mounted the dusty road, the dog still clutching the lime in his jaws, and as we approached the cantina, we began to hear the workers' rhubarbarations. Earlier in the day they'd harvested Vargellas's oldest vineyard, collecting enough fruit to fill only a single of the cantina's four stone lagares. These grapes are used for their top bottling, dubbed Vinha Velha for "old vine." Production in a good year is a mere one thousand bottles.
Within, men and women in short-shorts and tank tops were sanitizing their feet in a shallow sulfur water bath, preparing to tread this precious fruit. Nearby, men with sinewy arms shimmied onto long boards laid across lagares that had been processed earlier, working the pulp rhythmically with long wooden paddles. The workers ranged in age from their twenties to their sixties, and many of them return each year, traveling hundreds of kilometers from their own farms to make wine during harvest at Vargellas. Some, like the port house owners themselves, are in their second or third or –nth generation. A few of them stopped to smile at us. We were the first guests invited to the quinta that season, but we wouldn't be the last, not this season nor ever. As long as foot treading survives, it will exert its ineluctable pull, both to do the work and to witness the work being done. Still, I wondered what they must they think of us, these interlopers from America, standing there watching them work.
Once in the lagare the workers organized into two lines, one on either side of the stone pool, then linked arms. For some, the fruit came over the knees. The captain, a burly man likely chosen for lung capacity, began calling out, in Portuguese: One, Two, Three, Four; One, Two, Three Four… The lines started marching, first in place, and then advancing back and forth, meeting in the middle and retreating. This phase was to go on for four hours so as to thoroughly crush the grapes. After that, the lines would break and music would start. The workers' faces were serious and calm, and the room was quiet except for the captain's voice booming against the tiled walls. The sense of ownership seemed palpable, a sense of urgency and belonging. The Fladgate partnership might own the land, but these people make the wine.
Our own small crew returned to the house to lounge by the pool before dinner, then change and reconvene on the patio. I shifted into a black dress trimmed with velvet, topping it with a spangly silver necklace and fake diamond studs. Gillyane donned an evening top and important jewels. Alistair was double-breasted. We gathered at the table under an arbor of grapes as night pulled its curtain across the sky. Dinner was served deftly, silently, by members of the household staff. The food was excellent but it was not memorable, or at least it is not what I remember, because my indelible images of that meal were merely of the scene itself: the rubescent candlelight flickering in black lanterns, the rustling of vine leaves as the hills exhaled the day, the companionship of our strange and marvelous hosts, and, in the tinny distance, the faint, rhythmic chanting of the lagare.
Below us the teams were marching into their sixteenth hour of work while we dined under a canopy of privilege. But wasn't I working, too? Although my hosts were utterly welcoming and gracious, I was not truly a guest. I was not here because I'm an aristocratic landowner, affluent and in my own –nth generation. I was not here because my family had been coming for decades to stomp grapes. I was here because I'm a writer, and because someone decided I could give voice to this strange and wonderful thing. I was there to do a job: to witness, to taste, to write it all down.
We rose from the dining table, and suddenly someone was handing out tee shirts and awkward shorts, the kind I haven't worn since junior high. Now it's your turn.
I had yet another job.
We retreated to our rooms to shed our velvet and jewels, false and true, and made our way back down to the cantina. Gillyane took us each aside quietly before we entered. Be sure you stay through to the end, she said. The workers like it when the guests stay all the way through.
So that is how I came to be standing in the food with twenty others—Robert included—all of us tired from our respective days' labors. Traditionally, this phase is accompanied by live musicians: a guitar, an accordion, a tambourine. We had a live musician with a Casio keyboard. We danced swinging elbows hoedown style, then as partners, smiling at each other, embarrassed. I danced with a man who was stout and sweaty, with a nice smile and strong grip. He spoke the tiniest bit of English, so we were not altogether lost. But we didn't really need words, because there was the music, our bodies, the grapes.
The grapes! I was over my calves in grapes. They were warm now, their texture like loose blueberry preserves. The lagare floor was carpeted with their pulp and seeds, and as my feet landed and they pressed this mass against the stone, I could only occasionally feel the rough granite against my toes.
The dancers formed a Samba line. There was disco. Finally we all did a chicken dance—this is obligatory—wiggling our arms and tails in unison in a comic send-up of the bird.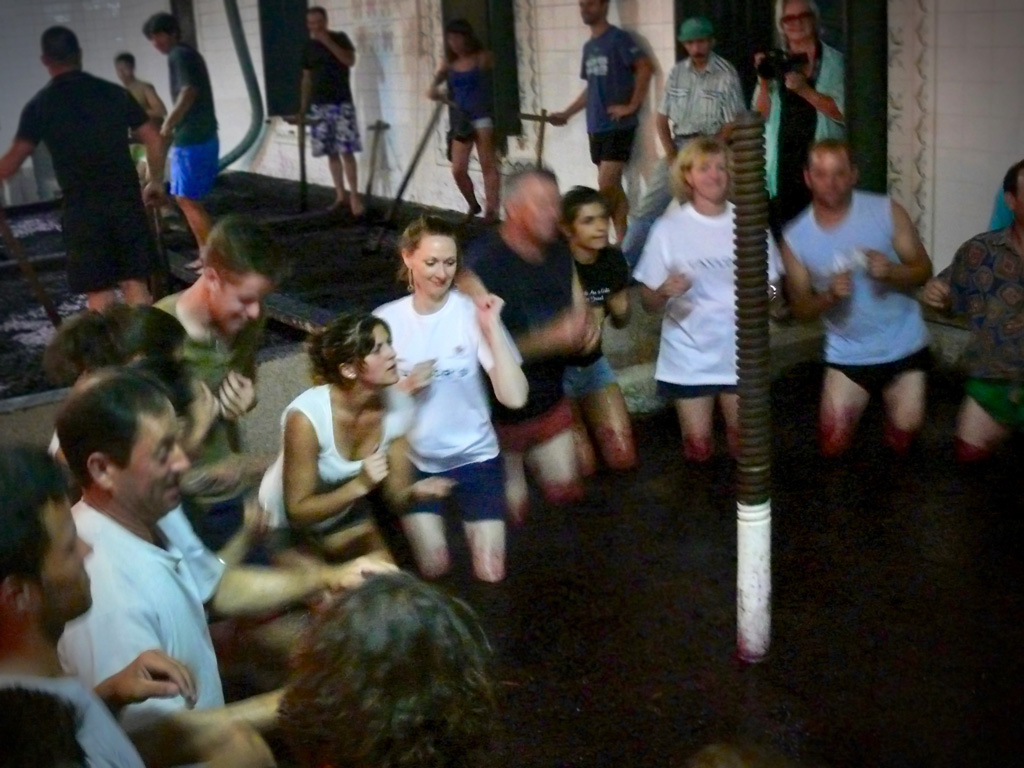 And then it was over.
Wipe that juice back into the lagare, chortled Gillyane, who with Alastair had been watching from the sidelines, snapping photos. There's nearly a whole bottle of Port on each leg.
We squeegeed our calves with our palms and wiped and rinsed and laughed and high-fived, that universal gesture, no dictionary required. I thanked my dance partners Obrigada! and smiled goodbye. Back at the house, Alastair and Gillyane, satisfied that we had not ruined their extraordinary old-vine wine, said their goodnights and retreated to the chasm of their chambers.
Port by the pool? Robert was indefatigable. But yes, say yes, again, this time to twenty-year-old tawny port, and while I'm at it get into that two-piece bathing suit I bought for the trip, and into the pool, too. Because I'm here once in my life, and this is, evidently, what I'm supposed to be doing.
Finally it was time to retire. It was 2 a.m. We mounted the stone steps to the house and stumbled to our rooms. A member of the housekeeping staff had turned down my bed and laid out a robe. I crouched in the huge bathtub and washed my hair with a hand-held wand, then wrapped myself in an acre of terry towel.
I reached for my notebook to jot the last impressions of this rare day. Then—Where is my camera? I'd had it on the boat, and then before dinner, and—where is it now? I rifled through my cases, my handbag, the pile of dinner clothes I'd dumped unceremoniously. Nowhere. Did I have it at the pool? I think I had it at the pool. The day's details were swirling like fireflies in my exhausted brain.
The house had fallen silent. I pulled on sweatpants and a sweater and tiptoed into the hallway, then quietly turned the latch of the French door to the patio. I crept barefoot back down the stone steps to the pool, my phone a torch shining this way and that to illuminate the deck chairs, the patio, the table. No camera—nowhere. I went back to the house, and then back down again. Nowhere.
How did I get here? How did I come to be standing here, by the silent river in the blackness, in this upper wilderness, this civilized wilderness where food is grown and made, alone in the dark, searching?
I found my camera the next morning. It had spent the night on the living room sideboard, forgotten.
—
This essay was included by series editor Jason Wilson in his list of "Notable Travel Writing of 2019," in The Best American Travel Writing 2020.

I'm grateful to the Fladgate Partnership for sponsoring my travel.