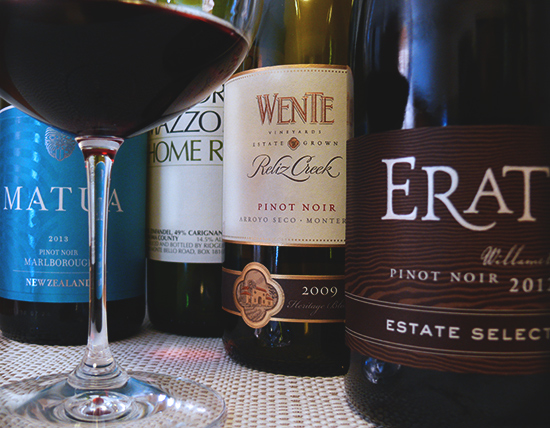 I planted my garlic yesterday. It was a nose-wiper of a day, raw and sharp, with thin, high sunshine and wind in icy tendrils fingering my neck. The first inch of garden soil was gelid; this is what three days of 30°F will do. But the subsoil was perfect and alive and yielding, and my spading fork pierced the earth gladly and turned it into shallow furrows. I planted thirty feet of cloves in double rows, spacing them perhaps too close, thinking forward eagerly to spring.
It has become the season for warmth and fires, for comfort, for red wine. I'm reaching now for lean, structured reds that share a sensibility with the foods on my autumn table: local pork sausages, legs of lamb, squashes and carrots, leeks and potatoes, kale in all its guises, resinous herbs. I want wines with minty forest notes and moderate structure that can play amicably with these savory vegetables and rustic meats. And I want acid, because for me it is acid, not fruit or aromatics or tannins or salt, that best grants access to the puzzle of the meal, refreshing and enlivening my palate for another bite.
This week's wines are all exemplary with food, uncomplicated but not simple. Raise a glass to summer's twilight.

2013 Matua Pinot Noir Marlborough
13% abv | $17
I was surprised by this New Zeland Pinot Noir, disarmed by its limpid acidity and nimble gait. Pale garnet red with a fragrance of spiced strawberries topped with breezy notes of hayfield and linen, it's crystalline on the palate, with little perceptible tannin but ample clarity. Tart, lean fruits—rhubarb, cranberry—repeat the dominant acid theme. This is a spare, wiry little wine that really likes food, and is an astonishingly good bargain.
2009 Wente Vineyards Pinot Noir Reliz Creek Arroyo Seco Monterey
14.5% abv | $25
Wente, founded in 1883, is California's oldest continuously operated family-owned winery, and Wente's chardonnay clone is the most widely planted in that state (it has a strong presence in Oregon, too). Their winemaking philosophy is strongly food-focused, and this Pinot is an exceptional embodiment of that ethos. Its floral cranberry, strawberry, and red cherry fruits are ornamented by a touch of vanilla and nutmeg, yielding a light-textured Pinot with good acidity and balanced fruit that's companionable with a wide range of fare.
2012 Erath Pinot Noir Estate Selection Willamette Valley
13.5% abv | $25
Dick Erath was a winegrowing pioneer in Oregon, producing his first vintage in the Dundee Hills in 1972; those 216 cases were the region's first commercial wine. By 1987 the winery was producing 35,000 cases, and thereafter it swiftly expanded its national and international presence. Since 2003, Gary Horner has been the winemaker. The 2012 vintage was an exceptional one in Oregon, and the Erath Estate Selection Pinot is representative. Deep ruby red with aromas of roses, cured meat, rosemary, pine forest, and iron earth, it has taut acidity and highlights of clean cranberry, red currant, and pomegranate. This is a vivacious wine, one whose acidity and bone structure suggest it will develop complexity over the next several years. Hold it, and buy more for now.
2008 Ridge California Mazzoni Home Ranch Sonoma County
14.5% abv | $27
This is a field blend of zinfandel, carignane, and petite sirah, planted 100 years ago in rocky soils in a vineyard just north of Geyserville; the plot is currently dry-farmed. The wine has a lustrous ruby color and the woodsy scent of crushed pine, juniper berry, and sweet smoked spices—exactly right for fall. Nimble and fine-grained, the body yields deep plum fruits and a smooth, glossy finish. Ridge's blends are always at once both intellectual and visceral, and the team knows how to make a deft, balanced wine from multiple vineyards. But when the blend is made in the field, the wine can seem uncannily harmonious. Chalk it up to good farming.
Follow my reviews on Vivino and Delectable.