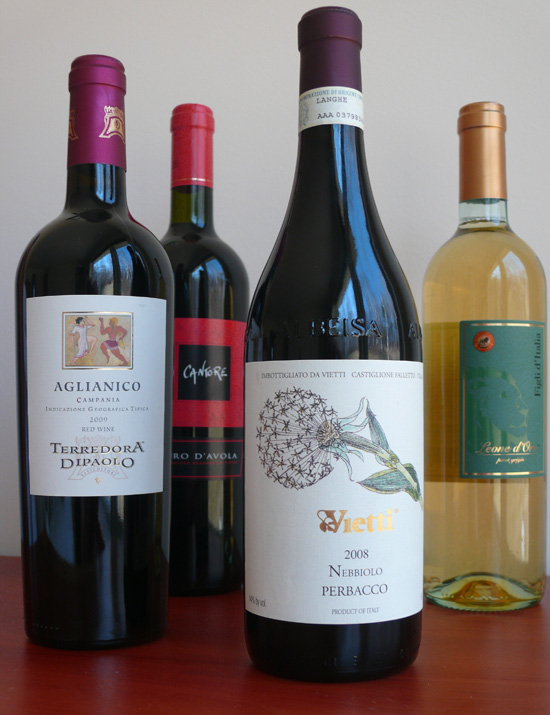 I recently taught a class on Italian wine. My research, so called, took me on a clockwise virtual tasting tour of the boot of Italy, from Friuli down to Apulia, from Campania up to to Piemonte. My primary goal for this class was to demonstrate the prodigious diversity of Italy's wine styles—not an easy task given that we could feasibly taste only six or seven different wines that night.
According to some sources, Italy boasts nearly 2,000 grape varieties in cultivation, and depending on the year, is either the top or second-largest wine producing country in the world. Unlike its rivals France or Spain, whose viticultural areas tend to be concentrated geographically, Italy is almost completely covered in vines—and has been for about three millennia. Indeed the Greeks, who essentially invented Italian viticulture by importing vines and winemaking practices into the region, called it Oenotria, "the land of trained vines."
Such viticultural diversity is due in part to the wide range of growing conditions and terrain. Italy spans 10° of latitude, from Trentino-Alto Adige in the north to Calabria and Sicilia in the south, leading to significant differences in solar exposure across the region. The spine of the Apennines runs almost the full length of the peninsula, and since most grapes are grown on hillside vineyards to leave the rich alluvial plains for food cultivation, elevation factors into consideration, too. So do the cooling sea breezes off the Mediterranean and Adriatic in coastal areas. The upshot is that micro- and mesoclimatic differences mean one cannot draw clean demarcations showing which parts of the country are viticulturally warm or cool, nor tag a region with a specific style of wine. The country is a complex mosaic of grape cultivars and production practices, and hence of wines themselves.
It's also a mosaic of culture. Unified as a country only about 150 years ago, Italy retains its gastronomic regionalism. And since its wines are true gastronomy wines, meant for the table and, more significantly, meant to pair with the regional cuisine, the persistence of these myriad wine styles is hardly surprising.
If any generalization can be made about Italian wines, it's that, on the whole, those that are made in a traditional style offer good acidity, moderate ripeness, and modest alcohol levels—all factors that make them very food-friendly. Reds with supple tannins, like Sangiovese and Barbera, and whites with crisp acidity and mineral notes, like Pinot Grigio and Malvasia, are extremely versatile partners at the table. Even those reds with pronounced structure, notable ripeness, and higher alcohol levels—like Barolo, Barbaresco, and Amarone—are decidedly not cocktail wines, not meant to be pleasing to the front to the palate. Rather, they're made to pair well with their regional cuisines, and deserve a little age, a little air, and a little food to show well.
So I realized in hindsight that my class was slightly misnamed. There's really is no such thing as "Italian wine," and certainly no easy route to understanding or mastery. But I wanted my students to taste that for themselves.
I wrote earlier about two of the wines I researched in preparation for class, a Brachetto d'Acqui and a Vernaccia di San Gimignano. Below are notes on the rest of the wines I poured, along with pairing recommendations. All wines were provided as samples by The Wine Crate, where I teach.
Terradora di Paolo
Aglianico Campania IGT
2009
13.0% ABV | Price: about $19
This wine is 100% aglianico, a grape that originated in Greece and was imported by settlers around Cumae, home of the famed Cumaen Sibyl (whose temple I visited in 1986). During Roman times the wine was very highly regarded, yet it retained an echo of its origins; until about the 15th century the grape was still called "ellenico," Italian for Hellenic or Greek. Terredora di Paolo owns 200 hectares of vineyards in the Avellino province, making it one of the largest wineries in southern Italy. Grapes are macerated for seven days, which affords good color extraction but keeps the tannins in check. The wine is aged in both wood and stainless steel, the latter to preserve its freshness. Its color is a deep ruby red, almost inky, and it yields minerally, smoky aromas of earth, tar, and pine forest, with top notes of black cherry, sage, anise, lavender, and brushy herbs. On the palate the wine offers smoky cherry, plums, and a pronounced deep, black earthiness with grippy tannins. The fruit is not pronounced, and the finish is all carbon blackness; it tastes like licking a volcano, but in a good way. The wine needs air and profits from at least 30 minutes in the decanter, which softens it and allows the fruit to stand forward. Pair it with roasted or smoked meats and game, aged cheeses, charcuterie, barbecue, bacon, and sausages. Marvelous with pizza whose crust bears a little char from the wood hearth.
Cantore
Nero d'Avola IGT
2008
13.0% ABV | Price: about $13
Sicily produces more wine than New Zealand, Austria, and Hungary combined, and Nero d'Avola is one of its most important red grapes. The fruit for this wine derives from the west coast of Sicily, but ample searching yielded no information on specific fruit source or production techniques. The wine has a bright ruby color with aromas of fresh black cherry and subtle spice, and its firm tannins give way to pure dark berry fruits. This is not a complex wine, and it also needs at least 30 minutes in the decanter to open it up. But its acidity and sprightliness make it a natural pairing for food, including pizza, pasta with red sauces, stuffed peppers, polenta, and lasagna. Try it also with pepper-rubbed roasted meats, grilled meats and vegetables, and barbecue. Probably also quite good with spicy sausage pizza.
Vietti
Nebbiolo "Perbacco" Langhe DOC
2008
14.0% ABV | Price: about $28
Langhe is in the extreme eastern region of Piemonte, and although most nebbiolo-based wines like Barolo and Barbaresco are quite tannic, this 100% nebbiolo is quite supple and needs no decanting. The fruit derives from 35-year-old vines, and grapes from each vineyard are vinified and aged separately. The wine is aged in barrel for 10 months, then in oak casks for an additional 16 months before bottling. The color is a light brickish red, limpid like a Pinot Noir. Aromas of anise and wild herbs waft above a red-meatiness, with a high top note of spice, especially clove. These aromas carry smoothly to the palate, with more meaty fruits, spice, and herbs. Extremely elegant, light- to medium-bodied with good acidity, supple tannins, and a savory, lingering finish. Serve with roasted but rare red meats, especially lamb, beef, and game, or pair with aged and blue cow's milk cheeses: Asiago, Taleggio, Gorgonzola, aged Gouda, or Romano. Truly a lovely wine.
Leone d'Oro
Pinot Grigio Friuli Grave DOC
2009
12.5% ABV | Price: about $16
The Order Sons of Italy in America (OSIA) created the Leone d'Oro lineup specifically for import into the U.S. The firm partners with growers and winemakers in Italy to bottle six wines: Chianti Colli Senesi, Vino Nobile di Montepulciano, Sangiovese, Gavi, Prosecco, and this Pinot Grigio. The producer's website provides no information on this bottling, but some sources I found indicate it is a single-vineyard wine. The color is intense yellow-gold with green highlights. Aromas of pineapple mingle with citrus and a fresh grassiness, giving way to flavors of pear and ripe yellow apple with mild acidity and an overall softness. I detected a slight but not unpleasant tinge of oxidation, and this wine is more savory than many of its kind. Pair with light seafood dishes, including white fish, scallops, shellfish, and seafood risotto. It would also be good with semi-soft cheeses, especially goat's milk or cassatica di bufala, and with antipasti or a spring vegetable soup with just a touch of cream.
Scagliola
"Frem" Barbera d'Asti DOC (not shown)
2010
14.0% ABV | Price: about $20
Barbera, a Piemontese grape, is known for its bramble fruit character, light to medium body, and supple tannins, which make it an extremely approachable and food-friendly wine. These grapes hail from the Calosso province of Asti, and the vineyard sits at about 1,300 feet of elevation with soils of limestone and clay. The wine is aged in oak barrels for approximately 12 months. The color is ruby red with a faint brown tinge, and earthy aromas underpin notes of licorice, bright bramble fruits, and baking spices. On the palate the wine has good body and acidity, with bright cherry and blackberry, hints of sweet tobacco, dried fruits, and sage, plus smooth tannins. Pair it with grilled or roasted beef, lamb, salmon, or poultry, cured meats and charcuterie, and aged cheeses like Piave and Pecorino. Also a natural with tomato-based sauces, pizzas, pastas, and mushroom risotto.
Vinosia
Malvasia Salento Bianco IGT (not shown)
2009
13.0% ABV | Price: about $16
The malvasia grape is likely of Greek origin, and the name derives from the Greek port of Monemvasia (known in Italian as Malvasia) from which large quantities of wine was shipped during the Middle Ages. The grape is also used to produce Madeira, often referred to as Malmsey, a further linguistic transformation. This Malvasia is actually a mix of three varieties of the grape: malvasia di novoli, malvasia di candia aromatica, and malvasia candida. The fruit was whole-cluster pressed with cold stabilization, and fermentation took place on wild yeast. It is pale yellow gold with aromas of white flowers, beeswax, honey, and straw. Beautifully weighty on the palate with great balancing acidity, it offers honeyed notes of lemony citrus with a bit of stone fruit. A slight oxidation note adds depth of character, and the finish is all honeyed tropical fruits. Pair with richer seafood like shrimp and lobster, antipasti with olive oil, the aïoli platter, grilled or roasted fish and poultry, and medium-bodied, semi-soft cheeses. I'd guess its fruit aspect would make it terrific with lightly spiced curries or Moroccan tagines. An extremely versatile and delicious white.