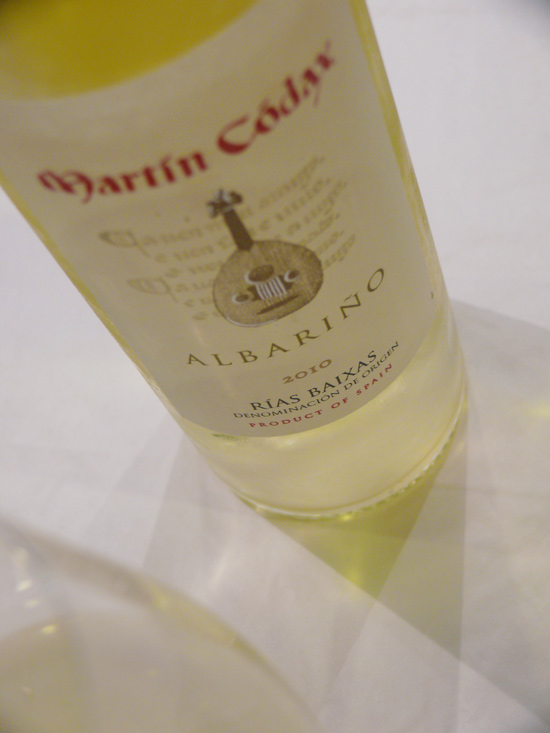 I've had a lot of California Albariño in the last two or three years, an inevitability of working for Bonny Doon Vineyard. Through 2009, fruit for their Albariño derived exclusively from their biodynamically farmed Ca' del Solo estate, a 125-acre patch of earth just outside the gates of the state penitentiary in Soledad, California.
Bonny Doon's '09 Albariño, which was released about the time I joined the company, was crisp and zingy, with notes of citrus, lemon rind, bay laurel, and sage. It was an incredible seafood wine, but its acidity and wild aromatics also made it great as an aperitif and excellent with fresh cheeses and salads. It became a staple of our cellar—or our countertop, really, because it rarely made it into cold storage.
By the 2010 vintage of the wine, the Ca' del Solo vineyard had been sold, although an arrangement with the new owner let winemaker Randall Grahm harvest the last albariño before the vines were ripped out and replanted with who knows what—probably merlot, if the gods were feeling sadistic. The '10 harvest was fleshed-out with fruit from Jespersen Ranch in San Luis Obispo, and while the wine was fermenting it was a true tangerine bomb. By bottling it had become more generally a citrus bomb, with lovely floral top notes of lemon grass and laurel leaf, the snap of grapefruit rind and green almond, and a long, silky finish. We drank a lot of that vintage, too.
One of the peculiarities of the Bonny Doon Albariño was a distinct brininess, a ringing crystalline minerality that crackled across your tongue. Perhaps the association was imaginative, but perhaps it was real. The Ca' del Solo vineyard lay near Salinas, California, and it's not called Salinas for nothing. The word means "salt marsh" in Spanish, and the Salinas River, which runs between two coastal mountain ranges before emptying into Monterey Bay, feeds an extensive aquifer that provides irrigation for the region's vast agricultural tracts. The coastal margin is washed by storms and fogs, tainting sweet waters with brine. When the sun rides high and the winds kick up, it dries the landscape mightily, and despite Randall's constitutional opposition to vineyard irrigation, he is a practical man, and in the years he farmed Ca' del Solo, he was obliged to irrigate his vineyard against these ceaseless winds. Over time, he observed his vineyard soil becoming ever so slightly saline.
This always struck me as poetically, if not agronomically, fitting, at least for Albariño. The grape's homeland is Galicia, in northwest Spain along the Atlantic coast, and it's also grown (as alvarinho) in the northern region of Vinho Verde in Portugal. Although it has been cultivated in Spain since the 12th century, it was mostly used as a blending grape until recent decades. In 1986, Spain established the Rías Baixas DO, the only exclusively white wine DO in the country, and this is divided into five subzones with varying terroir: sandy and alluvial, granite, slate, or a mix.
That region's maritime climate likewise pushes fog and cooling breezes up the coastal valleys, or rías, that reach inland nearly 20 miles. Albariño has a thick, protective skin that lets it succeed in these damp conditions where thinner skinned grapes might succumb to rot. But the region also receives ample sunshine, which dries the mists, leaving behind a rime of mineral salts that tasters say imbues the wine with a briny bite.
Albariño and salt are made together, and made for each other. Here's a Spanish version to try.
Martín Códax
Albariño
2010
13% ABV | Price: about $16*
Pale straw yellow with green highlights, this wine yields aromas of citrus and briny sea air with a slightly oily catch. On the palate it offers the bitter snap of grapefruit peel and lemon rind, and with air this wine opens further, yielding fresh, lemony citrus notes, green herbs, and a lean finish with zingy acidity. Clean, spritely, and refreshing, it would pair beautifully with shellfish, calamari, salted almonds, or fresh goat cheese.
*I received this wine as a press sample.