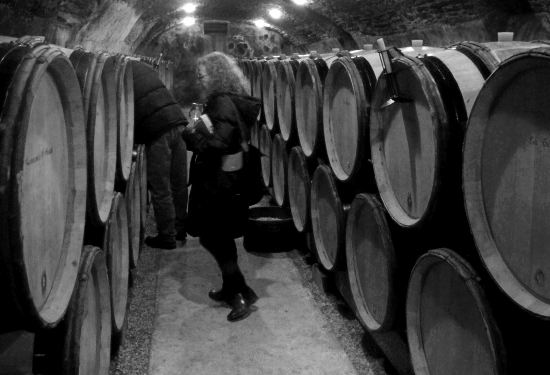 In advance of my trip to Burgundy this June, I'm asking the advice of learned others. Here, wine writer Alice Feiring weighs in.
Alice is a champion of vins naturels, wines made with least meddling in the field and cellar. She travels extensively to visit producers working in that tradition, traipsing through their vineyards and moldy cellars to taste their wine and talk about what makes them tick. She publishes her discoveries on her own site and in her subscription newsletter, The Feiring Line, as well as in major outlets like the New York Times, San Francisco Chronicle, Condé Nast Traveler, and Saveur.
She has been an outspoken critic of the anti-naturels, those overblown, tricked-up, high-alcohol fruit bombs that have dominated the scoreboard of wine's Late High Baroque. The subtitle of her first book, The Battle for Wine and Love, says it all: How I Saved the World from Parkerization.
Alice doesn't mince words, and her critiques of the vinous status quo have won her both admirers and detractors. That's the Battle part (and the Parkerization part). But if you peer inside the armor of an iconoclast, you'll often find an altruist, someone who ardently wants the rest of the world to adore this beautiful thing as much as she does. That's the Love part, and that's Alice.
Here's the Q and A:
Q: I want to line up appointments in Burgundy with winemakers whose aesthetic is old-fangled. How can I go about finding the ones who are tinkering little—forgoing new oak, thinking less about fruit and more about tannin and stems and stone, and just generally keeping their hands off the wine?
A: Go to the Renaissance des Appellations website and see who they have in Burgundy—then make appointments!
It's important to get an overview. You'll want to understand the difference between Grand Cru, Premier Cru, and Village—how that looks visually and in soil content. You'll need to see the differences between the Côte de Nuits and Côte de Beaune. You'll need to look at Romanée-Conti as well as Le Montrachet.
Line up at least one big négociant visit. Always ask to see vineyards. Try Faiveley—they do really good work. If Drouhin would take you around to the vines that would be great as well.
Then focus on people whose work appeals to you. I do suggest you taste the wines before you ask for a visit. It's worth the investment. On your list should be Fourrier, Pacalet, Chandon de Briailles, Fanny Sabre. Good English is spoken at all of those houses.
Domaine Faiveley
8 Rue du Tribourg, 21700 Nuits-Saint-Georges
+33 (0)3 80 61 04 55
Maison Joseph Drouhin
7 Rue d'Enfer, 21200 Beaune
+33 (0)3 80 24 68 88
Domaine Fourrier
7 Route de Dijon, 21220 Gevrey-Chambertin
+33 (0)3 80 34 33 99
Domaine Philippe Pacalet
12, rue de Chaumergy, 21200 Beaune
+33 (0)3 80 25 91 00
Domaine Chandon de Briailles
1 Rue Soeur Goby, 21420 Savigny-les-Beaune
+33 (0)3 80 21 52 31
Domaine Fanny Sabre
+33 (0)3 80 24 09 39
Q: Like you, I've had winegrowers hand me stones to taste, with the same net effect: bupkis. There's a passage in your book "The Battle for Wine and Love" describing how a tasting of Philippe Pacalet's wines illuminated for you the taste of place:
In Philippe's cellar I tasted real terroir—tremendous differences in the way each plot of vineyard expressed itself. I didn't have to lick the earth. The taste was where it should be, in the glass. All the wines we tasted were red Burgundy from different villages and vineyards, and they all had something different to say. The Pommard was silky with lots of Chanel No.-5-ish powdery rosy aromas and flavors. His Beaune had a touch of orange juice and black tea. His Ruchottes-Chambertin was built and corseted, all structure and flowers… This was the first time I ever perceived terroir so profoundly. The difference I saw in the glass is the difference the soil makes.[1]
How can I go about recreating your experience with Phillippe?
A: By going to visit Philippe! But you can never really recreate an experience. You need to make your own.
Q: If I were able to visit only one producer in all of Burgundy, someone whose wines can show me (rather than tell me) something about Burgundy's greatness, whom would you recommend, and why? (Let's assume I won't be able to swing a tasting at Domaine de la Romanée-Conti.)
A: Assumption correct! It is so hard to visit the top folks these days. It's such an imposition to ask for a visit that you should only ask if you have an assignment or if you adore their work. This is not like the New World where visitors are welcome. In Burgundy it is a courtesy and not to be taken lightly. The one person you should visit is the person who makes the wines that you love.
Q: Which books should I read in advance of my trip?
A: The one Becky Wasserman hasn't written yet. I always wanted to read Kramer's Making Sense of Burgundy but haven't been able to nail a copy.[2] Also, I recommend G. B. Stern's Bouquet. Published in 1927, it's the tale of a road trip: two couples, one for Burgundy one for Bordeaux. It's priceless.
Ed.: Read Alice's review of Stern's book Bouquet from a recent re-issue by publisher Eat Drink.
Q: Any other suggestions?
A: Make sure you go to the market in Beaune on Saturday morning. You should also go to Les Vins de Maurice, best wine bar in town, and Caves Madeleine for dinner—a terrific wine list. As far as Ma Cuisine? I find that if you're a normal person, not in the trade or a high-rolling collector, your experience might be better at a less touristed place.
Les Vins de Maurice
8 Rue Fraisse, 21200 Beaune
+33 (0)9 80 39 85 87
Caves Madeleine
8 Rue du Faubourg Madeleine, 21200 Beaune
+33 (0)3 80 22 93 30
Le Marché
Place de la Halle, Place Fleury, Avenue de la République, 21200 Beaune
+33 (0)3 80 24 57 49

Read the first article in this series, Countdown to Burgundy: Damien Casten Recommends.
---
[2] Kramer's book is out of print. I bought a used copy several years ago, and right now Amazon does have a few available.
Photos courtesy of Alice Feiring and Pascaline Lepeltier.