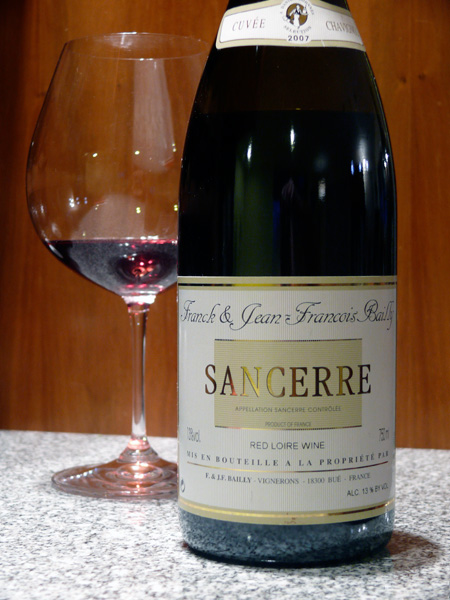 Franck et Jean-Francois Bailly
Sancerre "Cuvée Chavignol"
2007
13.0% ABV | Price: about $25*

Red Sancerre is made exclusively, in accordance with France's AC laws, with pinot noir grapes. This one is fine-boned and intense. Pale garnet with a faint peach cast at the rim, when swirled it gives off slightly earthy, smoky aromas with undertones of black plums. Brightly acidic with great minerality and a slightly spicy cut, it finishes lean. After a few minutes in the glass, it opens the windows and brushes out its hair. But it's a restrained wine; its dressing gown stays on.
It is also resoundingly a food wine. I paired it with an aged french goat cheese, a Bûcheron with a white rind, both born of the same soil, nearly. The wine married effortlessly with the chalky, gaminess of the cheese, and a sip after a bite was like spring after winter: clean, bright, cleansing.
My ancestors hail from the Loire. I'll have to visit soon.
*I received this wine as a press sample.