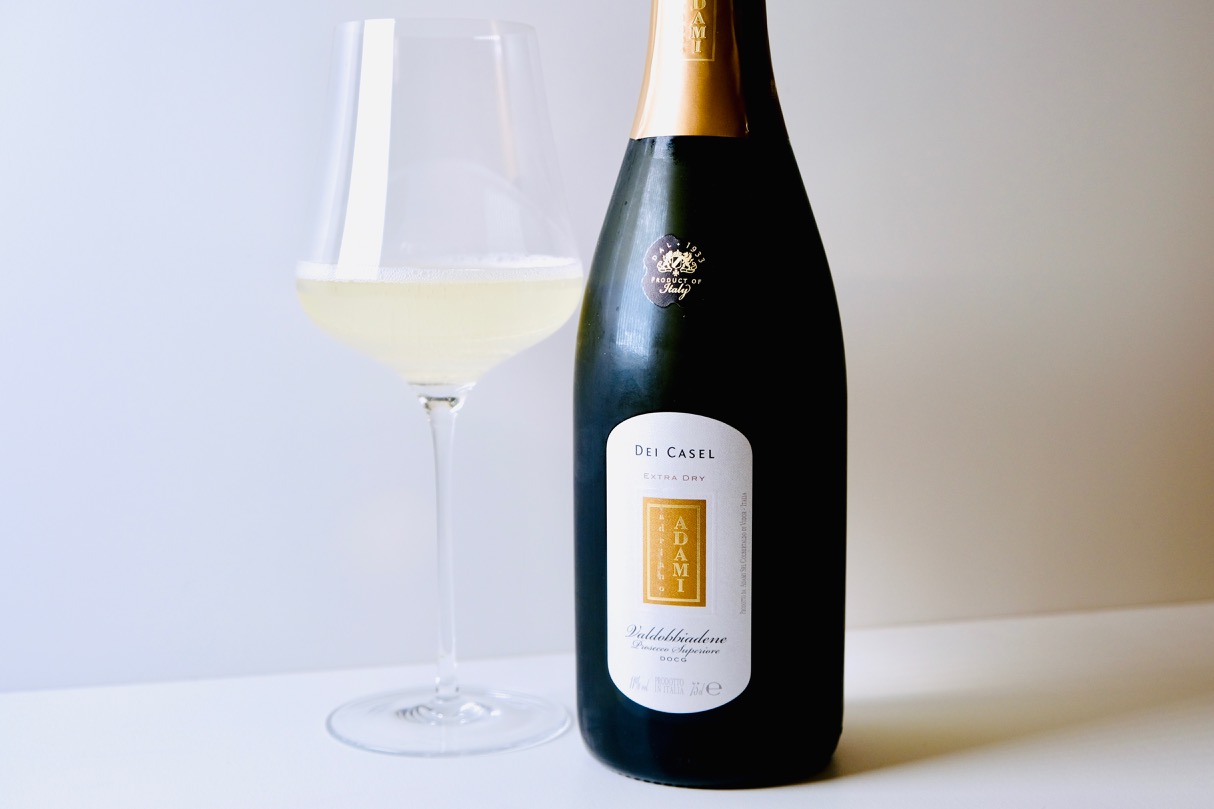 I sampled four Prosecco bottlings from Adriano Adami, a producer that has farmed in Treviso since 1920. The vineyards, located within the broader DOC as well as within specific Rive, are sustainably managed. All of the below wines are made with 100 percent Glera except the Bosco di Gica, which contains 5 percent Chardonnay. I've noted the finished sugar for each wine, since I feel it strongly impacts the impression of weight and length. Overall these wines are a good value, with more character than similar Prosecco at these retail prices.
Adami Garbél Prosecco Treviso Brut DOC ($15)
Nearly colorless with faint aromas of toasted almond and lemon peel with a breeze of bay leaf and grass. Flavors are citrusy and the effervescence is lively but not assertive, carrying waves of Meyer lemon and roasted almond. Bracing, spirited, yet the fruity finish lingers.
11% abv | 11-14 g/L residual sugar
Adami Dei Casel Prosecco Superiore Extra Dry Valdobbiadene DOCG ($18)
Light colored with a fine, creamy mousse. Flavors are inflected with nut but this is not overall a nutty wine. Mostly it skews floral, with a sense of lime peel, leaf, and flower. Cleansing but dimensional. Excellent value in a DOCG wine.
11% abv | 15-17 g/L residual sugar
Adami Bosco di Gica Prosecco Brut Superiore Valdobbiadene DOCG ($18)
Redolent of acacia honey, almond, and orange blossoms. The palate is rich and creamy textured, suggesting candied orange peel and toasted nut. The finish lingers but the modest sugar keeps it refreshing. Another good value.
11% abv | 8-11 g/L residual sugar
Adami Vigneto Giardino Rive di Colbertaldo Asciutto Valdobbiadene DOCG ($22)
Extremely elegant and restrained overall, but the sugar is a distraction. More fruity than the Bosco di Gica, but also offering more gravitas and substance, more heft. There is a mineral note that the others lack, which brings you back for more.
11% abv | 18-21 g/L residual sugar
All wines were samples for review.