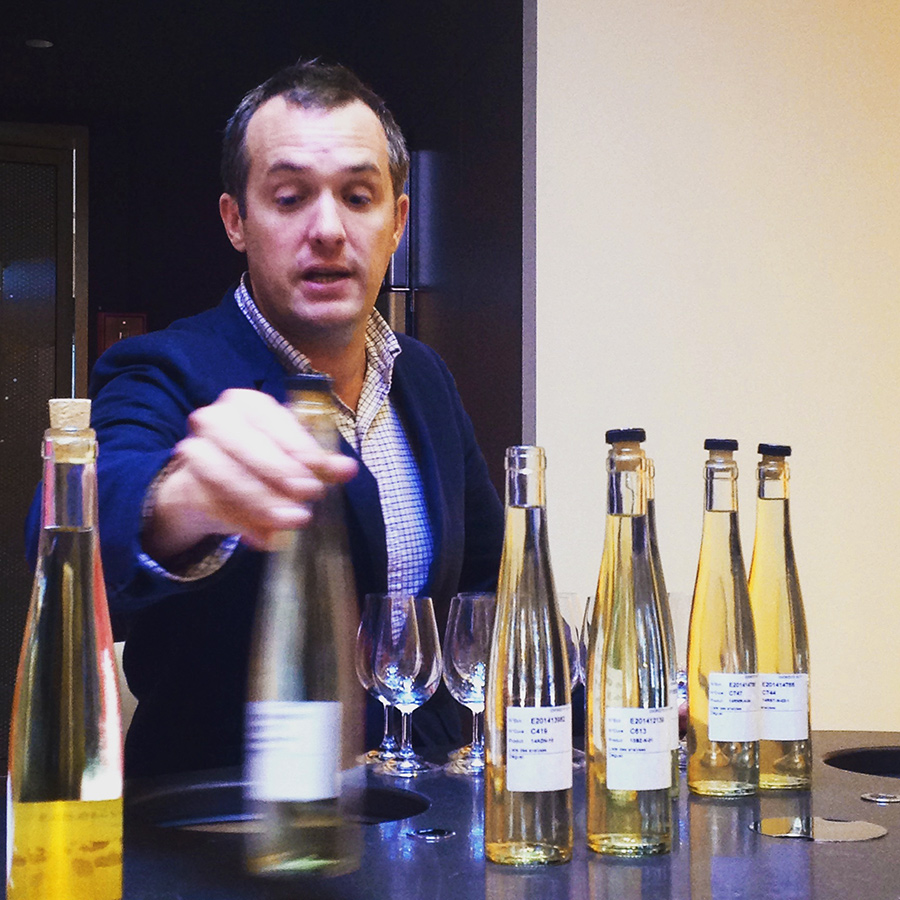 During harvest, Pierre Casenave is a man in motion. When I met him earlier this month at Veuve Clicquot's cellars in Reims, he was weary from clocking hundreds of kilometers criss-crossing Champagne to check vineyard progress.
Casenave is a red winemaker, one of a team of twelve enologists at Clicquot, and although la récolte was about to begin, he generously stopped long enough to lead a small group of journalists through a tasting of base wines for the house's Brut Yellow Label.
This wine is the Clicquot's mainstay, constituting 88 percent of total production. While Casenave wouldn't say exactly how much of it they make, it's reasonable to assume a good portion of the 24 kilometers of chalky cellars below are devoted to it. The grapes for the Yellow Label hail from nearly 60 crus throughout Champagne (hence Casenave's peripatetic week). The Brut also contains a high proportion of reserve wine, sometimes as much as 40 percent. These lots, aged for many years, add richness and dimension.
In Brut Champagne, it's the assemblage—the blending of base wine components—that makes or breaks the wine. Clicquot's blend is always built on a frame of Pinot Noir, usually between 50 and 55 percent. Meunier, Pinot's smiley younger sister, makes up 15 to 20 percent. The balance is Chardonnay.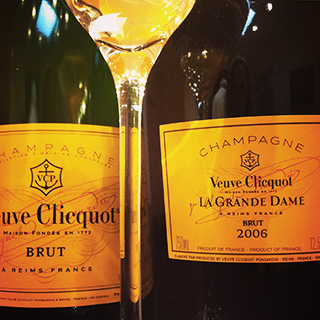 Since Yellow Label is a blanc, the red grapes are pressed to make white base wines, but these retain a hint of red fruit character.
Given the predominance of red base wines, Casenave was the right person to help us deconstruct the cuvée. He lit up as he discussed the blending process. "I like it because it's challenging to make something colorful," he said.
We progressed through the tasting from lean and tart to round and rich, beginning with three base wines from the 2014 vintage—Meunier, Pinot Noir, and Chardonnay—followed by three Pinots from 2013, 2008, and 1996. Next we tasted an assembled blend, and finally the current, finished Brut.
It was my first opportunity to taste these base components, and to try to unscramble Champagne's complex calculus. Every wine is a system in motion, as much about time and evolution as it is about structure and composition. Champagne is the apotheosis of this idea. The base wines are highly acidic, low in alcohol, simple but individual, each essential. These get blended, dosed with the tirage, then bottled for the wine's secondary fermentation. That step draws delicate traceries atop the base mosaic. A finishing jolt of sugar, then bottle age, deepens the mystery.
In these base wines I found fierce acid, keen citrus, pink berries, almond paste, a brisk shower of petals and salt. The assembled blend was more colorful, more elaborated, yet still had straight-arrow intelligibility. None was a drinkable wine. The Champagne blender's art is to foresee how each of these youthful, gangling elements might mature, and to anticipate what it might have to say later in the long conversation taking place inside the bottle. Champagne is part science, part sorcery, all complexity.
As we wrapped up, I asked Casenave what wines he likes to drink at home, with dinner. "I'm from the Basque region," he replied, "So, Spanish wines. Plus, Italians—like Barolo. Also Châteauneuf du Pape, Bourgogne, Sancerre, Beaujolais—for its quality to price ratio. Cab Franc from Hungary."
He trailed off, smiling. He's a man who likes red wine.
TASTING NOTES
2014 Meunier base wine
An angular wine with salted yellow fruit aromas. On the palate I found rounded yellow apple but sharp, pointed acid; it was empty at the finish.
2014 Pinot Noir base wine
The Pinot was grown on the Montagne de Reims. This wine offered red fruits and red apple skin, plus salt. The acid was zingy, very keen, but the body was, at least metaphorically, more colorful.
2014 Chardonnay base wine
This fruit derives from Vertus, a 1er Cru village. Green fruits and salted lime juice say Chardonnay. Curiously it felt like a big wine with strident acid.
2013 Pinot Noir base wine
This wine suggested red flowers and red apple, with drifting, pallid notes of almond and apple seed. The fruit hailed from Bouzy.
2008 Pinot Noir base wine
The Pinot is from Verzenay, a Grand Cru village. The wine was soft and spreading, conjuring nuts, smoke, toast.
1996 Pinot Noir base wine
This older base wine felt fresh, pastoral and spring-like, with field strawberries, lime peel, almond paste, flowers all around. Fruit was grown in the Aube, in the warmer southern reaches of Champagne.
NV Assembled blend for Brut Yellow Label
This was the blend that would be bottled for a secondary fermentation. Now the various hues of the wine began to light up; there was yellow apple, green apple, pink strawberry, brown nut. The wine felt tart but rounded, too, likely owing to that high percentage of older reserve wine.
NV Veuve Clicquot Brut Yellow Label Champagne
This was the finished Brut, the wine you'll find now on store shelves. It offered a scent of tart spring berries and pink citrus, and felt sweet like morning, like strawberry jam on bread. But the body delivered a ping of hot cinnamon and sherried spice in its lavish mousse, and it finished in a wash of bitter almond. It was a piquant, nervy, and prismatic wine—a wine of many colors.
Coda: At the end of the tasting, Casenave poured the 2006 Veuve Clicquot La Grande Dame. This is, of course, an altogether different wine from the Brut Yellow Label: it's Clicquot's vintage prestige cuvée, made from fruit grown in only eight Grand Cru blocks. The 2006 is the current release, and it's 53 percent Pinot Noir, 47 percent Chardonnay. It yielded a heady, bready scent of toast, hazelnut, lemon peel, green and yellow melon. The body was nutty and rounded, with a vanilla-ginger finish. It was lovely but also thoroughly fresh and youthful, still a child, really. Casenave agreed: "It's more about the texture right now," he said. Au courage!
Many thanks to Wine Business Monthly for recommending this article to their readers.
Travel was sponsored by the CIVC and the U.S. Champagne Bureau. All wines were tasted at the winery and were media samples for review. View my Sample and Travel Policy.
Follow me on Twitter, Facebook, Instagram, and Delectable.