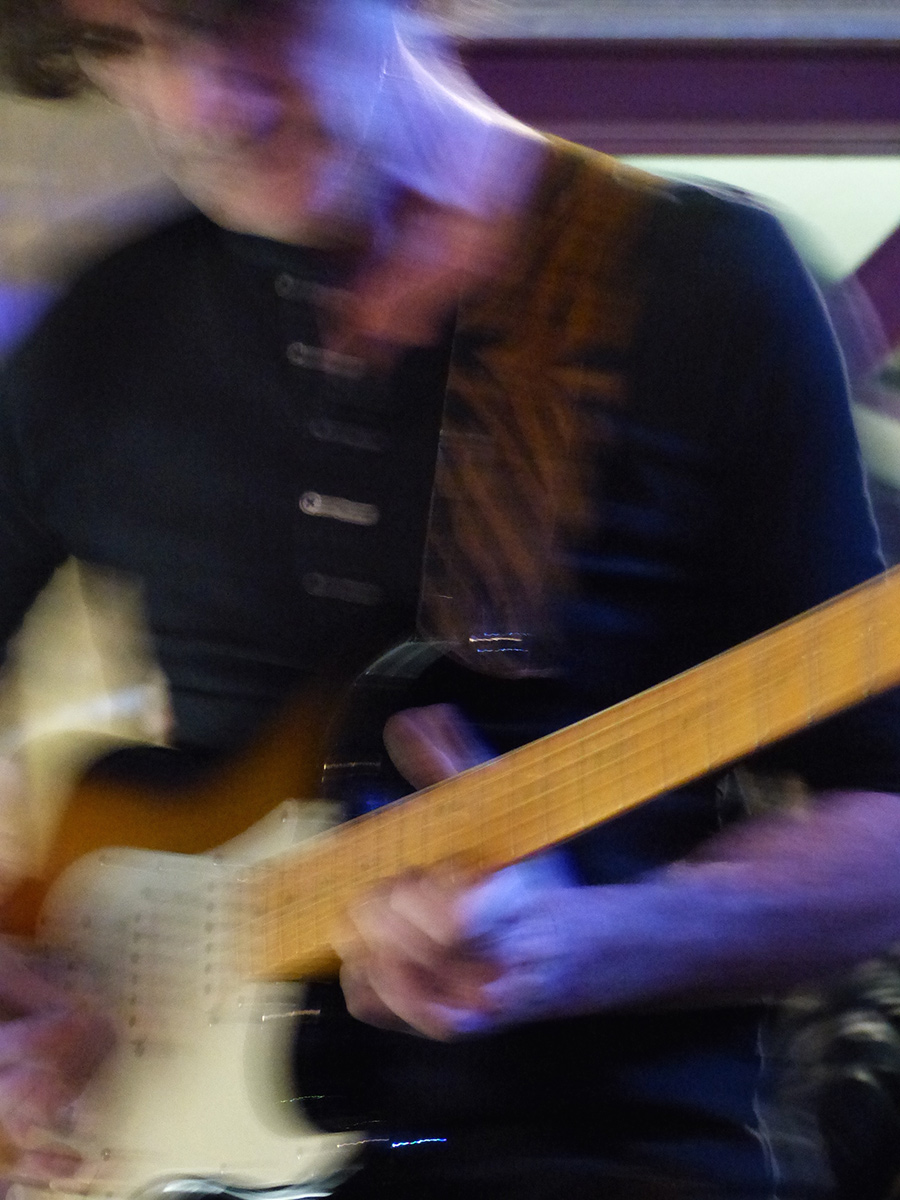 The band swung low, sauntering into a cover of Blueberry Hill. A disco ball glittered petulantly above the bar. A strobe caught each musician, washing him pink, yellow, green. More journalists arrived, also sommeliers and buyers from Europe, Asia, elsewhere. Nobody was dancing, but everybody was holding a glass, facing the music, smiling.
By the middle of the first set, most of the magnums of Côte-Rôtie and Condrieu were empty. Someone mentioned older Gangloff wines, somewhere in the loud dark recesses of the room. I pressed my way to the bar, Excusez moi… pardon. Standing between me and any wine at all were two men named Eric. They were both sommeliers, they said—or rather, shouted—above the din. Eric Number One spoke little English. He threw his arm around me and handed his phone to Eric Number Two. Snap!
There was no more Gangloff. I quit the Erics.
My glass finally found some wine. My camera found the band. I crouched at their feet, clicking. Paul Amsellem of Domaine Georges Vernay was on piano. Pierre Jean Villa, another vigneron, was on rhythm guitar. Raymond Pierel played drums, Claude Comta, bass. Yves Gangloff took lead guitar, and looked the part.
Snap! My camera made me part of the scene but apart from it, too. I shot a hundred photos, mostly terrible. The band moved through Honky Tonk Women, Born to be Wild, Brown Sugar. I was vibrating with fatigue, jetlagged and dragging, ringing with the music and letting it wash over me in waves of joy and bewilderment.
That morning I'd tasted Condrieu and Côte-Rôtie in Ampuis, on Day One of Découvertes en Vallée du Rhône. I'd begun my day at Gangloff's booth, because I knew his wines and knew they would run through fast. I'm not the first to notice his rocker allure, his nervy guitar playing, his magnificent hair. I'm also not the first to notice his skill with Northern Rhône grapes.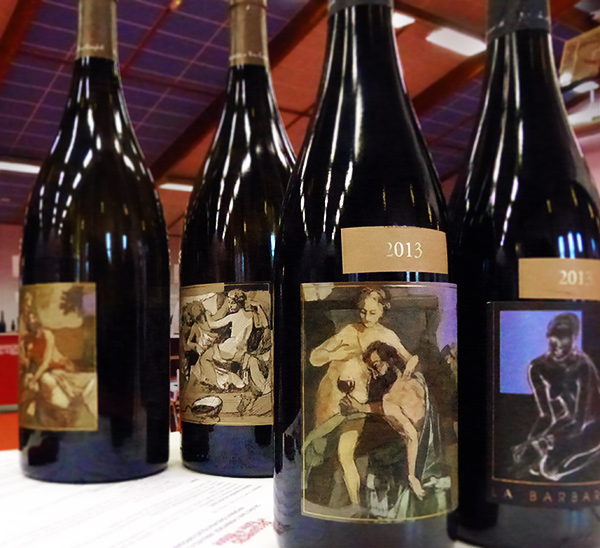 Gangloff's cellar in Condrieu is not far from the slopes of Côte Bonnette, where he owns slightly over one hectare. Here the Rhône crooks west past the hamlet of Vérin, and the right bank terraces of crumbled magmatic granite tilt south-southwest, smiling at the sun.
His half-hectare plot in Chéry was his first acquisition, in 1983, for a mere 80,000 francs (about $12,500). He was lucky. Condrieu was out of fashion then, and in that year the appellation had only fourteen hectares under vine. By 2011, vineyard plantings had shot to 164 hectares. Vineyard land's now more available, but also far more expensive, and expansion is controlled by strict AOP regulations.
Gangloff now also owns two and a half hectares in Côte-Rôtie. He farms the vineyards of Le Combard and Le Mollard, near the Côte Blonde, where soils are gneiss, and a third small plot in Rozier along the rolling portion of that vineyard that faces southwest, where soils are predominantly mica schist. Rozier is a wine that Gangloff bottles straight, without the lift of Viognier. He also makes Saint-Joseph, both white and red.
Handwork is vigorous on this steep hillside terrain. Since both Syrah and Viognier have a floppy growth habit, their canes must be hand-tied to stakes to keep them from trailing earthward, or toppling in the gusty Mistral wind (this training method, called echalas, is common in this region). Gangloff's winemaking is deft and minimal. Grapes are de-stemmed and fermented with ambient yeasts; he uses little sulfur and bottles without fining or filtering.
His wines are glittery, alive and vibrant. They are multi-dimensional, shimmering with earth, flowers, and fruits. They feel savory, silky, and delicate all at once. And then there's the question of acid. I've come to understand acidity as a hallmark of a winemaker's style and proficiency. The acid here sits like a comet tail across the tongue, scintillant and shining. These wines linger.
It's a thrilling hill.
2013 Domaine Yves et Mathilde Gangloff St. Joseph Blanc
About $80 for 750 ml (sample tasted from magnum)
A blend of Marsanne and Roussanne, grown on 20-year-old vines at 300m elevation in the northern Payraud lieu-dit, close to Condrieu. The wine was vinified in a mix of new and neutral oak and underwent full malolactic. Wildly floral, it suggests ripe peaches, yellow apple skin, and Asian pear, and the acidity sits, soft and tremulous, along the back and sides of the tongue. A wine with impressive elegance and length.
2013 Domaine Yves et Mathilde Gangloff Condrieu
About $100 for 750 ml (sample tasted from magnum)
The Viognier is grown in various parcels in Côte de Chery; the vines are about twenty years old. Clusters were de-stemmed and fermented in stainless with ambient yeast, and the wine spent ten months in a mix of new and neutral barriques, with bâtonnage. An earthy scent of petrichor and wet rocks mingles with orange peel, ginger, white spices, and ripe apricots. Again this wine delivers glorious acid, like a flare fading into evening sky. At the finale there's a snap of salted herbs, and in the deep distance a memory of dried apricots returns. Ample but dimensional, with a stone foundation.
2013 Domaine Yves et Mathilde Gangloff "La Barbarine" Côte-Rôtie
About $80 (sample)
This wine is 95 percent Syrah, 5 percent Viognier. The Syrah was grown on five- to twenty-year vines in the Côte Blonde. The wine seems coy and sweet at first, then blossoms open with the scent of cypress and herbs, spiced garrigue, roses, rosemary-steeped cherries. The body feels linear and savory, suggesting cured meats, rare meat, and lean green and red fruits. Its tannins and acid are glorious, and the finish blows through like a drying wind.
2013 Domaine Yves et Mathilde Gangloff "La Sereine Noire" Côte-Rôtie
About $100 (sample)
The Syrah was planted forty to sixty years ago in a plot near Côte Rozier; it shares soils and location with La Landonne and Mollard. This is a rich tapestry of a wine, deeply embroidered, its savory layer of smoked meat, cracked pepper, and cedar shot with sparkly threads of red currant, green berries, pink petals, and juniper. It's dark, almost brooding, but there are piles of flowers all around. And it feels feral. These vines have been out in the wild a long time.
Travel was sponsored by InterRhône. All wines were tasted in Découvertes tasting salons and were media samples for review. View my Sample and Travel Policy.
Follow me on Facebook, Twitter, Instagram, and Delectable.