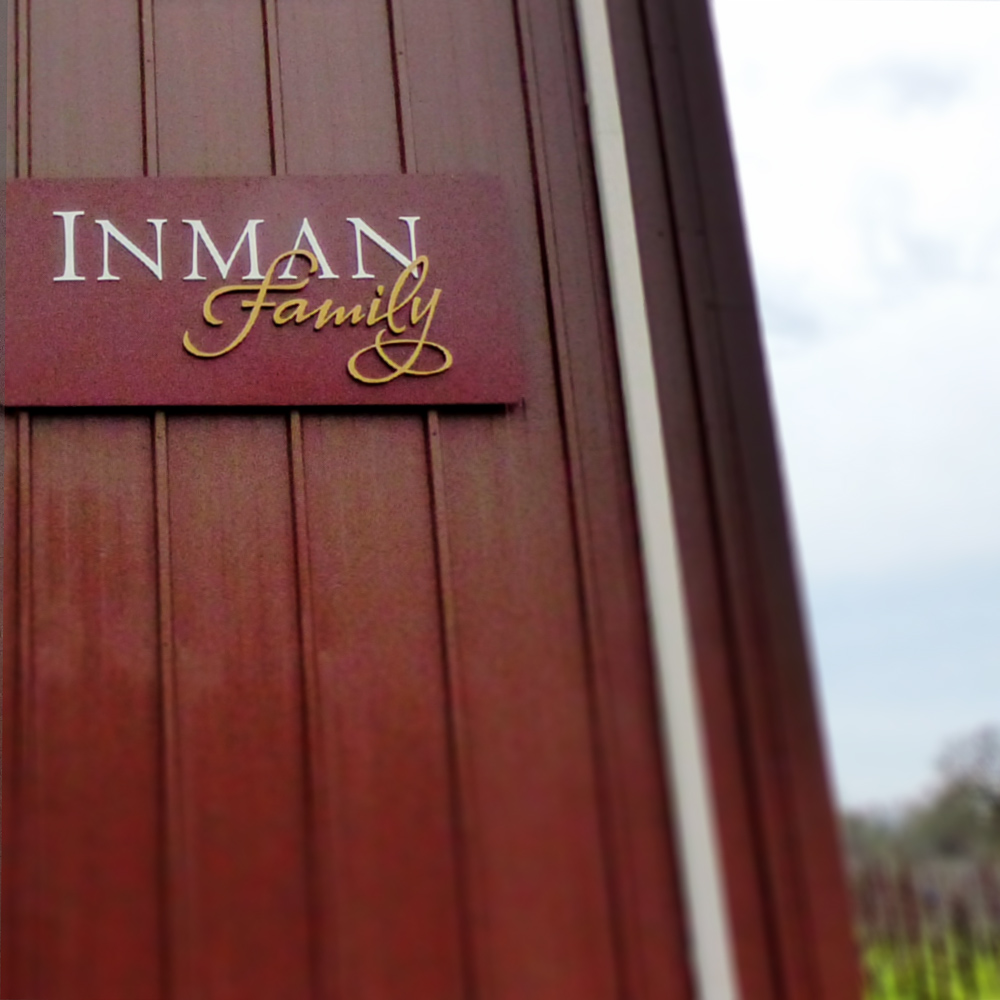 Kathleen Inman is a fearless gardener. That she is also a fearless winemaker is almost beside the point, because it all starts with soil, and soil is a fierce and beautiful force to be reckoned with.
Being a fearless gardener is remarkable in an age when most people can grow only hair, or older. Kathleen got a bumpy horticultural start, helping out as a kid on her family's Napa ranch. It wasn't until after college, and a stint working at a winery, that her green thumb sprouted.
That's when she and husband Simon moved to England for work—he in law, she in finance—taking up residence in a rambling old estate with acres of formerly-formal gardens. Every weekend Kathleen traded her patent pumps for Wellies and set about resurrecting the tired grounds.
It was her release. I'm a gardener, too, and know that blissful blindness that comes from working the soil. You forget yourself. You forget to pee, to eat or drink. You enter a trance, transfixed by the garden's gravity. And at the end the day you look up and realize the stars have begun twinkling alight, and although you are tired and very, very dirty, you are somehow washed clean, too.
During the fifteen years Kathleen and her husband lived in England, working their day jobs and nursing the land back to life, she nursed a dream to grow and make her own wine, too. The turning point hit in 1998 when the couple decided to toss their corporate careers, return to California, and plant a vineyard. Within a year they'd found a ten-and-a-half acre farm at the corner of Piner and Olivet Road in the Russian River. They named it Olivet Grange—"grange" is an old English word for a country house and its barns and grounds—and set about planting seven acres of Pinot Noir, plus a little Pinot Gris. Inman Family Wines began.
Kathleen farms the soil organically, not because it's faddish but because it fits her ethos. She's also built her winery—really, her whole business, from plants to packaging—mindful of her impact on our earth (read more on her sustainability practices here).
I visited Kathleen on a recent gray, early spring morning and tasted through her line; those notes are below. I'd also spoken with her previously about her work and have included that conversation, too, because it's illuminating and evergreen.
I love Kathleen's wines, partly because I am, like her, a steadfast gardener. But mostly I love her wines because I love their elegance and grace, their proof of the fierce beauty that, in the right hands, the soil can yield.
You were a gardener first. How did you get into wine, and wine growing?
I grew up helping my dad in the garden at home, and helping my grandmother at what was left of my family's ranch. When you're younger, those things can seem like chores.
It was a prune ranch, but we had only a few prune trees left—just a few acres. My great grandfather had bought it just after the 1906 earthquake, and after World War Two the economy for prune farming wound down. He died when I was a little girl, and the part of the property that hadn't been developed was sold off. There's just one acre left, which my sister lives on now.
My mother's family was Seventh Day Adventist, so I didn't grow up with alcohol at home. But when I went away to college at UC Santa Barbara, I took a wine tasting class, and it got me interested in wine. Then I moved to England, and my passion came out for gardening. I had eleven acres and a big walled garden, and even though I worked in finance, it was an absolute relief to get outside and double-dig a patch.
I did all my gardening organically. I made worm-casting tea, composting the food scraps and putting them in the worm bin, then using it on both the vegetables and flowers. I also had big formal gardens. The place had had six full-time gardeners before the War, but we had only me, my husband, and one "bionic gardener," John, who once threatened to leave to work in a chicken factory, saying it was too stressful trying to manage all of the plants.
With vegetables, I'd always just thought that store-bought tasted different from home grown—I didn't know plants tasted like the place. That's what fascinated me about wine. And not only do wines taste of the place, they also taste different when grown in the same place but made by different people.
Why were you drawn to Pinot?
I loved Gamay—the lower-end Beaujolais that I could afford—and I loved Riesling. My husband Simon had worked at Nuits-Saint-Georges to perfect his French, and the family he stayed with was a négociant. We had actually thought about going to France instead of coming back to California, but I wanted to be near my family.
I looked for land that would be suitable for Pinot Noir. We looked in Carneros, Russian River, Anderson Valley, and the far Sonoma Coast. I quite admire wines from there, but I didn't have enough money to develop some of the sites we looked at. You need very deep pockets, and we didn't come into this with a lot of money.
The Russian River was and is my favorite California appellation for Pinot Noir. The texture and aromatics of the fruit grown in the Russian River is exceptional.

Were there any vines at Olivet Grange prior to your purchasing it? How did you approach planting it out?
This ranch has a long history, from the 1880s. In 1935 the family owners thought they should get the winery going again, but it was in such a bad state they tore it down, took out most of the grapes, and put in apples and pears.
I loved that history, and when I renovated the 1918 Farmhouse I tried to keep as much as was there before, undoing what was added in the 1960s and '70s. The land hadn't been farmed for a long time, so I ripped it twice to make it easier to plow. But I didn't use any methyl bromide to kill the nematodes. I wanted healthy soil.
The first few years I did a lot of the vineyard work myself, but Jim Pratt helped—he has worked with me since I planted, and not many people have worked that long with one person. He wasn't doing organic farming when I met him, but now he's one of our region's largest organic vineyard managers.
If you could go back and tell yourself something at the start, what would it be?
I would have told myself to be more confident and go with my instincts. I didn't go to Davis. I didn't go to Fresno. I learned by doing. I'd worked in a winery where I had mentors, and felt really confident in the vineyard because of my gardening experience. But the winemaking—A lot of people I visited were doing things in very conventional ways, like inoculating with yeast. I brought the first grapes in and someone started sprinkling them with metabisulfate, and I stopped him, saying, "What are you doing?"
"Oh, you need this!" he said. "It's pixie dust."
I didn't want it.
You don't talk about organics, or your gardening or polyculture practices, on your wine labels. Why not?
I call it sensitive farming, natural winemaking, and environmentally sensitive business practices. It's not about the label. I do it because it makes healthier vines, which makes more resistant fruit, which tastes better. They put down better roots. They do better in drought. It's the same in the vegetable garden.
When I tell people it's an organic vineyard, they say, "Wow! This is really good for organic wine!" I wish people would apply more of the care and attention they do to where their food comes from to where their wine is grown and how it's made. They think of fermentation as "natural" and don't realize how many processes the grapes go through, and how many big and small wineries add things or take things away to get the result they do. It isn't just water to change the alcohol, or acid to change the pH. It's powdered tannins, un-toasted wood, enzymes, et cetera. Nobody asks those questions.
A few journalists have written articles about this, but most people who read those articles think it's just the big houses that do it.
Actually, you can look less natural if you disclose your process on the back label, because it shows people the ingredients, whereas the next bottle doesn't list anything.
Yes, exactly. But, I don't want to have to put calories on the wine label—that whole nutritional thing. Especially for small producers, it would create the need to do a new COLA every single time.
Tell me about your winemaking style.
"Great wine is grown, not made." This really is the truth for me. Other people talk about it, but for me it's truth.
I do a lot of whole cluster; 2009 was the first time I experimented with it. A French friend had said you have to wait until a vineyard is ten years old to avoid greener flavors. But I'm impatient, so I waited nine years and did 20 percent whole cluster in one of the fermentations. In 2010 I did 50 percent, in 2011 I did 75 percent. I find it gives a really interesting aromatic profile.
Then in 2013 I did a 100-percent carbonic. I tarped it, and did all pump-over because I couldn't punch down. It took 22 days before I decided I should press it off. It was nearly dry, and I basket-pressed it, and it went into a tank to settle, and then it dropped several Brix overnight. It was also the first to have finished malolactic of my 2013 wines. (Ed.: Find the tasting notes for this wine, 2013 Whole Buncha Love, below.)
I generally don't do pump-overs unless I feel the native yeast needs extra oxygen; I just do gentle punch down. And I don't do a saignée. I do whole cluster for complexity—I check the stems. I chomp on them! If they taste nutty to me, I'll use them.
I feel strongly that I'm able to get nice flavor without high alcohol is because of what I do in the vineyard, not in the winery. I focus the vines on ripening the clusters by removing the lateral shoots, while leaving all of the lower leaves so that I prevent sunburn. Fewer laterals focuses the vine on ripening the fruit. My plants are super-focused. I think that helps; the stems are lignified down one-half inch into the cluster.
In 2006 I started buying fruit from Ted Klopp at Thorn Ridge Ranch. He removes the leaves, it's higher elevation, and there's a bit of wind. Those stems taste green to me, so I never use whole clusters from that vineyard.
I know you're an avid cook. What foods do you pair with your wines? What cheese do you enjoy most with your wines?
I adore cheese, but I don't ever like to show my wines with cheese. My belief is that wine always makes cheese taste better, but cheese never makes wine taste better. The lactic acid in the cheese—when there's lactic in the wines—can cause them to seem flat.
But I love to cook. We had a dinner party recently where I did something kind of fun, blind-tasting two wines with each course. First we did the 2008 Inman Chardonnay with a 2008 Puligny-Montrachet, and with that course I did a curried parsnip soup. It was spicy—it had a little more on the back than I thought it was going to! The spices were turmeric, cumin, ground coriander, and a mixed English curry powder, plus onion, chicken stock, and parsnips, topped with crème frâiche and snipped chive. There was no celery or celery seed, but the French wine came off as have a strong celery seed aroma.
Then I did a local wild Coho salmon with a saffron Béarnaise and a little hedgehog black garlic mushroom ragout. We had two Pinots with that, one from British Columbia's Okanagan Valley, next to the 2010 Inman Olivet Grange Vineyard.
Finally, I did one of my favorite things to pair with the Thorn Pinot: lamb shanks with Moroccan spices—cinnamon, fennel, carrot, garlic, spinach, garbanzos, and red peppers. I partnered that with a Rhône wine.
That's a lot of spice. Slightly daring for Pinot Noir?
My Pinots have more exotic notes, like cardamom. I recently did a delicious duck breast rubbed with cinnamon, which I served with Puy lentils with bacon. It just tasted delicious.
I think of wine as a food, and think they're meant to go together. Part of the reason I try to make wines that are lower in alcohol is because I want to be able to have a conversation during and after dinner, and taste lots of wines without having had too much. To me it's about food and wine.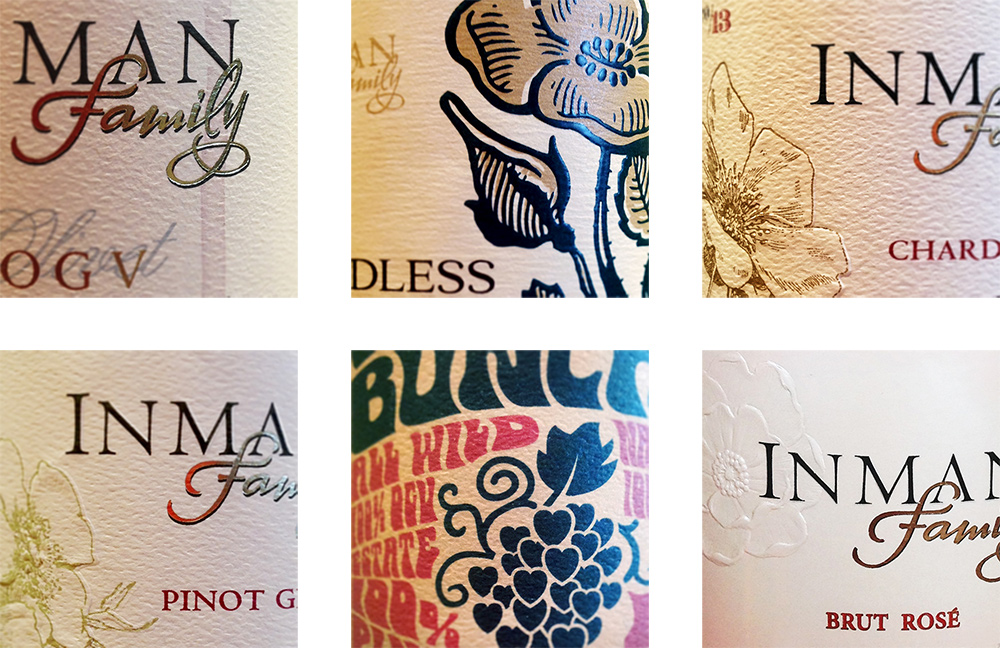 The following notes were made at a winery visit in January 2015, along with additional tastings elsewhere. You may have previously read one or two of these reviews (in Pinot Noir, Here and There; and Sonoma Chardonnay: A Baker's Dozen), but I thought it would be helpful to gather them together here.
2012 Inman Family Wines Brut Rosé
12% abv | $56
Traditional method sparkling wine.
Since 2009, Inman has produced a dry sparkling Pinot Noir from Olivet Grange fruit. Made in extremely limited quantities and vintage-dated, it incorporates a portion of the prior year's wine for complexity. It's a gorgeous, pale shell pink color with a fragrance of strawberries. Clean and precise on the palate, the body offers a creamy mousse and a delicious cleansing finish.
2013 Inman Family Wines Pinot Gris Russian River Valley
13.3% abv | $35
Whole-cluster pressed, fermented in stainless barrels, inoculated for malolactic (due to low pH), then lees-aged with regular bâtonnage.
Very clear straw color with the scent of salt touched by Bay laurel. This wine has a kind of silvan, woods-washed-by-moonlight quality and a smoky back-note that reminds you that everything starts with the earth. It would be amazing with oysters.
2012 Inman Family Wines Chardonnay Russian River Valley
11.5% abv | $35
Whole-cluster pressed, fermented with ambient yeast, aged partly in new French oak and partly in small stainless barrels, full malolactic.
The Brix at harvest was 20.9 degrees, bringing the alcohol to a Burgundian level. The result is an exceptionally pure and elegant Chardonnay redolent of lemons, apple skin, and crushed hazelnuts. The wine's crackly acidity and chiseled finish snap the palate to attention, while the quiet finish drifts into wet stone and savoriness. I admire the wine's brilliance and crystal clarity, plus its low alcohol.
2013 Inman Family Wines Chardonnay Russian River Valley
12.2% abv | $35
Whole-cluster pressed, fermented with ambient yeast, full malolactic with regular bâtonnage.
Snappy and fresh, this wine suggests both preserved lemons and fresh-squeezed citrus. It's simultaneously creamy and rounded but also very clean and bracing, lacking any distracting buttery notes. The texture is lean and chiseled, almost crystalline. It's a wine of great purity and precision.
2014 Inman Family Wines Pinot Noir Rosé "Endless Crush" Russian River Valley
12.8% abv | $35
Grapes were picked in two passes, de-stemmed and cold soaked, pressed after three hours, then inoculated with a Provençal yeast.
This is a big, satiny rosé with abundant basil, strawberries, and white peach notes. It feels ample and well-structured on the palate, partly because it sat on its fine lees for a while, yet its commingling of fruit and herbs and a tart-washed finish make it feel crisp. Kathleen's reluctant to serve cheese with her wines, but I'd love to taste this with a bloomy-rind goat cheese.
2013 Inman Family Wines Pinot Noir "Whole Buncha Love" Olivet Grange Vineyard, Russian River Valley
14.1% abv | $45
One hundred percent whole-cluster fermented with full carbonic maceration; basket-pressed and aged in neutral French oak for 15 months.
A fearless experiment that is spectacularly successful. Aromatically it's delicate and lightly floral, with a whiff of herbs and spring flowers. The wine blooms open on the palate, offering a structure that's beautifully articulated and complex, with fine, velvety tannins, savory red fruits, and precise acidity. It's delicious, and a consummate food wine. Only 168 cases were produced.
2011 Inman Family Wines Pinot Noir Olivet Grange Vineyard, Russian River Valley
14.2% abv | $68
Whole clusters were used in several small lots; the wine was vinified cool with native yeast, then aged for 21 months in French oak with regular bâtonnage.
A deeply fragrant with a perfume of beach roses, blooming herbs, and sweet tomato. The wine's body is light-textured, though, and the fruit feels fresh and pure, washed clean by glittery acidity. Its linearity and herbal-floral temperament make this a terrific wine for salmon.
2010 Inman Family Pinot Noir Olivet Grange Vineyard, Russian River Valley
12.5% abv | $68 (sample tasted January 2014)
A blend of clones picked in four passes as field blends, vinified with native yeast to express the varying ripeness levels, then blended back; the final blend is 50 percent whole cluster, aged 23 months in French oak with regular bâtonnage.
Limpid, pale red-garnet color with a clear rim. Deeply perfumed with the scent of roses, orange peel, cardamom, and ginger root. Great acidity on the palate, with lean red fruits, particularly ripe raspberry and ripe tomato, complementing a hint of cloves. The finish flames-out to orange and spice. Lively, elegant, and supremely drinkable.
2009 Inman Family Pinot Noir Olivet Grange Vineyard, Russian River Valley
13.7% abv | $35 (sample tasted January 2014)
A blend of clones picked in four passes as field blends, then vinified to express the varying ripeness levels; whole clusters from the final harvest date constituted 20 percent of the final blend; 19 months in barrel with regular bâtonnage.
Pale garnet color. Aromas of rose hips, rose petals, orange peel, sweet tomato, coriander, and ginger. Wildly aromatic. Lovely acidity and light bodied texture, with rose hips and red currant fruits, plus pomegranate. This is a cool, restrained, and elegant wine with a bewitching nose and a breezy finish. Pair with rare meat.
2011 Inman Family Wines Pinot Noir Thorn Ridge Ranch, Russian River Valley
13.8% abv | $68 (sample tasted January 2014 and re-tasted January 2015)
De-stemmed and cold-soaked, fermented on ambient yeast, pressed and moved into 25 percent new French oak, spontaneous malolactic.
Clear garnet red. Earthy sous-bois notes complement aromas of ripe black plums, red berries, and hibiscus. Plummy on the palate with a greenish cast, there are flavors of beets, blood, and black fruits. This wine is bigger, more brooding and earthy than Inman's Olivet Grange Vineyard Pinot Noir, the yang to that wine's yin. Both are wonderful.
Many thanks to Wine Business Monthly and Wine Industry Insight for recommending this article to their readers.
All wines were samples for review.
Follow my wine reviews on Vivino and Delectable.