I love goat cheese. I love the flowery tartness and delicate, milky chalkiness of fresh goat cheese. I love the nutty, mushroomy redolence of aged goat cheese.
And—okay, I confess. I love goat cheese because I love wine. Or rather, because I love acidic wine, wine in which the fruit and floral and herbal and earthy notes are carried within a crystalline armature that focuses and refreshes the mind. Goat cheese needs that kind of wine: fresh, sharp, radiant.
Goat cheeses also always seem lighter, somehow, than their cow's milk cousins, more tangy and racy. It's true that in most breeds of goat, the doe will give milk with less dissolved solids than cow's milk has, plus natural homogeneity that makes it more digestible. And although it's more alkaline, too, abundant fatty acids—caproic, caprylic, and capric, from the Latin capra, goat—make it taste tart.
The French call it chèvre (in another nod to Latin roots), and although gorgeous goat cheeses are made throughout the world—including some virtually in my backyard—France is the ancestral homeland of many of the New World styles, and so it is to France we turn for the prototypes.
Below are notes on six gorgeous French goat cheeses, plus a suggested wine to pair with each. A French wine, naturellement.
The Cheeses

Florette
Florette is a mild cheese from the Rhône-Alpes with a bloomy rind and a creamy, Brie-like texture. Its nutty aroma also suggests some sweetness, almost like pineapple or fresh pumpkin. There's little hint of mushroom or cave, and the acidity is very modest. What dominates is the cheese's buttery flavor, springy, edible rind, and smooth, very rich paste. This cheese is the least goaty of the lineup; Florette is the goat cheese for people who think they don't like goat cheese.
Wine Pairing: Crémant d'Alsace, Crémant de Loire, or Champagne. Treat this cheese like Brie or Camembert, serving it with sparkling wine to wake you up after each rich bite. Brut wines work beautifully, but a fizzy wine with some sweetness—the Sec and Demi-Sec styles—can help balance the salt.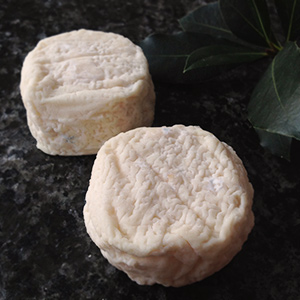 Crottin
I first tasted Crottin on my honeymoon (locally, lune de miel) in the northern Rhône. The cheese is a staple of central France and strikes a great balance between tanginess and creaminess. Its crinkled rind wraps a thin, delicately riper inner rind and a dense, creamy-chalky center. Only mildly goaty, it has a bloomy scent like fresh mushrooms, and its pungent snap mid-palate and medium saltiness balance an acidic finish. Overall it's an incredibly versatile cheese; also try Crottin de Chavignol, from the central Loire.
Wine pairing: Condrieu, partly because this wine and this cheese grew up together in the northern Rhône, but mostly because the wine's dazzling acidity and flavors of apricot and yellow peach marry gloriously with the cheese's piquant creaminess to yield another impression entirely: bliss.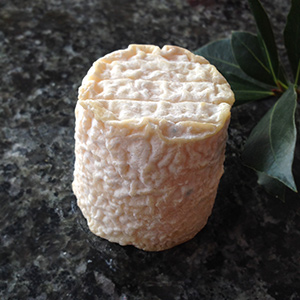 Chabichou du Poitou PDO
I cannot get enough of this cheese—its texture haunts me. Produced in the Poitou-Charentes region in the Loire, the heart of Franch goat breeding, this cheese is protected under France's appellation laws (which also regulate wine and other farmhouse products), hence its Protected Designation of Origin suffix. Firmer and taller than Crottin, Chabichou has a slightly drier paste and a thicker layer of creamy ripeness just under its crinkly rind. Its aroma is assertively goaty and redolent of fresh mushrooms, but the body springs open with flavors of hazelnuts, yellow fruits, and salt. Its enormously satisfying, chewy texture allows you to savor languorously this bloom of flavors and bright, herbaceous finish.
Wine pairing: Vouvray, because Chenin Blanc is likewise native to the Loire, and is a wine whose notes of tart apple, honey, nut, and fig echo the foods you might serve alongside this cheese. The sweeter styles of Vouvray—from Demi-Sec through Moelleux and Doux—work well here, too.
Tomme de Chèvre Bethmale
Goat's milk is used to make Tomme (also called Tome) all over France—in Provence, Rhône-Alpes, the Loire. This one's from the Midi-Pyrénées, and, typical of washed-rind cheeses, it is pressed and aged to create a firm, elastic paste riddled with tiny holes. The rind is edible and delivers a slight salty crunch, and the flavor is mild and buttery with notes of almond and sweetgrass. This is an incredibly versatile cheese, great at room temperature and suitable for melting, too.
Wine pairing: A Cahors or Sant-Mont from the region is a natural choice for a cow's milk Tomme, but for the goat version I suggest Beaujolais. Gamay's gentle berry fruits and supple structure balance the cheese's mellow tang and earthy, grazed-in-the-wilderness freshness.
Bûcheron
This cheese is a study in texture: The nutty, mushroomy outer rind is gently chewy; the ripe inner rind is buttery and rich; and the firm inner paste is chalky and quite tangy, almost citrusy. The variety is charming, giving you options as you dig into the cheese's decadent center. It's a very savory cheese that's also exceptional as chèvre chaud, broiled atop a plank of crusty bread and served with a green salad.
Wine pairing: Picpoul de Pinet. I love Picpoul's bracing brininess and suggestions of green citrus and Meyer lemon, all of which balance the cheese's tang and saltiness. Picpoul's a great option for that salad, too. Another choice: Sancerre. Wines made from Sauvignon Blanc are citrusy with flavors of tart green berries. They're a go-to pairing for fresh goat cheese, but even though this cheese has a few weeks of affinage, its youthful, tangy center gives it a kicky lift.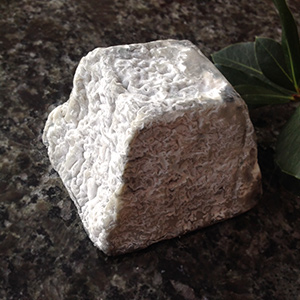 Valençay
Valençay is intensely fragrant, its aroma suggesting truffles and earthy sous-bois. Just inside its wrinkled, ash-coated rind, the body has a springy, pleasantly sticky paste. The flavor is very mild with goaty fruit notes. Still, this is the earthiest of these six cheeses, dark and woodsy despite its brilliant white center.
Wine pairing: Pair this with Rhône Valley whites—Côtes du Rhône, Hermitage, Crozes Hermitage, St. Joseph—which are most often a blend of Marsanne, Roussanne, and (sometimes) Viognier. These wines have the substance to stand up to the cheese's earthiness and the acidity to blend with its bite. Red Côtes du Rhône can work, too, provided it's Grenache-dominant, viz., juicy but with a touch of earthy splendor.
Valençay is also a PDO cheese, but the French regulations stipulate it must be made with raw milk. A pasteurized version is imported into the U.S. Which means only: Go to France. Eat the cheese. Enjoy.
All cheeses were samples for review.