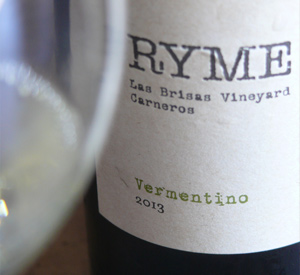 Editor's note: As 2014 drew to a close, I reflected on my favorite wines of the year. First read my introduction (which also contains the list of wines), then follow along as I publish notes on ten wines that taught me something new. Here's Number Six:
2012 Ryme Cellars Vermentino "Hers" Las Brisas Vineyard Carneros
11.2% abv | $24 (sample)
2012 Ryme Cellars Vermentino "His" Las Brisas Vineyard Carneros
12.8% abv | $32 (sample)
Winemaking couple Megan and Ryan Glaab run a small operation in Healdsburg, California. From their first single ton of Aglianico in 2007, they've gradually expanded production to Pinot Noir, Chardonnay, Ribolla Gialla, Fiano, Vermentino, and Cabernet Franc.
Their winemaking style is minimalist. Fruit is organically or sustainably grown. They forgo cultured yeast, temperature control, and additives. The wines are raised in neutral oak, and aren't fined or filtered at bottling. (For more details, read my profile of the couple on Serious Eats, and a review of their Pinot Noir here.)
I love all of their wines, but the Vermentino is a special favorite. Or I should say Vermentinos, because there are two:
"Hers" has crisp lines and a briny snap—like its progenitor, from Italy's Ligurian coast. The fruit was picked early, pressed, fermented dry, and bottled young. Its pale yellow body offers saline freshness and lilting notes of green almond, quince, Asian pear, and bay laurel. On the palate the fruit emerges—white peach and green citrus—with lively acidity; the back palate is all salt and herbs, with a lingering finish of lime. Breezy and drinkable, this is a wine to chill down and pair with oysters, shellfish, almonds, or grilled sardines.
"His" is round and textural, an orange wine picked later and fermented on its skins for two weeks. It was aged longer than "Hers," too. The color is burnished gold, and the fragrance is redolent of dried stone fruit and the sweet spring flowers of locust trees. There are nutty notes of oxidation, which foretoken the palate's supple, almost waxy texture and savory flavors of chestnut honey, roasted hazelnuts, and preserved lemons. This wine should not be served too cold, and shines with autumnal foods that share its burnished quality, like squash or roasted poultry, or a cheese course with dried fruits and nuts.
So, yes, I'm cheating here, counting two wines as one "Favorite." They arguably started out as one, born at the same time and in the same place. Yet they grew up separately, and each is now an individual, distinct and independent (as in a good marriage). Each expresses a particular point of view. One does not matter more than the other; they're both necessary, both delicious.
Wine writers, myself included, often valorize non-interventionism, holding that the less the winemaker does to the wine the better the wine will be. But the winemaker's mind cannot reasonably be erased from the equation. He and she must make stylistic choices. With great freedom comes great responsibility. Choose wisely.
The Lesson: There are many ways to honor the fruit.