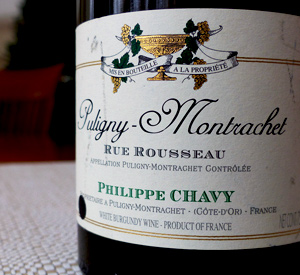 Editor's note: As 2014 drew to a close, I reflected on my favorite wines of the year. First read my introduction (which also contains the list of wines), then follow along as I publish notes on ten wines that taught me something new. Here's Number Seven:
2009 Domaine Philippe Chavy Puligny-Montrachet "Rue Rousseau"
13.5% abv | About $50
I recently wrote glowingly about Philippe Chavy's wines (see that article here), so their appearance on my Favorites list shouldn't be a surprise.
Chavy is a third-generation winegrower in Puligny-Montrachet, tending eight acres of Chardonnay rooted in some of the world's most revered vineyard soils. His wines are expansive, with a texture like lemon cream and notes of custard and nut. But the winemaking is deft, and their opulence is always balanced by lovely precision and freshness.
Chavy's Rue Rousseau was a favorite of those I tasted last July at his winery. His father planted the vineyard in 1955, and while it's a mere quarter-hectare, it abuts the Grand Cru vineyard of Bienvenues-Bâtard-Montrachet. The 2012 vintage was oily and expansive, with lemon peel, honey, and nutmeg. Although youthful and bright, the wine has a richness that suggests it will age beautifully.
Later, I tasted the 2009, a chance to glimpse the wine's trajectory. It was yellow-golden hued, with a fragrance of daffodils drifting above notes of roasted nuts and lemon-butter. Silky-textured and mouth-filling on the palate, it offered flavors of white peach and salted sage. Deep down it went into savoriness, then up again into sunlight and flowers, a wine of great dimension and presence.
Chavy humbly acknowledges his good fortune at being able to farm such a prestigious neighborhood. Yes, he's a lucky man, but luck isn't everything.
The Lesson: Location, location, location—and expertise.