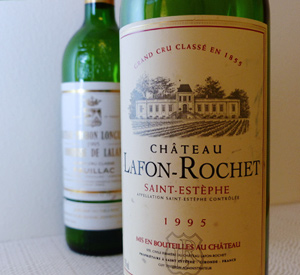 Editor's note: As 2014 drew to a close, I reflected on my favorite wines of the year. First read my introduction (which also contains the list of wines), then follow along as I publish notes on ten wines that taught me something new. Here's Number Five:
1995 Château Lafon-Rochet Saint-Estèphe Grand Cru Classé
13% abv | Currently about $70 (purchased as futures for $20)
Nearly two decades ago, the man who would become my husband purchased futures of two 1995 Grand Cru Bordeaux: Pichon Longueville Comtesse de Lalande Pauillac and Lafon-Rochet Saint-Estèphe.
The 1995 growing season had been agreeable, with gentle winter rains followed by a pleasantly dry growing season and a hot July. Late Indian Summer moved the fruit flawlessly toward harvest. Early reviews suggested a vintage ripe and ageworthy. He bought a half-case of each, and laid them down.
Nearly two weeks ago, I had a birthday, and the man who is my husband selected the wine, emerging from our cellar with a bottle of the Pichon Longueville. He pulled the cork, but in one whiff we knew the wine had died by cork taint's hand.
He returned to the cellar, re-emerging with the very last bottle of the Pichon Longueville. This one was not flawed, but it was not forthcoming, either. Even with air it felt severe and very tannic, its wiry framework wreathed with cedar, smoky coffee, pipe tobacco, saddle leather, burnt tea. No fruit bore mention. While the wine was unyielding and sharp, it was also somewhat fascinating, like the gaze of a dark stranger on a train.
I do like fascinating, but on my birthday, with a little piece of steak, I like a splash of pleasure, too. And so the man returned to the cellar once more, returning with the very last bottle of the Lafon-Rochet Saint-Estèphe.
We decanted it gently, giving it time to relax and awaken. Its body was brilliant garnet with a flame orange rim, more sprightly than expected. Soon we sipped, inhaling its fragrance of cedar and tobacco and its sweet red leather top notes. It was ripe with crackly acidity, plus cherries, graphite, and pliant tea-tannins. There was fruit but not too much. With air the wine continued to flower open, becoming more intricate, its facets and fretwork letting light shine through.
It was at last a wine worth waiting for, worth celebrating.
The Lesson: A lot can happen in twenty years.