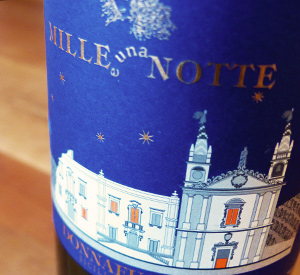 Editor's note: As 2014 drew to a close, I reflected on my favorite wines of the year. First read my introduction (which also contains the list of wines), then follow along as I publish notes on ten wines that taught me something new. Here's Number Four:
2008 Donnafugata "Mille e una Notte" Contessa Entillina Rosso
13% abv | $89 (sample)
This Nero d'Avola-dominant blend from Sicily is glossy and likable, with a bright ruby body and a scent of red licorice, eucalyptus, and brushy herbs. Lean and tightly wound on the palate, it offers an essence of cranberries and crushed anise seed, plus ample drying tannins.
It was my favorite of three Donnafugata wines I tasted (read the notes here), and while it's lovely on its own, its brilliance truly shown in the context of a meal. I poured it with a Parmigiana I'd made in high summer using Japanese eggplant, tomatoes, and herbs from my own garden, veal raised two hills over, and cheeses made down the valley. The wine's anisette bitterness married beautifully with the astringency of the eggplant, its taut acidity linking to the tomatoes and balancing the velvety veal and cheeses.
Wines with a slight bitterness and a resinous twang often play beautifully with food, but this partnership was novel and perfect. I vowed to try to recreate this dish, knowing this exercise would have to wait for next year, when these foods are once again ripe and ready. I'll seek out wines with this flavor profile, too, hoping. Will the magic re-ignite? Who can know?
The core idea is this: New Hampshire and Sicily seem worlds apart, but when their respective summers are set onto a plate and poured into a glass, everybody smiles.
The Lesson: Mindful food and wine pairing knits cultures together.
Follow my wine reviews on Vivino and Delectable.