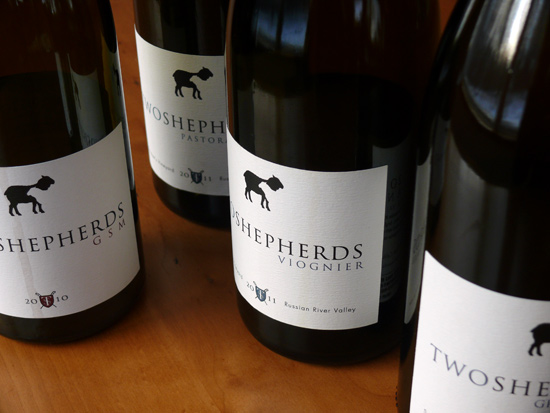 I met William Allen about three years ago, online. At that point, he was tech exec by day, garage winemaker by night (and weekend), and advocate for Sonoma winemaking on his website, Simple Hedonisms. He seemed sociable and spirited, if slightly tinged by the Weltschmerz of one who must toil in the corporate world to finance an avocation.
We met in person a year later. By then his winemaking side gig had taken a more ambitious turn. He'd moved operations from his garage to a friend's winery in Fulton, California, and started a new label, Two Shepherds Vineyards.
Although he'd made many styles of wine in the past, he had decided to focus his efforts on Rhône grapes, sourcing fruit from cool-climate vineyards in Russian River and Santa Ynez Valley. His approach was minimalist, picking on the shy side of ripe, fermenting on native yeasts, and using only tiny amounts of sulfur.
Two Shepherds' first harvest was 2010, but the wines weren't released until November 2011, after the obligatory struggle with the labyrinthine arcana of TTB approval. He now offers red and white blends, varietal Viognier and Grenache Blanc, and a marsanne-roussanne orange wine he calls "Centime."
Critic Jon Bonné of the San Francisco Chronicle recently wrote admiringly of his Grenache Blanc. So did Virginie Boone. Mutual friends had effused about his wines, too. I hadn't tasted any of them until this fall.
Accolades notwithstanding, my expectations were modest. This is where an affinity for narrative can work against a wine writer. Knowing a wine's story doesn't change its flavor, but it does change its significance. To me, William was the scrappy, underdog garagiste, a part-timer trying to get traction. I didn't expect serious wines.
But these are serious wines. They have great finesse and gravity, plus a kind of ringing clarity. They have a delicious texture that makes them seem both earthy and polished. They love food. They also like air and warmth to open up, and change in the glass throughout an evening. They're a bit mercurial, which is a good litmus test for interestingness. Many are just as alive, if not more alive, the next day.
These wines seemed to speak a language I didn't know William spoke. By doing so, they told me something new about him, and about my own preconceptions.
After the tasting, I talked with William about his work.
Why make wine?
It was just something I was compelled to do. I'd been making wine for years, but really got serious when I first moved to wine country. It was kind of hard not to. I'd been blogging a lot, and my focus in talking with winemakers was always technical. I started to test out those things myself. People were like, you don't know what you're doing, you're just a garage winemaker.
How did Two Shepherds get started?
I had all these things I wanted to try, but there were so few people who knew about Rhône grapes. Nobody up here knew about working with grenache blanc. Anyway, you ask ten winemakers about anything and you'll get seven different answers.
So I didn't know I was going to start Two Shepherds. I just knew I was going to make wine in bond with Darek Trowbridge at Old World Winery. Because Rhônes are best as blends, but how the hell was I going to make seven barrels of wine myself, in my garage?
Why Rhône grapes?
When I was a garage winemaker I was all over the board. I'd done Sangio, Chardonnay. The Grenache Blanc motivated me to do this. Anthony Yount of Denner was an inspiration, one of the first to combine the brightness of Grenache Blanc with more complexity in the aromatics and mouthfeel. Grenache Blanc can be frankly a boring varietal. You have to look for the nuances, but they're there.
One of the aesthetics of the brand is taking traditionally hot-climate varieties like marsanne and roussanne, ripening them in a cool climate, still getting phenolic ripeness, and bringing them into balance. I used to say "low alcohol," but what's important is balance. If I can also bring out wine with lower alcohol, that's great.
Say more about your aesthetic.
Everyone uses "sense of place." But sense of place is not only terroir and cool climate, it's also the vintage. My wines will never be the same year to year, because the vintage won't be the same.
I'm never going to call myself a natural winemaker. I've tried that route, and twenty parts per million of sulfur after malolactic will save your ass. There's nothing wrong with a little sulfur. It's been used for thousands of years, and will continue to be. But adding tartaric acid, water, tannins—that's not winemaking.
Why "Two Shepherds?"
It's a combination figurative and literal: "Shepherd of the palate, shepherd of the grape." I make wine for consumers. I'm trying to get them to try something besides what they'd get at Safeway every day. So the "grape shepherd" watches the vineyard, then brings it into the winery and guides it into the bottle.
What's in your way right now?
Money. I need to expand. I should do a more formal business plan and go out for funding. I need a passionate business partner, someone who has the same passion for Rhônes that I do, but has branding, marketing, accounting—all the stuff I hate.
What's next?
I have a million ideas and want to do things that are new and innovative. I do massive experimentation and segmentation of lots. I'm not afraid to tinker, and if it's bad, it goes down the drain.
I solve some of my problems by sticking to my core philosophy, which is to go simple. The second I start moving toward massive, stainless steel fermenting, I'd strip away everything that makes the brand what it is. In the Rhône, nobody buys new barrels anymore. You just wait until the old ones fall apart. In California, we talk about that like it's an epiphany.
Each year I'm uncovering things that work well, and don't work well. That's a good reason to grow in increments. I'm not operating from a master plan. This thing happens organically every year.
T A S T I N G N O T E S

Two Shepherds Vineyards Viognier Russian River Valley
2011
13.8% abv | $24 (media sample)
One hundred percent viognier from Saralee's Vineyard in Windsor, California, harvested at 23° Brix and barrel-fermented in neutral oak with native yeast. The wine went through full malolactic. It was aged for four months in neutral oak on gross lees, then racked into stainless and aged an additional four months before being bottled, unfined and unfiltered.
Restrained stone fruit aromas open with air to yellow apple, laurel leaf, and wet stone. Lovely, creamy brioche notes mingle with flavors of yellow peach, stone fruits, and salty herbs. Restrained, with great minerality and acidity. It shows best between 55°F and 60°F. Although the winemaker maintains this vintage is less Condrieu-like than his 2010 (which I didn't taste), it still evokes the Northern Rhône to me. Californian Viognier can be plush and syrupy, and I prefer the stony quality of true Condrieu, which this wine manifests. Serve it with crab cakes, lobster, seafood risotto, or a cheese course with a scattering of roasted nuts.
Two Shepherds Vineyards "Pastoral Blanc" Russian River Valley
2011
13.8% abv | $24 (media sample)
A white Rhône-style blend of 45% roussanne, 20% marsanne, 20% viognier, and 15% grenache blanc. The fruit derives from Saralee's Vineyard, with Brix at harvest from 22° to 23.5°. The grapes were fermented separately in neutral oak with native yeasts, and all went through malolactic.
Brilliant yellow gold color, with herbaceous aromas and a kind of savory silkiness on the palate. The roussanne gives the wine backbone and weight, but the blend feels lucid and beautifully balanced. It's not a fruit-driven wine, and it's not a showy wine, either. It seems meant as a versatile partner for food. I'd pour it with anything from roasted poultry rubbed with garrigue herbs, to butternut squash ravioli with browned butter and crisped sage, to pan-seared scallops with celery-root purée.
Two Shepherds Vineyards Grenache Blanc Santa Ynez Valley
2011
13.8% abv | $24 (media sample)
One hundred percent grenache blanc from Saarloos Vineyards in Los Olivos, California. The fruit was harvested at 22.9° Brix. The wine was fermented on native yeasts, then aged on the lees in neutral French oak.
Aromas of lime leaf, laurel, sage, and salt yield to a plush texture that's balanced by great acidity. The wine feels spirited, almost nervy, but with a kind of lacy elegance that keeps it demure. Grenache Blanc shouldn't be served too cold, and this one rewards languorous enjoyment, changing in the glass with air and warmth and time. Pair it with grilled fish drizzled with citrus butter, roasted chicken, or aged cheeses, especially old Gruyère.
Two Shepherds Vineyards GSM Russian River Valley
2010
13.8% abv | $32 (media sample)
A blend of 50% grenache, 25% syrah, and 25% mourvèdre. Grenache and syrah derived from Saralee's Vineyard; the mourvèdre was from Livermore. All fruit was harvested under 24° Brix. The wine was fermented in neutral oak with native yeast, then aged ten months in neutral oak. The winemaker says this grenache was particularly pretty, very like Pinot Noir, requiring a deft hand in blending to let it express its charms.
Garnet red with aromas of beach rose, spice, white pepper, and rosemary, the wine is both wildly floral and tightly wound. It needed at least thirty minutes of air to open up, and was actually better the next day, relaxed and smiling. To me, grenache is about black pepper, berries, and wild herbs, and this grenache-heavy blend expresses this character well. It would be great with Provençal cuisine, particularly pissaladière, the aïoli platter, or black olive tapenade on grilled meats. Fittingly, it would also be great with lamb.