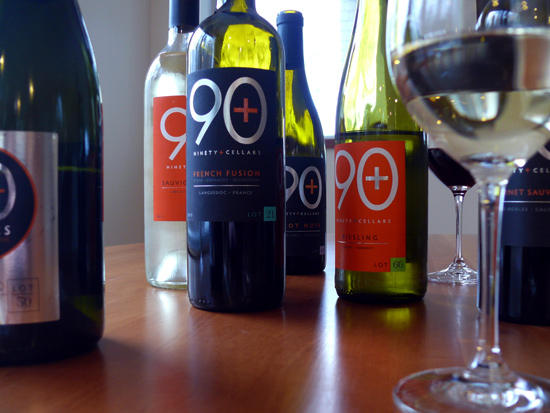 Ninety Plus Cellars
Holiday Essentials
Price: about $60*
Wine sampler packs are a great way to buy wine—and to sell it. Customers usually pay less than if they'd bought each bottle individually, and retailers are willing to clip the price because packs help move more wine.
Both effects are exaggerated when a pack is offered with an accompanying narrative. A boxed set called "Picnic Six" or "Winter Whites" or "Fireside" lets a customer imagine how she might serve these wines together. Even if she doesn't take them on a picnic, drink them in February, or open them with her sweetie before a crackling fire (she might not even have a fireplace), she understands these wines were chosen to go together, and to mean something together. They suggest a story in which she can play a role.
The Ninety Plus Cellars' "Holiday Essentials" six-pack arrives in box emblazoned with snowflakes, ornaments, and a tag labeled To: and From:. There's no mistaking the narrative intent: it's meant as a gift pack, especially one to take to party. Its $60 price tag is discounted from $80, so part of this narrative is also, clearly, "ten bucks a bottle."
The pack includes one sparkler, two whites, and three reds. The range of styles, from earthy to juicy to fruity to fizzy, gives revelers options, plus pairs with an assortment of foods. I especially like the inclusion of Prosecco, which is a great starter wine, and the Languedoc red blend, which may be less familiar to many people but deserves some love. I was less impressed with the Riesling, and found the Cabernet Sauvignon weirdly smoky. But the Sauvignon Blanc and Pinot Noir would certainly be crowd-pleasers.
Here's the scene: A boisterous party, a knock at the door, a guest arrives with the box, which is promptly unpacked and the wines poured around. There's something fresh in everyone's glass, now, and people return to their chatter about work and kids and books and movies, about cat videos and Mayan calendars and when to plant their garlic. Everyone's feeling warm and complete, not because of the food or wine, but because the old year lies behind them, and the auspicious green fields of the new lie ahead.
I can imagine that.
Ninety Plus Cellars Lot 50 Prosecco DOC NV
11.0% abv | about $14 purchased separately
Copious spumy bubbles fizz into aromas of tropical fruits and fresh cream. Yellow fruit flavors and a hint of salty savoriness keep it food-friendly. Festive and likeable; a good way to start a casual party.
Ninety Plus Cellars Lot 66 Riesling Mosel 2010
9.0% abv | about $11 purchased separately
Aromatically restrained and slightly bready, this wine is off-dry with faint hints of pear and yellow peach. Fresh and clean, although I prefer a bit more verve in Riesling. Pair it with seafood, especially white fish.
Ninety Plus Cellars Lot 64 Sauvignon Blanc Lake County 2011
13.0% abv | about $12 purchased separately
This wine is floral but fully dry, redolent of gooseberry, green fruits, and white flowers. Medium bodied with spreading tropical fruits on the palate, it's refreshing and zingy. Serve it with shrimp or fresh goat cheese.
Ninety Plus Cellars Lot 68 Pinot Noir Central Coast 2011
14.2% abv | about $16 purchased separately
Translucent rosy garnet with a clear pink rim, this Pinot offers notes of cranberry, pomegranate, and winter spices. It would be great with clove-studded ham or roasted, spice-rubbed pork.
Ninety Plus Cellars Lot 72 Cabernet Sauvignon Paso Robles 2010
14.0% abv | about $15 purchased separately
Intensely smoky, with notes of cedar, eucalyptus, and cured meat, but curiously light-bodied given its aromatic potency. Possibly a reasonable quaff with barbecue or smoked meats.
Ninety Plus Cellars Lot 21 French Fusion Languedoc AC 2010
14.0% abv | about $12 purchased separately
A blend of syrah, grenache, and mourvèdre, the wine is purplish ruby with leathery blackberry aromas. Flavors of black bramble fruits are edged with grippy tannins and typical southern French earthiness. Pair it with lamb kebabs, aged cheeses, and charcuterie.
*I received this wine pack as a media sample.