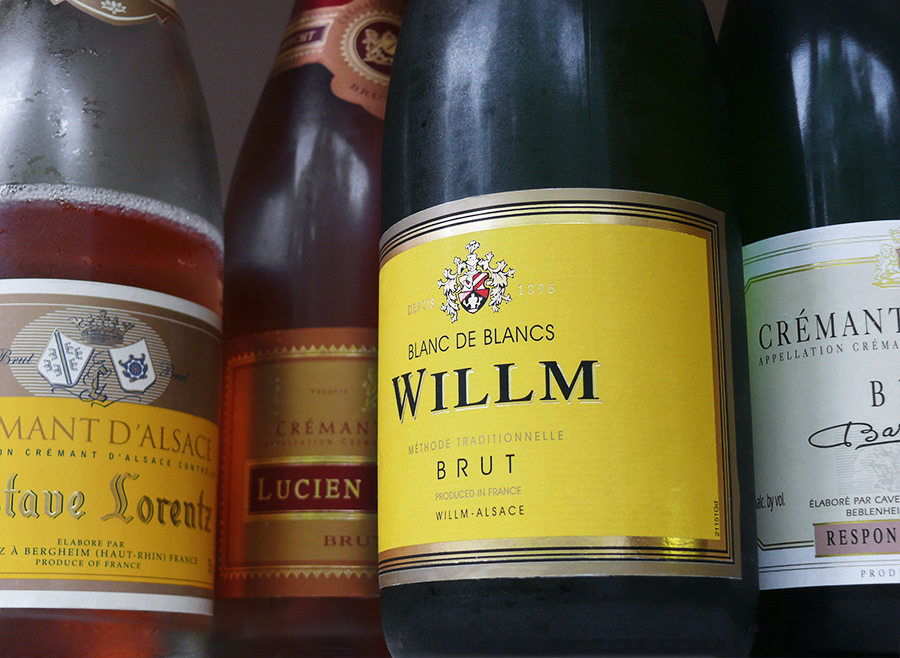 Because I love Champagne, I also love Crémant.
Both French wines are made using the same technique, with a secondary fermentation in the bottle to develop glittery sparkle. They're often made using identical grapes, too—Chardonnay and Pinot Noir.
But if you are a vigneron in Bordeaux or Bourgogne, Loire or Limoux, Savoie or Jura, you must call your wine Crémant, not Champagne, to be street-legal.
Alsace is France's largest Crémant-producing region, accounting for about half of the country's total production. In 2013 that region alone produced about 36 million bottles, exporting nearly 7 million. About 400 thousand bottles landed on American shores, and I recently tasted a dozen of them. My top picks are below, in time for New Year's toasts.
Crémant d'Alsace must be made only from Pinot Noir, Blanc, or Gris; Chardonnay; Auxerrois; or, in a nod to the region's Germanic heritage, Riesling. The rosé must be 100 percent Pinot Noir. French law also strictly limits yields, requires grapes to be hand-harvested, and mandates at least nine months en tirage before disgorgement. It's a recipe for quality, yet there are many terrific options between $15 and $20.
Stylistically, Alsatian Crémants tend to be dry and creamy-textured. The rosés manage a lovely balance between berry fruit notes and savory heft, while the blancs crackle with minerals and citrusy acidity. 
These qualities make them exceptional with food, especially the kind of snacks you'll choose for a New Year's Eve party: savory pastries, cheeses, cured meats, gougères, brandade, shrimp, cheese sticks. And given their affordability, you can readily buy in volume for your party—and save a bottle to turn a winter weeknight supper into a party, too.
For tips on serving cheese with these Crémants, see Pairing Sparkling Wine With Cheese.

NV Gustave Lorentz Brut Rosé Crémant d'Alsace
NV Gustave Lorentz Brut Crémant d'Alsace
12% abv | about $25 (samples)
The Lorentz rosé is creamy and elegant, with notes of cantaloupe, Meyer lemon, red berries, wintergreen, faint biscuit. The Brut's blend of Chardonnay, Pinot Blanc, and Pinot Noir offers aromas of crisp green apple, toast, and fresh wheat bread. Its gorgeous pearly mousse crackles with acidity and minerality, and the finish is like biting a juicy lime. Both wines are lip-smacking, creamy, and delicious.
NV Lucien Albrecht Brut Rosé Crémant d'Alsace
NV Lucien Albrecht Brut Crémant d'Alsace
12% abv | $20 (samples)
Both of the Lucien Albrecht wines are elegant and refreshing, with a fine pearly mousse. The Brut, a blend dominated by Pinot Auxerrois, offers notes of apricot, freshly cut birch wood, laurel, lime leaf, biscuit, and plus quiet citrus. The rosé is finely articulated, with red raspberry and strawberry fruits and a long, pearlescent finish. 
NV Baron de Hoen Cave de Beblenheim Brut Crémant d'Alsace
12% abv | $18 (sample)
Vivid yellow with greenish glints, the wine yields minerally wet rocks and bread dough aromas, plus clean citrus and snappy grapefruit pith on the palate. Smooth-textured and very restrained.
NV Dopff & Irion Brut Rosé Crémant d'Alsace
12% abv | $17 (sample)
Pale coral salmon color with aromas of stone fruit, bread, and melon. Very soft and lightly sparkling on the palate with moderate acidity, demure sweetness, and a finish like peach nectar.
NV Charles Baur Brut Rosé Crémant d'Alsace
12.5% abv | $20 (sample)
Very closed at first; this is a sparkling wine that needs 20 minutes of air to open and soften. Then there are notes of spearmint, apple, apple blossom, and strawberry, and it continues to change and evolve in the glass. Interesting and mercuruial.
NV Willm Blanc de Blancs Brut Crémant d'Alsace
12% abv | $16 (sample)
Toasty and creamy-textured, with notes of roasted limes, preserved lemons, birch wood, and sassafras. Enormously savory and dense, which seems improbable in a sparkling wine but works beautifully here. Serve with cured meats.
NV Gérard Metz Crémant d'Alsace
12% abv | $25
Toasty biscuit, lemon peel, yeasty-leesy, but not overwhelmingly so. It's beautifully integrated, with lovely Meyer lemon notes and a gorgeous creamy texture. A delicious, exemplary Crémant.
Many thanks to Wine Business Monthly for recommending this article to their readers.
Follow my wine reviews on Vivino and Delectable.