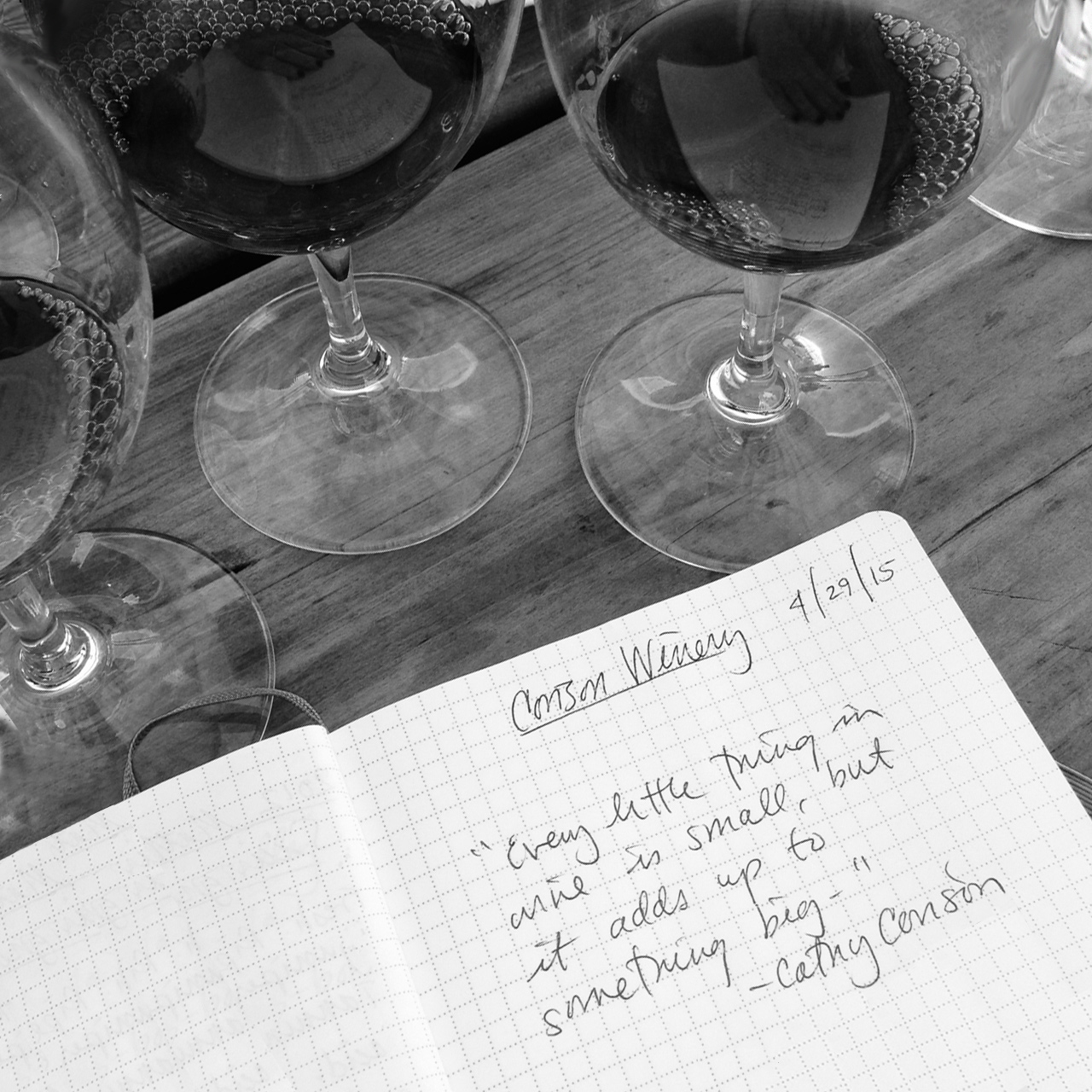 I try to drop in on Cathy Corison whenever I'm in Napa. I love Cathy's wines, love how they commingle confidence and restraint.
We always taste together, catching up about wines and winegrowing, wine personalities, wine writing, but also about food, gardening, theater, friends, family. I never fail to come away with some new idea, some new way of thinking about wine, about wine writing, about why wine matters.
But these visits are more social call than formal tasting session, and I usually realize later, with a sigh, that I've filled my notebook with only the most sketchy, impressionistic scrawl, completely un-publishable.
This April I finally managed more than cursory scribblings, taking notes between bites over a lunch with Cathy and two wine writing colleagues, Elaine Brown and Christine Havens. It's a lot easier to write while someone else is talking.
Cathy's Kronos estate vineyard in St. Helena was a glorious backdrop on that sterling spring day. She purchased this property twenty years ago, building a spare and elegant production facility in the center of the vines. "It was a miracle we found it," she said, because while the vineyard is old low-yielding, she loves its gravelly soils and wizened, craggy Cabernet vines, which conspire to produce silky, concentrated wines worthy of long cellaring.
Kronos Cabernet Sauvignon vines just before flowering
Cathy has also sourced grapes continuously from two other vineyards along the stretch of stony, alluvial benchland between St. Helena and Rutherford. Actually, sourced is an understatement, because she's always had a hand in the winegrowing. The fruit goes into her Napa Valley Cabernet Sauvignon, and as we ate and talked we tasted four vintages of that wine: The soon-to-be-released 2012, plus three older vintages now coming into their prime: 2006, 2005, and 2004.
Tasting these wines I was struck, as always, by their transparency. They are restrained but not reticent, yielding but not simple, ripe but never over-ripe. The alcohol levels in her Kronos and Napa Valley Cabs usually hovers around 13.5%—somewhat unusual in Napa Valley. These are wines that are made for the table, made to integrate with a meal, arguably more Continental than contemporary Californian. "My first tasting was European," Cathy told us. "There's no question that colored my sensibilities."
At the beginning of her career, Cathy made wine only for other wineries. All the while, though, she says, "There was a wine in my head I needed to let out." She's been able to pursue that stylistic vision under her own label, Corison Winery, for twenty-eight vintages.
But stylistic consistency doesn't mean same-ness, and her wines seem to celebrate, not obscure, vintage expression. The first time I tasted her wines, I mused aloud that they seemed like a vinous sisterhood—clearly related, but also unique and individuated. There was the tall one, dark-eyed and muscular with an athletic gait; the shorter one with a warm, complicated smile; the third one, fair-haired, languid, with easy features that belie a deep seriousness.
I'm always ambivalent about gendered metaphors, and recall suddenly worrying that Cathy might bridle at hearing her Cabs cast as women. To my great relief, she didn't. "I'm never offended by the term 'feminine' to describe wine," she told me again in April, when the subject came up during the tasting, "—as long as it's used appropriately." Meaning archetypically, analogously, not literally. Wine isn't "feminine" just because the winemaker's a woman. Plus, given how often muscular and masculine are used to describe Napa Cabernet, feminine might seem revelatory.
Cathy Corison among her Kronos vines in St. Helena, California
Our discussion turned to business, and I asked her what's in her way right now. Land prices, she replied quickly. For a winemaker, high land prices translate to high fruit prices, especially if that winemaker works with high-quality Napa Cabernet Sauvignon. "I'm so lucky we bought this land three doublings ago," she said, gesturing out toward her Kronos vines. If that was luck it struck again; recently she was able to acquire one of those two Napa vineyards she's worked for years, securing, to her relief, a supply of great Cab fruit.[i]
Although she's long farmed organically, Cathy's excited to start pushing deeper, and is beginning a quiet transition to Biodynamics. She's especially eager to begin working that way in the new vineyard. "I've always wanted to learn about Biodynamics," she said. "Some people bandy the term around, and they do some of it. I want to transition to Biodynamics because it's so in-tune with the universe. It's taking it a big step further."
Cathy is UC Davis-trained, sensible and canny, rigorous—but not rigid. I asked her how she thinks about Biodynamics' admixture of praxis and poetics. "I don't believe we have to be able to put our thumb on something to say it's real," she explained. "I don't think just because we can't see it doesn't mean it's not true." Then, after a pause: "I buy it."
Christine Havens, our lunch companion, has also been a winemaker, and marveled at the scope of Cathy's enterprise, how much there is to be done. And not just how much there is, but how it all matters, even the small things.
"Every little thing in wine is small," Cathy said, "but it adds up to something big."
TASTING NOTES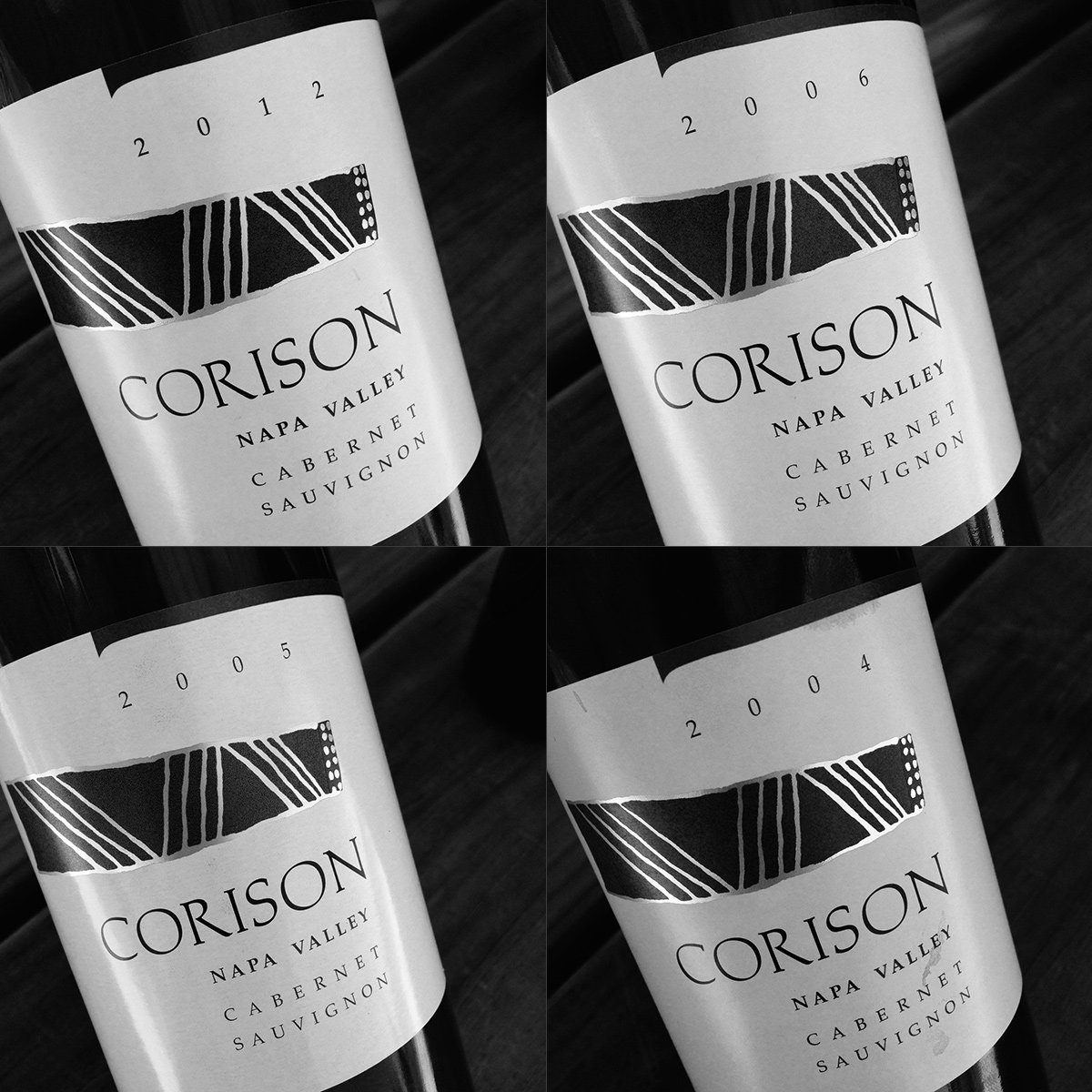 2012 Corison Winery Cabernet Sauvignon Napa Valley
This new vintage has a floral perfume that mingles roses, fennel, and toasted anise seed, and its red currant and cranberry fruits suggest ripeness but not sweetness. The wine feels alive, fresh and vibrant, with a kind of gamine, pliant springiness wrapped around a vital, muscular core. As this wine ages this youthful body will attenuate and sharpen, becoming even more beautiful.
13.9% abv | $85 (sample; available at the winery July 2015)
2006 Corison Winery Cabernet Sauvignon Napa Valley
Deeply savory with dark aromas of cured meats, black tea, and almost-coffee spice. On the palate the fruit and minerals weave seamlessly together, and the texture is silky, with smooth, elastic tannins and a wash of glittery acid at the finish. Cathy called it "really lit up," saying her wines hit "the sweet spot, with lots of bottle bouquet" at ten years. I think this wine has hit it.
13.8% abv | $100 (sample; current price)
2005 Corison Winery Cabernet Sauvignon Napa Valley
The 2005 vintage was slow and cool. This wine, ten years later, is meaty, with a deeply smoky undertow and a sueded texture across the tongue. The palate of star anise, black plums, and coffee-bean savoriness wears the pleasant filigree of oxidation. This wine reads like brown velvet.
13.6% abv (sample; the wine is currently available only in 3L format)
2004 Corison Winery Cabernet Sauvignon Napa Valley
If the 2005 and 2006 are all earth and meat and darkness, this wine is radiant, aglow with a glorious, warm plum skin fragrance and a perfume like multi-colored petals. The texture is fine-grained and the acid is profound. Beneath this effervescence, though, is a kind of woodsy sweetness. The wine exudes a warmth, a quietude, like a paneled library with the sun streaming in, flowers in vases everywhere.
13.6% abv | $125 (sample; current price)
Follow me on Facebook, Twitter, and Instagram.
---
[i] Land prices (and concomitant grape prices) are a hurdle for all Napa winemakers, but maybe especially so for those who work with Cabernet Sauvignon. During the 2014 harvest, the average price paid per ton of Napa Valley Cab was a little north of $5,900 (although somebody, astonishingly, paid $35,000 per ton for nearly 15 tons). For further details on recent California fruit prices, download the 2014 California Grape Crush Report, published by the California Department of Food and Agriculture. Prices paid for Napa Valley Cabernet Sauvignon start on page 61 (which is page 65 of the PDF). ↵ back to text