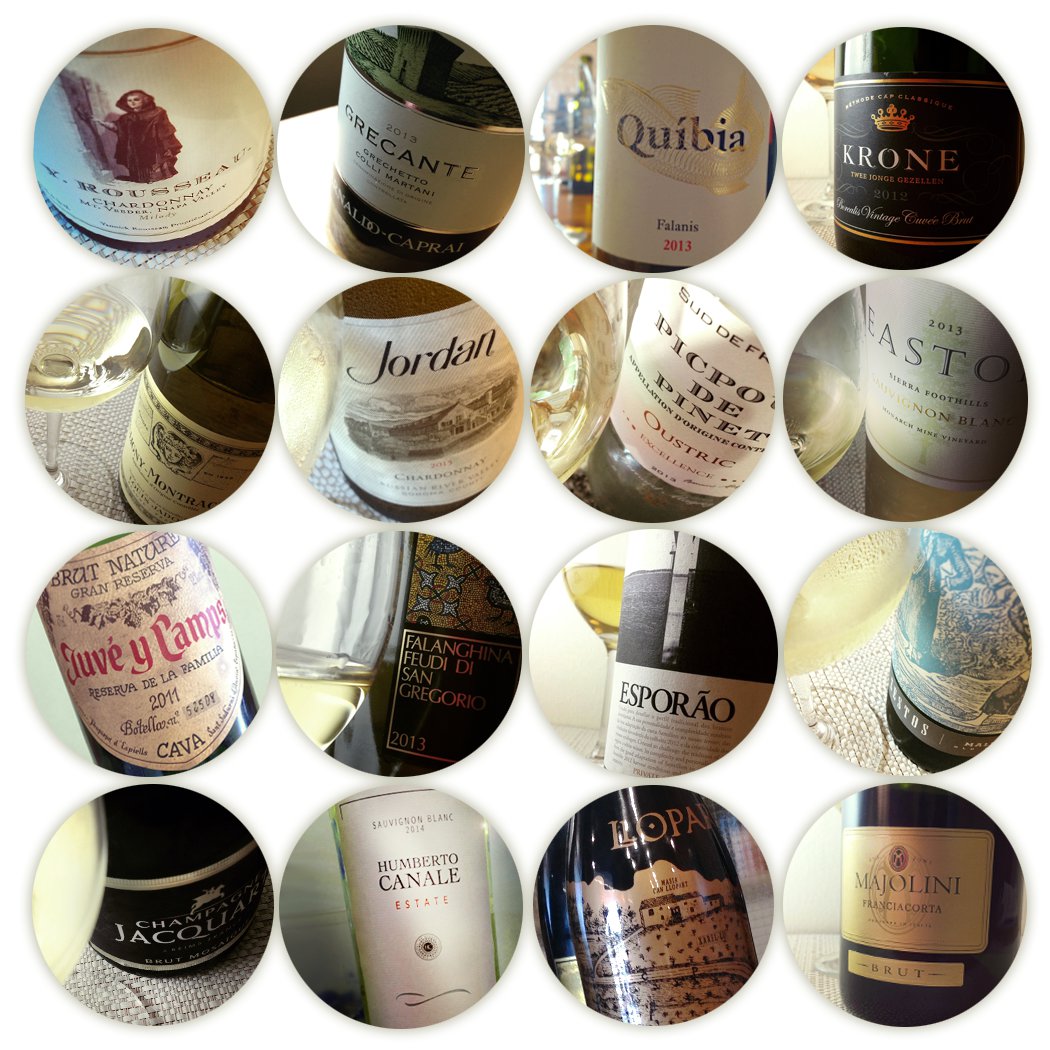 Imagine a lawn party in raking, late afternoon light. People in pale linen mill about, or lounge on wicker, burbling with laughter, nibbling sandwiches, cutting deep wedges of cheese, and trying not to stain their fingers from platters of ripe berries. A group springs home from a game of tennis, still in regulation whites. There's the pok! of croquet beyond the hedge, and chattering birds; later, the crickets begin.
And there is this wine. It is sunlight distilled into a glass, its body crystalline, its breath like that day's breeze. People sip, then stop and look up. What is this wine? Some say Chablis, from a ripe vintage, or maybe a Montrachet made with restraint. It is succulent, gleaming yet discreet. It is nearly perfect, they say, an ur-wine. It is just right for this moment—it is this moment.
That wine is the 2012 Y. Rousseau Chardonnay "Milady," and it is pitch-perfect, a wine that conjures images of sunlight and revelry, of ease and play, of peace—of summertime.
Below are fifteen more.
The Y. Rousseau ($42, a sample) is in the upper left above; others follow in order:
2. 2013 Arnaldo Caprai Grechetto "Grecante" Colli Martani
One hundred percent Grechetto, a not-too-common white grape that's not too uncommon in Umbria. This fruit was grown in Montefalco in silt and clay soils at 500–650' elevation (I've had Caparai's Sagrantino, too, which is terrific). This wine was aged three months in stainless and three in bottle. Pale yellow with a salty scent of melon and citrus, it's ample, rounded but succulent, with spare tropical fruit, citrusy acidity, and a gritty, mineral snap at the finish. Pair it with antipasto and lean meats.
13% abv | $20 (sample)
3. 2013 Anima Negra "Quíbia Falanis" Vi de la Terra Mallorca
An engaging wine grown on the island of Mallorca off Spain's southern coast. It's a blend of native grapes, the red Callet plus white Premsal and Giro Ros. Very pale and straw-scented, like herbs in a warm, dry meadow. The fragrance also has a sweetness—but not a sugar-sweetness, more honeyed, or like yellow pear skin. There's also a note of petrichor, like water on dusty limestone. The body is lit up, like sunlight across pale cream satin, and the herbs come back in mid palate, with more warmth and straw and salt. I would serve this wine with only bread. No cheese. No seafood. It's so compelling it needs to be tasted alone.
12.5% abv | $20 (sample tasted at the winery)
4. 2012 The House of Krone "Borealis" Brut Méthode Cap Classique WO Western Cape
South Africa's Méthode Cap Classique wines are made in the traditional method, like Champagne, and this one's a cuvée of Pinot Noir and Chardonnay. The fizz of the pour subsides into a quiet perlage with aromas of roasted nuts and marzipan, floral caramel, pastry, and Anjou pear. The wine's toasty notes carry through to the palate, too, which feels both sweet and sharp with a cleansing, coarse mousse. Its 8.5 g/L of residual sugar turns the wine into a veritable patisserie. Pour this wine at brunch.
12% abv | $20 (sample)
5. 2012 Louis Jadot Puligny-Montrachet
This wine is somewhat reductive at first, with a sharp, bitter swampiness, but with 20 minutes of air it softens, offering aromas of struck flint, buttered nuts, sour melon, and citrus. Full-bodied with a creamy texture, it leaves an impression of lemon butter, jonquils, ginger, cold nickel, and wet earth. The finish is somehow both lush and stony. It's a curious wine—or maybe capricious, like a sprite in springtime.
13% abv | $65 (sample)
6. 2013 Jordan Winery Chardonnay Russian River Valley, Sonoma County
Recent vintages of this wine have been all sunny daffodils, but the 2013 is tinged with brimstone and steel, lemon peel, cypress, a whiff of wild thyme. Clear-complected with texture like silk voile, the body suggests laurel and lemongrass. The fruit was fermented in a mix of French oak and stainless, and only a portion underwent malolactic. Lots were aged six months in 40 percent new French oak, including two months sur lie with regular bâtonnage. The result is a succulent and stylish Chardonnay that wears its oak well—as a veil, not a mantle—and knows how to behave at the table.
13.7% abv | $30 (sample)
7. 2013 Bernard Magrez "Oustric" Picpoul de Pinet
Medium yellow gold color with a lavish fragrance of apricots, yellow peach, and tropical flowers. The plush body is ripe with stone fruits and pineapple tinged with citrus. It's not as briny and spare as some Picpoul, but it's delicious. I'd serve this with fresh and young goat cheese, rich seafood dishes, and charcuterie.
12.5% abv | $11 (sample)
8. 2013 Easton Wines Sauvignon Blanc "Monarch Mine Vineyard" Sierra Foothills
This Sauvignon Blanc strikes a beautiful balance between Old and New World styles. There are notes of tropical fruit, green herbs, and citrus (New World) and savory green tea, minerals, and steel (Old World). Lees stirring gives the wine texture and structure, while suppressed malolactic gives it juiciness and brilliance. It begs for food and will not dominate the meal. It's among most impressive (and food-friendly) California Sauvignon Blancs I've seen at this price.
14.0% abv | $18 (sample)
9. 2011 Juvé y Camps "Reserva de la Familia" Brut Reserva Cava
"The risk of long aging," said winemaker Antonio Cantos, when I tasted this wine with him recently, "is that all you get is the yeast." I do like the savory notes imparted by long aging en tirage, but I also appreciate balance. This wine, the Juvé y Camps flagship, manages to mix crispness with creaminess, sharpness with roundness. On the sharp end there is grapefruit, lime peel, fresh mint, and fennel. On the round end are almond, biscuit, and white flowers. The finishing impression, though, is refreshment, and for its price is a wine that can be opened almost anytime. Made from 45 percent Xarel⋅lo, 30 percent Macabeu, and 25 percent Parellada; aged 36 months.
12.0% abv | about $15 (sample tasted at the winery)
10. 2013 Feudi di San Gregorio Falanghina del Sannio
This wine is always a favorite with summer fare, redolent of salt and sunshine: briny green olives, preserved lemons, Bay leaves, sea air. The body is the color of pale sand, and everything about this wine says seafood. Drink it with oysters, crab, sushi, grilled sardines, or serve it with small tapas plates—olives, of course, Marcona almonds, warmed goat cheese, sourdough bread doused in peppery young olive oil.
13% abv | $16
11. 2013 Herdade do Esporão Verdelho Alentejo
Pale yellow gold with chartreuse glints, this Verdelho offers an expansive perfume of lime peel, laurel, and jasmine. The body crackles with mineral-citrus, green almond, and white peach flavors. Pair it with fresh cheeses, salty nuts, or fish. It's a wine of clarity and focus, and a terrific value.
13.5% abv | $13 (sample)
12. 2013 Zestos Blanco Vinos de Madrid
Made from 100 percent Malvar, also called Lairén, a grape native to Andalucía in the south of Spain. In the Madrid DO it produces lightly colored, crisp and refreshing wines, although only small quantities are made. This one was grown organically in clay and limestone soils, dry-farmed, and raised in a mix of stainless steel and cement. The result is briny and snappy, with hints of bitter almond and a green olive finish. It's utterly a wine for seafood.
12.5% | $15
13. NV Champagne Jacquart Brut "Mosaïque" Champagne
Light colored with spirited bubbles. Aromas of fresh brioche, Meyer lemon, and Bay laurel lead to an expansive palate, with toasted almonds and fresh bread beneath layer upon layer of fruit and citrus and herbs. The lime-citrus acidity flares in at the finish, too, with lingering lemon curd and hazelnut. Spangled and prismatic.
12.5% abv | $40 (sample)
14. 2014 Humberto Canale Sauvignon Blanc Estate Rio Negro Patagonia
I visited this extreme southern wine region this spring and tasted an impressive array of reds and whites made from Pinot Noir, Chardonnay, Cabernet Sauvignon, Cabernet Franc, and more. This wine is Sauvignon Blanc, lush with ripe stone fruits—white peaches, apricots, nectarines. Aromas of garden herbs drift above the ample fruit, and there's a welcome bitterness at the finish that reads like red grapefruit. It's not very Sauvignon-Blanc-ish, but it's fresh-washed, interesting, and a great value.
13.8% abv | $12 (sample tasted at the winery)
15. 2010 Llopart Imperial "Panoramic" Brut Gran Reserva Cava
Rounded aromas of green citrus, pear, and biscuit are echoed in flavors of tart green apple and honeyed cream. The wine has scintillant glints and a remarkably crisp texture giving its long time en tirage. Five grams per liter of residual sugar offsets snappy acidity, and the blend includes 15 percent reserva base wine for creaminess and depth. Lip smacking but serious, too. Made from 40 percent Macabeu, 30 percent Xarel⋅lo, and 10 percent Parellada with 42 months aging.
11.5% abv | about $21 (sample tasted at the winery)
16. NV Majolini Brut Franciacorta
Pale straw yellow. A honeyed floral fragrance of Lily of the Valley and May flowers complements richer notes of pineapple, Meyer lemon, and toasted hazelnuts. The cuvée is 90 percent Chardonnay with the balance Pinot Nero, aged 30 months. The wine's fine, glittery mousse offers a juicy mouthful of ripe tropical fruits tinged by citrus peels, roasted nuts, and ginger. Intricate and multi-dimensional, with great finishing delicacy. Don't wait for a party to open it.
12.5% abv | About $20 (sample)
You might also like A Bouquet of Rosés—sixteen rosés for summertime or any time.
Follow my wine reviews on Delectable.