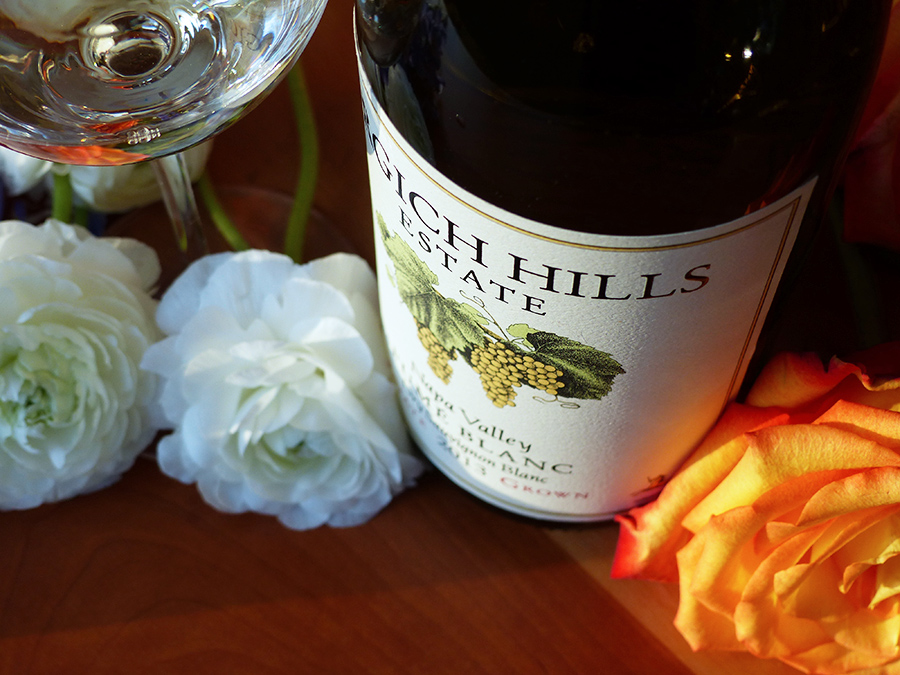 I admit some ambivalence about California Sauvignon Blanc. It often feels too plush, ripe with buxom tropical fruits and sweet melon and encumbered by new oak and the buttery distractions of malolactic fermentation. I'm good for only a glass before my palate fatigues.
But the state's cooler regions and higher elevations can yield wines with crisp acidity and flavorful complexity developed during long, slow ripening. These are the wines that showcase the grape's distinctive green citrus notes, and their freshness and vitality let them sing with a range of foods.
Below are seven standout Napa and Sonoma Sauvignon Blancs from recent tastings, including a few I sampled in late January during visits to the wineries. These wines are sunny but not unserious, with a deliciousness that reminds me, as the icy Arctic wind howls at my door, that it's always summer somewhere.
2013 Cliff Lede Sauvignon Blanc Napa Valley
14.7% abv | $25 (sample tasted at the winery)
Made from 91 percent Sauvignon Blanc, 7 percent Sémillon, and 2 percent Sauvignon Vert (a.k.a. Muscadelle). These are older vines, most dating from the 1970s, although the Sémillon and Sauvignon Vert were planted in 1947. The fruit was macerated for 24 hours and vinified partly in concrete egg, plus neutral oak and stainless steel. The wine then aged in cigar barrels, elongated casks designed by Loire vigneron Didier Dagueneau specifically for Sauvignon Blanc. The result is focused and highly polished, with a fragrance of Mandarin oranges and lemon peels rounded with sweet tropical flowers. The texture is mouth-filling and silky, but there's also citrusy lemon-lime acidity, and the wine finishes with a refreshing snap of grapefruit.
2013 Sivas-Sonoma Sauvignon Blanc Sonoma County
13.5% abv | $16 (sample)
Sivas-Sonoma was launched in 2011 by fourth-generation winemaker Donny Sebastiani, also a partner with his father and brother in the négociant business Don Sebastiani & Sons. This wine is 100 percent Sauvignon Blanc, grown mostly in Alexander Valley—a relatively warm region, but blessed with cooling nights and morning fog exhaled by the Russian River. The wine's spritely green apple and lime blossom aromatics open onto a mouthful of tart pineapple, melon, and green citrus. Crisp, pleated edges and bracing freshness suggest it would be a great match for goat cheese, shrimp and shellfish, and salads dressed with citrus. A good value.
2013 Somerston Wine Co. Priest Ranch Sauvignon Blanc Napa Valley
14.4% abv | $26 (sample tasted at the winery)
Somerston's 1,600-acre estate lies twelve miles east of the town of Rutherford. The property conjoined the Priest Ranch and Lynch Vineyards, both continuously farmed since the mid-1800s. The varied topography reaches to 2,400 feet, and a 129-acre patchwork of vineyards includes the usual suspects—Cabernet Sauvignon, Sauvignon Blanc, Zinfandel—plus dark horses like Grenache Blanc, Barbera, and Viognier. Orchards, woods, and pastures are currently being redeveloped into a sustainable farm producing honey, olive oils, and vegetables, and lots and lots of sheep.
The Priest Ranch label includes nine varietal wines and blends, plus a nonvintage rosé sparkler (if you get a chance to try the Grenache Blanc, jump). The 2013 Sauvignon Blanc was vinified in stainless and neutral oak, then aged on lees for seven months with regular bâtonnage. The result is a shiny little wine, with tropical fruits and citrus peel and a pleasing whisper of laurel at the finish.
2011 Somerston Wine Co. Somerston Sauvignon Blanc Napa Valley
14.9% abv | $40 (sample tasted at the winery)
"Priest Ranch is the history. Somerston is the future," said Melissa Miller, Somerston's director of marketing, as she poured through both wines in the company's Yountville tasting room. The Somerston label is reserved for limited-production Sauvignon Blanc, Cabernet Sauvignon, and a red Bordeaux blend called Stornoway. Despite a wet, cold vintage, the 2011 Somerston Sauvignon Blanc manages ripeness, with a body redolent of nut, apple skin, pineapple, and tropical fruits, and a silkiness developed from six months in French oak with twice monthly bâtonnage. It's light textured for all of its alcohol, a friendly and accessible wine.
2013 Grgich Hills Estate Fumé Blanc Napa Valley
14.1% abv | $30 (sample)
This 100 percent Sauvignon Blanc was grown in the winery's organic American Canyon and Carneros vineyards, then fermented on native yeast in a mix of 900-gallon foudres and used oak barrels. The wine then aged on lees in neutral oak for six months. Green citrus, green melon, jasmine, and a slight savoriness keynote the aroma profile. The body offers melon and passion fruit, while refreshing lime citrus and bass notes of white tea and ginger enliven the finish.
2013 Grgich Hills Estate Sauvignon Blanc "Essence, Miljenko's Selection" Napa Valley
14.1% abv | $55 (sample)
This fruit is also from grown in Grgich's American Canyon and Carneros vineyards. It was hand-harvested at night, then fermented cool with ambient yeast in 1,500-gallon French oak casks, in which the wine subsequently reposed for nine months. The result is a finely-detailed Sauvignon Blanc, delicate but not shy, with a perfume of flowery lime and almost-jasmine. Tropical fruits and citrus add an exotic note, but there's a seriousness underneath, along with a hint of green tea. The wine's satiny, succulent texture has a finish that blazes with glorious acid.
2013 Davis Bynum Sauvignon Blanc "Virginia's Block" Russian River Valley, Sonoma County
13.5% abv | $25 (sample)
This fruit was grown in a 5-acre block of Garfield Ranch, one of Bynum's estate vineyards. Soils here are shallow, stony, and clay-based but well-drained (it's Huichica loam, for the soil nerds out there). Careful canopy management during the warm 2013 season slowed the ripening. Fruit was pressed and fermented slowly on native yeasts, malolactic was suppressed, and three-quarters of the lots spent four months in old French oak. The finished wine is smooth and creamy textured, earthy and herbaceous, with a welcome funky edge. There's lots of green citrus here, plus guava and green melon, but overall this is a simply delicious wine—shimmering, vibrant, and serious.
Many thanks to Wine Business Monthly for recommending this article to their readers.
Follow my wine reviews on Vivino and Delectable.