There's something about the light in Bardolino. In the morning it's soft and tremulous, shimmering in the vaporous mists rising from Lake Garda. By midday it is potent, plangent, illuminating the ochres and terracottas of the townscape, clarifying its outline, warming the façades against the azure sky and warming my face against the lake's bitter wind.

Even in cold December, Bardolino has a vivid pedestrian life, its lake shore abuzz with shoppers at the Christmas market, people strolling with children or dogs along the boardwalk or just gazing at the watery horizon. I'd come to this northern Italian town in early December as a guest of the wine council, the Consorzio di Tutela Chiaretto e Bardolino, on a tour that included two days of tasting salons and three days of winery visits. I stayed at the Hotel Caesius, a tourist resort predictably quiet in the off-season, although that just meant more elbow room in the hotel's playground of thermal pools and spas and at their excellent breakfast buffet.

But mostly I had come for the terroir — the territorio — to see the seam where vineyard meets lake meets mountain, and to taste the wines it yields.

Streets of Bardolino
Bardolino Territorio
Bardolino's landscape was shaped by a slow-motion collision of mountain and ice. Over eons the Alps birthed four glaciations, carving a north-south scar and leaving behind a lake skirted with gravelly moraines. Lake Garda is the largest body of water in Italy, 370 square kilometers (142 square miles), narrower to the north, a shiny ribbon nestled in the Dolomites which widens at the southern plain between Brescia and Verona. With shoreline in three regions — Trentino, Lombardy, and Veneto — so great is Garda that locals consider it a sea.

Elevation differences around the lake act like a turbine that generates winds so reliable they all have names. There's the morning Pelér that sweeps cool air south from the mountains, the afternoon Òra that reverses the flow, plus many minor crosswinds. All conspire to make the lake a recreational sailor's dream — except during storms
Scenes from the fishing town of Torri del Benaco
Bardolino lies at the North 45th parallel, about the same as the cold home office of Terroir Review, yet the vast lake moderates the mesoclimate, making it possible to husband citrus trees through the winter. This is also the farthest reach of olive cultivation in Italy, and the Garda D.O.P. olive oil is delicately flavored, buttery rather than grassy or assertive.
The moraines flanking Garda are a salmagundi of soils; scientists have identified 66 distinct soil types, and a single vineyard is often a hodgepodge of minerals and textures. All soils are rich in magnesium salts and other minerals scoured from the Dolomites, and many winemakers believe this gives their wines a profound minerality or "sapidity," to use their enigmatic term.
"If you grow vines in areas with lots of salts, the wines have a lot of salinity," said Angelo Peretti, an Italian gastronomist who is director of the Consorzio and served as the tour's guide and host. "I'm not a scientist, I'm just a writer," he said by way of disclaimer (albeit one who's been writing about these wines for decades), so although "There is not a scientific explanation yet, there's a big salinity in your mouth."
Bardolino Grapes and Vines
The vineyards in the immediate region are planted to a mix of grapes, mostly the red Corvina, Rondinella, Corvinone, and Molinara, and the white Garganega, Cortese, and Turbiana (a.k.a. Trebbiano di Lugana a.k.a. Verdicchio).

Corvina is queen of the Bardolino vineyards. This black grape is autochthonous to the Veneto and the anchor of the red and pink Bardolino D.O.C. wines. It's a tannic variety, cold hardy but late ripening and also prone to mildew. But its charms outweigh its challenges, and especially in this warmer, breezy region the disease pressure is reduced, and in most vintages the fruit readily colors up by harvest.
Pergola is the traditional trellising method, although plenty of vineyards have moved to guyot. At the beginning of our first tour of producers, our van drove past a row of tall vine trunks that each ended in a single branch high above the row. A colleague called out from the back, "Is that pergola?"
"No," said Peretti, from the front seat. "That's not pergola. Pergola has two branches."
Two branches? I've seen this single-branch training elsewhere in Italy and Europe and it's always called pergola — even just an hour north of here.
"But in Trento —" I began.
"Ah! Trento is different," said Peretti. "That's not pergola. That's pergoletta. A single branch is pergoletta. Two is pergola. Pergola Veronese."
All territorio is local.
Light with clarity and purpose at Punta di San Vigilio on Lake Garda (top); Inside the restaurant of Giardino delle Esperidi in Bardolino (bottom)
Wines of the Bardolino D.O.C.
Although the same red grapes are used across the Veneto and Lombardy, the soils and traditions of Bardolino are different, resulting in terroir-specific wines. There is no ripasso tradition here as there is east across the Adige River in Valpolicella, no Amarone-style wines with brooding concentration.

Quite the contrary. Bardolino D.O.C. red wines are light-hearted, keynoted by flavors of tart cherry accented with herbs. Bardolino Chiaretto D.O.C., the pink wines, are delicately colored yet full-flavored, redolent of peaches, strawberries, and almonds.
In both wines I also sense a vein of minerality, a kind of salinity, to use Peretti's term, which imbues them with cool serenity, a distinctly northern sensibility. These are clear-eyed wines, wines of vitality and freshness that are friendly at the table.
It wasn't always the case. For much of the 20th century, bulk wine dominated production, and a focus on quantity over quality weakened Bardolino's reputation. The local cooperative still plays an important role here, especially for smaller vineyard holders who need an outlet for their fruit, and community members seeking affordable table wines. But many in the younger generation of growers have moved to bottle their production, positioning it as affordable premium wine made from native grapes. They're building tasting rooms for visitors, modernizing their labels, and fingering their way into international markets.
At Cantina Castelnuovo, local customers can fill growlers from the cooperative's taps; prices range from €1.20 per liter for red and white vino da tavola to €1.60 per liter for Bardolino D.O.C. and Custoza D.O.C.
Meanwhile, the Bardolino Consorzio enforces quality standards, and, as elsewhere in Italy, maintains a tasting panel to certify wines for the D.O.C. label. They've also recently debuted three new regional sub-zones, Sommacampagna, La Rocca, and Montebaldo, that reflect swaths of distinct terroir — essentially, Bardolino crus. These zones have higher quality standards and are intended to replace the historic (but sometimes vague) classico and riserva designations.
I discovered a few wineries beginning to use these new zone names in their marketing, although many seem to prefer not to complicate their labels with yet more geographical information; "Bardolino" is obscure enough. When pressed about the fact that the Consorzio will soon require it, many winemakers just shrugged. "We've been talking about A.O.P. for years, too," one told me, referring to the E.U. standard that's supposed to replace Italy's D.O.C., "but that hasn't happened yet, either."
Angelo Peretti (top) leading a master class on Bardolino wines
All the makers I visited seemed keen to build awareness of Bardolino in Europe and elsewhere to grow the export market. Prices are truly reasonable. A delicious bottle of estate-grown Bardolino can be bought locally for €5 to €10, and even after export to the U.S., which adds expenses for shipping, tariffs, and middlemen, most wines land below $20 and often below $15.
The Special Charms of Bardolino Chiaretto
Chiaretto is an especially important product not least because of Garda's vibrant tourist economy. Rosé means "vacation" in most languages, and the thirst for pink wine returns home after the holiday. Francesco Piona of Cavalchina told me that Scandinavia in particular is a great market for their rosé; summer daylight lasts so long, "It's happy hour until 11 o'clock."

Most Bardolino winemakers now make their pink wine by pressing grapes rather than by saignée (the process of drawing pale juice from a tank of fermenting red wine). Saignée yields rosé with limited character, and because it also concentrates the red wine left behind in tank, that wine ends up too tannic. As Franco Cristoforetti of Vigneti Villabella put it: "It makes a bad rosé and a bad red."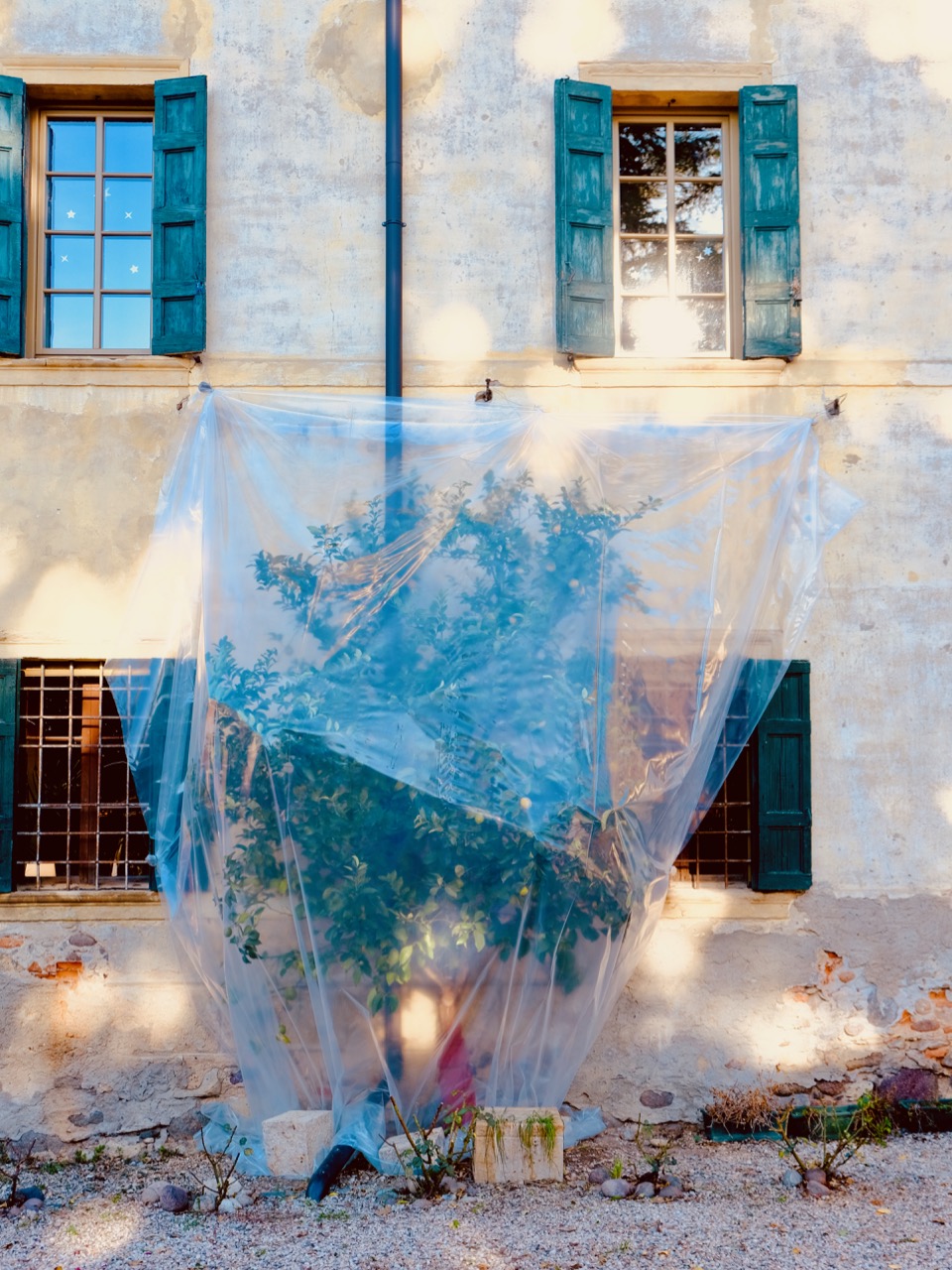 A potted lemon tree at Villa Calicantus, swaddled against the winter chill
Instead, grapes for Chiaretto are harvested at peak ripeness for rosé, then pressed before the juice can earn much color or tannin from the skins. This makes the resulting pale wine more like the pressed rosés of Provence than the dark, cherry-stained Rosato wines of Italy's southern realm, which enjoy longer macerations.
Indeed, the word Chiaretto deserves unpacking because it illuminates how these winemakers think about their home-grown pink. The word derives from chiaro, meaning pale, but also, idiomatically, clear; in Italian when someone asks you, "É chiaro?" they're asking if everything is clearly understood. The suffix –etto adds important nuance. It is a suffix of affection, of endearment. Putting these together, it suggests that the paleness of the wine has a kind of prettiness or delicacy, a special charm.[1]
Organics Making Inroads
Most of the family producers I spoke to are using conventional farming methods, although I found a few working sustainably, organically, or (rarely) biodynamically.

Cristoforetti, of Villabella, began converting some of his vineyards to organics two decades ago and now has 23 HA under certification, about a quarter of his holdings. These are the vines surrounding his estate Villa Cordevigo, a Relais & Châteaux hotel, spa, and restaurant outside of Cavaion. Cristoforetti, who is also president of the Consorzio, said they went organic "to create an island of protection around the villa." Cordevigo is somewhat isolated geographically and it's windy, too, less prone to diseases that plague vineyards with stagnant air.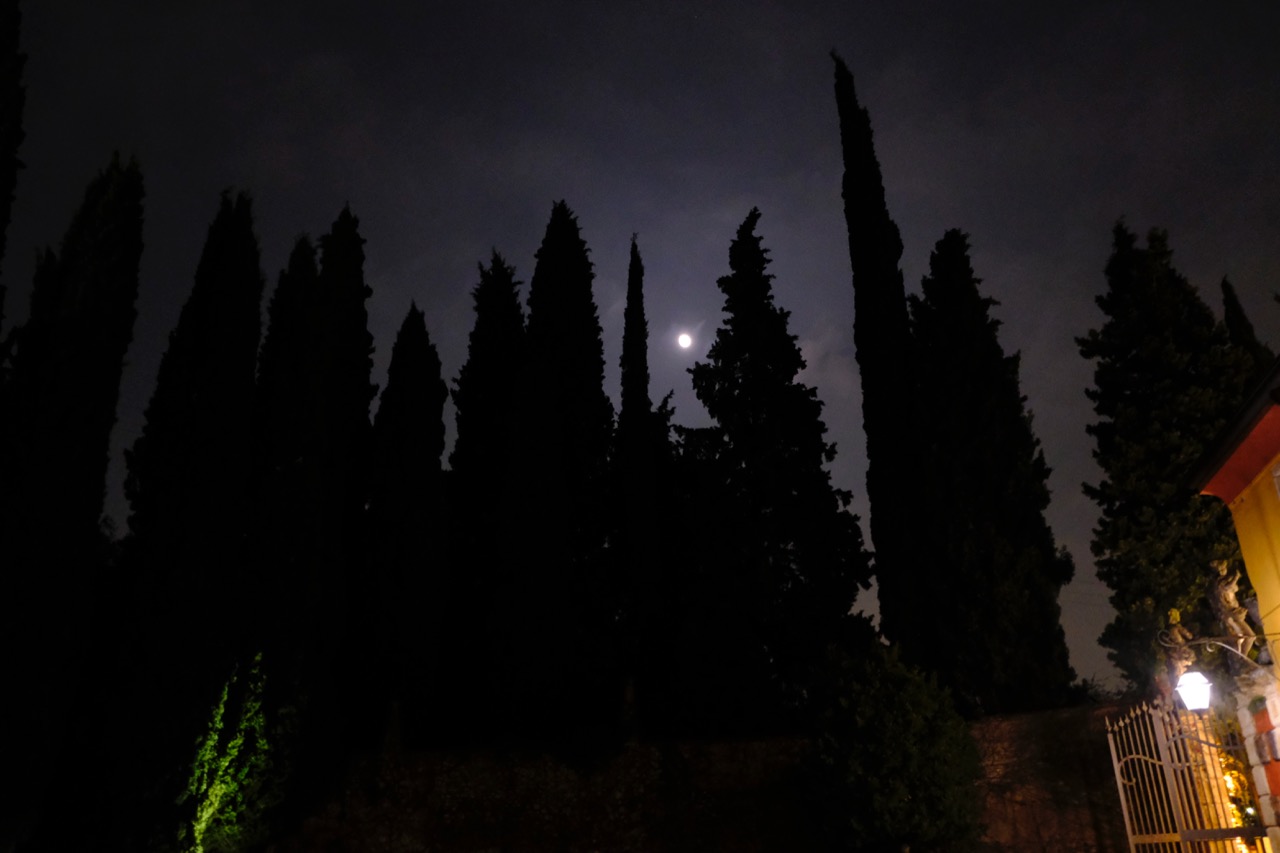 Villa Cordevigo, a hotel, spa, and restaurant surrounded by organic vineyard
But Cristoforetti had other motives, too, which were more about terroir: "We wanted to try a different way to express our territory." So, is it working? "Year by year we find big differences in the wine from the organic grapes versus standard grapes," he told me. "Organic Chiaretto is more rounded. Organic grapes give more complexity to the wine. It's a nice way to preserve the territory and create a different expression."
Roberta Bricolo of Cantina Gorgo also works organically. She began conversion in 2014 and was certified for 2018. Hers is now the only winery in Custoza, of fifty total, that farms organically.
Roberta Bricolo of Gorgo (bottom photo credit: Studio Cru)
Converting her family estate was financially demanding, requiring her to double the number of employees while holding prices steady to keep her toe in the market. But organics are part of her holistic philosophy that includes working with regional or autochthonous grape varieties and traditional practices. "The only way, for me, is to put my attention on autoctono grapes," she said. "I don't believe in Chardonnay in barriques. It's not my favorite wine. And it's not my picture of this winery."
In Calmasino, Daniele Delaini farms biodynamically at Villa Calicantus. Formerly a banker in Paris, Delaini returned in 2011 to take over his family estate after it had lain fallow for decades. He began with organic production but shifted to biodynamics after tasting trials. He'll be Demeter-certified in 2020.
"We work in biodynamics for one reason," he told me, "to preserve the wines and avoid the deviations we find in natural wine." Such deviations or flaws actually standardize a wine, he said, scrubbing out varietal character in much the same way that conventional additives do.
Daniele Delaini (top), and images of his villa in Bardolino

Although the cellar Delaini inherited was a relic from the 1950s, still equipped with cement tanks and a dusty barrel cellar, he viewed this as boon. "We have to change our idea of Bardolino, to go back to before the 1970s," he said. In the last few decades, stainless steel and modern winemaking have been the norm, but Delaini's vision was old-school. "We lost the idea of wood in Bardolino," he said, by way of example. He's the only producer I visited who is barrel fermenting his pink wine, and it also goes through full malolactic. The result is extraordinary, delicious, and so unorthodox that Delaini doesn't even try to submit it to the Consorzio for D.O.C. approval. Instead, he just calls it "Chiar'otto," a mashup of his wife's name and daughter's birth year, labels it Vino da Tavola, and sells out.

Ifound a lot to love in Bardolino: beautiful landscape, wines of clarity, and winemakers passionate about their territorio who are working to improve their wines and reach. There is an optimism here, a hope. Winemaker Erico Gentili of Cantina Gentili summed this sense perfectly: "It's like we are walking on stairs, and we're not yet at the top," he said. "We don't want to stop experimentation of what the territory can give us."
Notable Bardolino Producers
Sustainable. Light-hearted Chiaretto and Bardolino D.O.C., plus intriguing white Custoza D.O.C. that includes the rare local Fernanda grape. Imported by Skurnik.
Organic. The entire line was delicious, including the Chiaretto and Bardolino D.O.C. and especially the Ca' Nora red bottling. Imported by Ideal Wine.
Organic, and the Bardolino facility is 100 percent solar powered. The wines are texturally substantial but with huge saline minerality. Imported by AP Wine Imports.
Sustainable. Located in the Lugana D.O.C. at the southern tip of the lake. Notable wines include their savory-strawberry Bardolino Chiaretto, plus Lugana Mandolara and Lugana Benedictus, both made from Turbiana grapes. Imported by Uva Imports.
Organic (partial). Look especially for the Cordevigo bottlings, which are certified organic and sourced from the vineyards surrounding the villa of that name. Imported by Lentino Imports.
Biodynamic. Wines with distinct savoriness and depth. Notable bottlings include Chiar'otto rosé and the reds Soracuna, La Superiora, and Avresir. Imported by David Bowler Wines.
[1] Jeremy Parzen, Ph.D., an American gastronomy writer and Italian scholar who has studied Italian philology, told me that the word chiaretto "first appears in Italian in the 16th century denoting a wine that is 'transparent and clear.'" But although –etto is sometimes used as a diminutive in Italian, making the root less of what it is, "'chiaretto' doesn't mean 'slightly clear'," he said. Instead, the implication is quite the opposite: "It denotes a wine that is superior in quality because it's transparent." [Emphasis mine.]
I'm grateful to the Consorzio for sponsoring my travel, and to Studio Cru for their expert coordination. All wines were samples for review.
Many thanks to Terroirist and Wine Industry Insight for recommending this article to their readers.