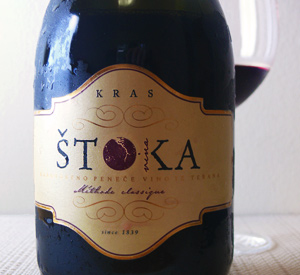 Editor's note: As 2014 drew to a close, I reflected on my favorite wines of the year. First read my introduction (which also contains the list of wines), then follow along as I publish notes on ten wines that taught me something new. Here's Number One:
2010 Štoka Sparkling Teran Méthode Classique
11.5% abv | $33 (sample)
This dry sparkling red from Štoka, in Slovenia, is made from Teran grapes dry-farmed on Karst soils. It was inky purplish-red in the glass, with copious pink foam spiriting aromas of yeasty blueberries, blackberries, and flowering mint to its surface. Fully dry and mentholated on the palate—almost medicinal—it finished with a bitter streak of juniper and wintergreen.
Let's review: Teran, sparkling red, Karst, menthol. I was skeptical. But after my second or third sip, the wine started to work on me. What is this wine about? Fruit? No. Texture? Partly. Flavor? Maybe, but the flavor was so—curious, at once pleasurable and vexing.
I tasted this wine in July, and I can still recall its essence. Unforgettability is, alone, worth something.
But what makes it unforgettable is its personality. This was a wine that demanded attention. It was a wine that demanded rare meat. On its surface it seemed thoroughly unlikeable—unpersonable, almost—but in the end I loved it. I love that it does not try to be Lambrusco. I love its fearless bitterness. I love that it would be a hard sell to all but the most freethinking wine consumer. I love its self-assurance and sangfroid.
I love that the winemakers, Tadej and Primož Štoka, clearly believe in this wine, think this wine matters. And I love that they convinced me, too.
The Lesson: The wine doesn't care what you think.
Follow my wine reviews on Vivino and Delectable.