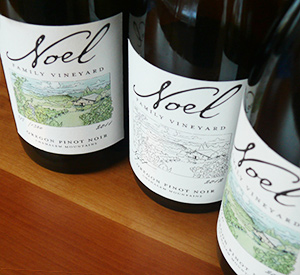 Editor's note: As 2014 drew to a close, I reflected on my favorite wines of the year. First read my introduction (which also contains the list of wines), then follow along as I publish notes on ten wines that taught me something new. Here's Number Two:
2011 Noel Family Vineyard Pinot Noir Chehalem Mountains
13% abv | $40 (sample)
Most Oregon Pinot Noir producers enjoy hearing their wine described as "Burgundian." Oregon's 2011 season was long and cool, tending to produce wines that were leaner and more steely—more like Burgundy than the fruitier wines of riper vintages will be.
Noel's 2011 Pinot Noir was grown on their tiny hilltop plot in Oregon's Willamette Valley, and in keeping with the vintage, it's incredibly fine-boned and lean, very pale red, almost like a deep rosé. Its sweet perfume of spring flowers and sweet tomato are balanced by wet stone and pomegranate, and these all wreath a serene, minerally core. The wine feels at once both chiseled and delicate, with a framework of bones and iron bedecked in pale flowers. (Find notes on three Noel Family Vineyard wines here.)
So, yes, this wine is somewhat Burgundian, sharp and concise. But it has such lyrically sweet top notes, such delicacy and freshness, that it's clearly from somewhere else, somewhere new and different. Somewhere great.
The Lesson: Oregon isn't Burgundy and doesn't need to be.