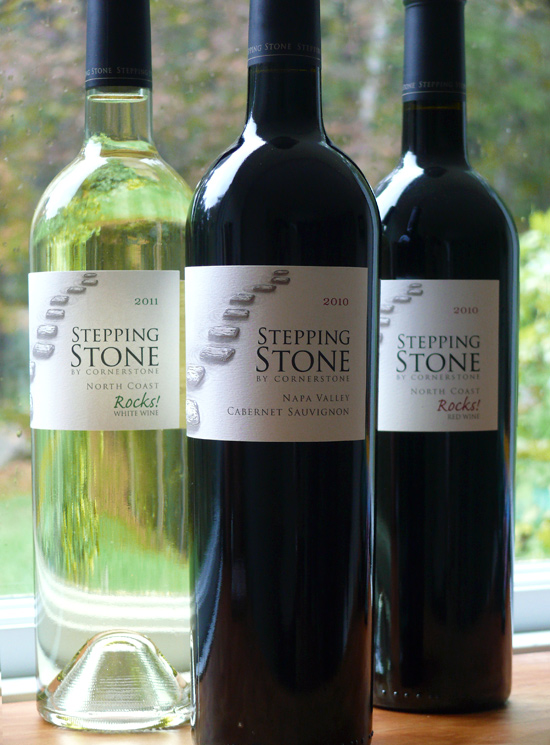 Cornerstone Cellars stakes its reputation on high-end California Cabernet Sauvignon and Oregon Pinot Noir. The winery recently released several new wines under its second label, Stepping Stone, including a Napa Valley Cabernet and two North Coast blends called "Rocks!"
Unlike Cornerstone's main line wines, these new releases are vins de plaisir, made for early drinking and everyday enjoyment. It's a somewhat risky strategy, since second labels can dilute a brand, and blends are often confusing to customers who associate a house with a particular grape.
These wines, though, display a grace and balance concomitant with the winery's reputation. There's evidence of a light hand in the cellar, and oak is modest All three wines have a clarity and juiciness that keeps them lively. Pricing is modest, too, but good fruit and expert handling don't come cheap. Both Rocks! blends sell for $18, grazing the ceiling of table wine affordability, and the Cab, at $35, remains a splurge for most consumers.
For the white blend, winemaker Jeff Keene drew inspiration from the light-bodied, aromatic wines of Friuli. It's a curious blend of chardonnay and gewürztraminer, but for all its aromatics it manages to retain freshness and vibrancy.
For the red blend he looked to the earthy, chewy wines of Languedoc-Roussillon; this wine is a blend of zinfandel, syrah, and merlot. The Napa Cab draws its inspiration from, well, Napa—but old-school Napa. Its fruit derives from the same vineyards that furnish the winery's top Cabernet
Producing blended wines afforded Keene the freedom to select the best fruit and finished wines available. Blending does make the wines less about terroir than about the winemaker's stylistic imprint, but fortunately, that style is about refreshment, food-friendliness, and approachability.
I spoke recently with Keene about his winemaking sensibility, and what he is striving to achieve with these wines.
Tell me about your winemaking style.
My winemaking philosophy is about acid and balance. We purchase all of our fruit. I'm not a fan of estate fruit, because I don't like being tied in. I like selection.
I'm lucky enough to be sourcing fruit for reds up and down the length of Napa Valley, from some of the best vineyards. I don't deviate from the great growers, because I don't have to tell them how to grow grapes. We just have to be on the same page about what I'm trying to achieve.
There's a lot I can control in the winery and cellar, but I can't control the weather—I have to wait for Mother Nature and see what she throws at me. That's the great thing about working at Cornerstone: it does have a style people recognize, but I can still let the vintage dictate the style we're making.
What was your goal for the Rocks! wines?
We were talking about having an everyday drinking wine—something that you can come home to, it's in the fridge all the time, you can pour it out and have a glass while you're relaxing with dinner. I want it to show off its aromatics and fragrance, a touch of sweetness, but mainly some acid on the finish that gets you wanting more.
I'd love for serious wine consumers to enjoy the wine for what it is, and not over-analyze it. Just drink it!
What was it like putting together these blends?
Cornerstone is connected to Howell Mountain, but with the blends, I have the freedom to experiment with other varieties. We sourced finished wine from the North Coast appellation. We started with Napa, but my hands were tied. It limited what was available to me, and the cost
They've actually been hard blends to put together, because the wines hadn't come from my cellar, and I hadn't followed them throughout their lives. I knew what I wanted to do in my head, and I was just waiting for the wine to show up
Chardonnay and gewürz are somewhat odd bedfellows.
What was your thinking behind the white?
The chardonnay is a blank canvas, and I add something to it to make it pop. In 2012, chardonnay is going to be a major component of the wine as well, plus white muscat. Again, I want those aromatics.
And the red?
I wanted to use varieties to give a little bit of perceived sweetness from the fruit flavors The majority of the wine was stainless fermented, and the syrah and merlot had a little bit of oak. I don't want perceived oak tannins coming through. I use it more like a spice rack, just a touch of seasoning. I'm choosing barrels because it adds to the mid-palate and length. There are only a few barrels I use to "add oak."
I know it's not a vin de garde, but do you think the red Rocks! has aging potential?
With the varieties like zin and syrah, and the merlot to keep that nice mid-palate juiciness, there are opportunities to develop some interesting bottle age Sometimes we open it up and let it sit, and the zin flies away but the syrah pops up. It may have three to five years. It'd be interesting to try it. I'm hoping it doesn't sit around that long! We have other wines for that.

Tell me about the 2010 Stepping Stone Napa Valley
Cabernet.
Two thousand and ten was a difficult vintage, cool and wet. The vineyard management teams had to shine. Fortunately, I don't have to hit case numbers, so I can make the best wine possible from the fruit I get.
This is the first 2010 red we've released, and a Cab as well, so in putting together the blend, I wanted it to deliver early. I wanted to make sure it was in the Stepping Stone style, but showed off what Napa Valley Cab can do.
One thing that's great about this wine is that the alcohol content is 13.9%—truly 13.9%. It's been great to make a wine like that but with the palate presence of a bigger wine.
With this wine at $35, if you put it on a wine list, you're getting close to $100 in a restaurant. I wanted to make sure that I've put all my effort, my best grapes and barrels, into what wine, so people will get their money's worth. That's very important to me.
Anything else?
I am very proud of what I've done. It's wonderful to have been given a free rein to express myself in the top Cornerstone Cabs—Napa and Howell Mountain. I'd love to do 100% Cabernet, or Cab Franc, but I'd want to make sure I'm putting my best foot forward every vintage. So, while my aim is 100% varietal wine, if there are noticeable gaps, to my palate, I'll fill those in.
We want to over-deliver. People are putting up good money to buy these wines. I want to make sure they really enjoy them.
T A S T I N G N O T E S


Stepping Stone "Rocks!" White Blend North
Coast
2011
13.5% abv |
about $18 (media sample)
A blend of chardonnay and gewürztraminer. Pale clear yellow with aromas of green melon, tropical flowers, ripe citrus, lemon peel, and jasmine. This wine feels fresh and clean, with good acidity offset by lavish floral fruit flavors, like star fruit and melon. It makes a good aperitif, and has sufficient aromatic oomph to be poured outdoors for patio or picnic gatherings. Pair it with spicy Asian cuisine, sushi, young cheeses, or salads with a citrus dressing.

Stepping Stone "Rocks!" Red Blend North Coast
2010
14.5% abv |
about $18 (media sample)
This blend of zinfandel, syrah, and merlot is deep violet-red with notes of black pepper and rustic herbs. It delivers a mouthful of black pepper, too, plus dark fruits The oak is restrained, and the wine has good texture—chewy with a velvety mid-palate and a slow, earthy finish. A balanced and intelligent red blend While it isn't meant as a vin de garde, it'd probably relax after a couple of years of cellaring. Pair it now with earthy, robust meats, including pepper-rubbed steak, venison, or stew.

Stepping Stone Cabernet Sauvignon Napa Valley
2010
13.9% abv |
about $35 (media sample)
The wine is 93% cabernet sauvignon from Howell Mountain, Rutherford, and Oak Knoll Districts, and 7% merlot from Carneros and Oakville, aged for eighteen months in 50% new French oak. It weighs in just shy of 14% alcohol, a rare distinction in Napa Cab. Deep velvet red with dark blueberry aromas top-noted by green herbs, it has a base note of smoky black berry fruits on the palate, with juniper berry and cedar. This is not a plush wine, and not showy; it's a wine that knows its place at the table. It's somewhat reminiscent of cool-climate reds from Austria and Germany, and was even more integrated on Days Two and Three. Pair it with red meats, mushrooms, and aged cheeses.