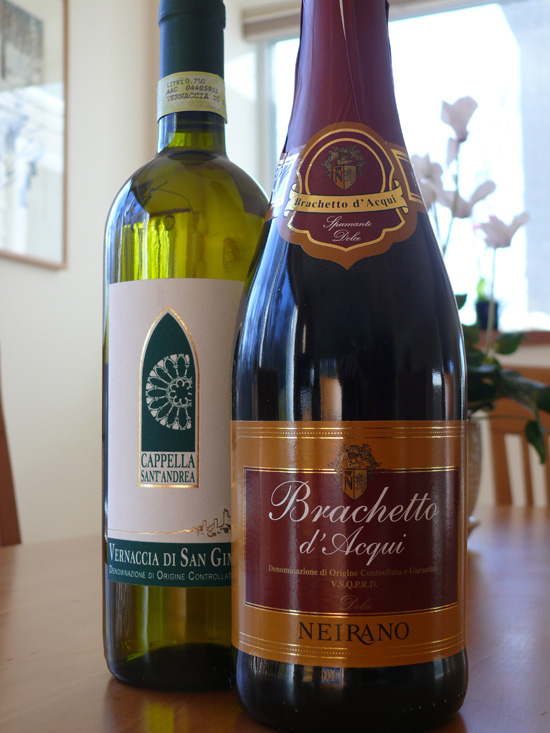 Cappella Sant'Andrea
Vernaccia di San Gimignano DOCG
2010
12.5% ABV | Price: about $15*
Neirano
Brachetto d'Acqui DOCG
NV
7% ABV | Price: about $18*
I've been teaching wine classes every other week at a tiny new wine shop in town. The store's proprietor has given me a lot of latitude in designing the classes. Pour whatever you want, he says. It's up to you.
So our first class was on Pinot Noir, because what better place to begin? We tasted a California blanc de noirs, a Savigny-lès-Beaune, and Pinots from Austria, New Zealand, Oregon, and the Russian River Valley. The second class, as a kind of reverberant response, an answer in white, was on Chardonnay. I showed a California blanc de blancs, a Chablis, a Poully-Fuissé, and Chards from Sonoma Coast, Russian River, and Australia.
My aim in these classes is to demonstrate a range of expression, to see what grapes can do in different soils, climate, and winemakers' hands. I also want to introduce people to unfamiliar varieties, especially ones they might not otherwise take a chance on.
Class Three is about Italy. What wines shall we show? I asked the proprietor, as I gazed at the two-hundred and fifty or so SKUs on his shelves, of which perhaps fifteen or twenty—a sizeable percentage, given the range—are Italian. Again he said simply: It's up to you.
I pulled these two bottles down from the shelves, and bundled them home to begin research.
Vernaccia has been a favorite for many years, due in part to my having visited San Gimignano, the Tuscan hill town in which it's produced, when I was studying art history in college. The town is notable for its well preserved medieval towers, built partly for defense and partly as an expression of neighborly one-upmanship. The day we visited was cool and gray, with cobbles damp beneath our feet and May poppies like tiny jags of fire in the roadway gutter. Our ragtag band huddled at the entry of the town's highest tower, waving our student passes compliantly at the caretaker before mounting the untold floors to the top. Once aloft, we wowed and smiled and caught snapshots of each other surveying the town and its surrounding fields and vineyards. When one has thus taken in a landscape at a single swallow, one does not soon forget the taste.
And so, remembering, I chilled this Vernaccia down and pulled the cork. The wine is pale yellow gold, with aromas of yeasty pear and very faint herbal notes of lavender and thyme with fresh cream underneath. On the palate it's very savory, and slightly more bitter than it should be. A bitter almond note is typical of this grape, especially in the finish. But here the bitterness is a bit too strident, and there's a hollow spot in the middle where I expected citrus and ringing acidity. The finish is all bitter pear.
So this wine does not feel exactly typical, not quite au point. As a consequence this bottle won't make the cut for class, and I'll regret not having the opportunity to show the class the faded Kodachrome of my young self standing in the San Gimignano ramparts with a wide-eyed smile.
The Brachetto was another easy choice. I'd had my first experience with this grape just recently, but as a still table wine rather than as this spumante style (I wrote about my experience in the post Brachetto, Birthday). There's a general prejudice among serious wine drinkers against sweet red wines, with special antipathy reserved for sweet red sparkling wines. This likely derives from a preponderance of regrettable Lambrusco imported into the U.S. during the 1970s and 1980s. But authentic Lambrusco, which hails from Emilia-Romagna and Lombardia, can be very good, and those with balanced fruit, acidity, and sweetness can be great partners to all manner of foods.
Brachetto's hallmark is its aroma of wild roses, and the still wine I'd tasted was so redolent of the flower I found it nearly cloying. But I guessed the effervescence and acidity of a frizzante version would enliven the wine and keep it refreshing.
The grapes for Neirano's bottling come from the Asti and Alessandria provinces of Piemonte. The must soaks on the skins for two days to extract color. Secondary fermentation proceeds according to the Charmat process in large pressurized stainless steel tanks, with bottling under pressure to preserve the dissolved gasses. The resulting wine is a deep strawberry pink with copious spuma. The bubbles transport soft floral aromas of rose petals and spring flowers, then scrub across the palate, subsiding in waves of flavor, including strawberries, red raspberries, and pink flowers. There is significant sweetness but just enough balancing acidity to keep the wine lively.
Still, this is a wine for a dessert course, not an aperitif; served first, it would make any subsequent dry wine taste astringent. Given this sweetness, it is best paired with foods that are at least as sweet as, and preferably sweeter than, the wine, and would work beautifully with berry tarts, fruit pastries, and pastry cream, and be a natural for brunch with the sweeter dishes. It would also balance saltier fresh cheeses like feta or ricotta salata.
The perfect pairing, though, is semi-sweet chocolate. I'm not generally a fan of red wine with chocolate, although this pairing has its acolytes. I find the wine's tannins grate against the bitterness of dark chocolate and make milk chocolate seem far too sweet. Neither complements nor elevates the other, which is my litmus test for a perfect pairing. But tasting this wine with its berry sweetness made my palate yearn for a little bitter snap, and I reached for a small handful of the Guittard semi-sweet baking pastilles I keep in my pantry. It was magical.
So I'll pour this wine at the very end of our class, passing around a dish of pastilles, and call it dessert. I bet I'll see a few wide-eyed smiles.
* I received these wines as samples from the Wine Crate, where I also teach wine classes.