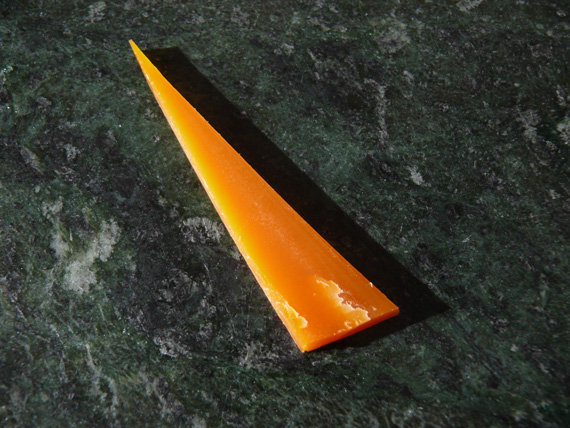 "The older the cheese, the smaller the bite."
It's an old expression, less adage than dictum. Young, fresh cheeses have high water content, soft texture, and mild flavor. We spread them thickly, mashing fresh chèvre with herbs on a crusty loaf, layering buffala mozzarella with basil and tomatoes, topping grilled halloumi with chopped cucumbers and yogurt and mint. We take big bites, without regret.
But as a cheese ages, microbes and enzymes work on its proteins and fats, and the moisture in its body slowly evaporates through the rind, concentrating its flavors and hardening its texture. The cheese acquires a piquant intensity and a sometimes grainy texture—think Parmigiano Reggiano or Grana Padano (grana means "grain" in Italian)—and it's now a cheese best enjoyed in thin shavings, grated into a flurry of flakes, or cut into narrow wedges that melt away on the tongue, leaving behind a nutty, umami, salty-savoriness.
Aged Gouda is one of my favorite cheeses. Made from whole cow's milk, Gouda weighs in at 48% milk fat, and so is richer than its Dutch confederate, Edam. In the US, it's generally available in two styles. The young cheese, aged from a few weeks to six months, is pale yellow with a mild, nutty flavor and springy texture. Aged Gouda—pronounced KHOW-dah in its native Holland—is aged two or more years, which endows it with a deep, golden-orange hue, pleasant grainy texture, caramel sweetness, and distinct saltiness. It's a cheese that can pair with range of wines, carrying it from the cocktail hour through a dessert cheese course.
The classic pairing recommendation for aged Gouda is full-bodied red, particularly French Bordeaux or Cabernet Franc. But I think softer reds are a better match, those with medium fruit and moderate tannin, yet enough backbone to hold their own against such a flavorful cheese. Red wines based on Grenache, Gamay, Barbera, and more restrained versions of Tempranillo or Zinfandel work well. Austrian Blaufränkisch, a juicy, berry-driven red, is also delightful.
Venturing into whites, look for those with savory notes of lanolin or beeswax, white flowers, and tropical or stone fruits, all of which pose an excellent counterpoint to the cheese's sweet-saltiness. Chardonnay, particularly a lightly oaked style, and wines based on Roussanne or Grenache Blanc have ample texture to partner on the palate. Look for whites from the Southern Rhône, or "Rhône Ranger" white blends from California. Wines with oxidation also work: Vin Jaune, orange wines, and Sherry in particular.
Finally, it's hard to go wrong with off-dry Riesling, because its acidity and tropical notes feel cleansing and fresh, while the slight sweetness partners with the caramel flavors of the cheese. Riesling also has a slatey backbone that grits pleasingly against minerality of the cheese, while the wine's guava, Asian pear, and tropical flavors freshen the tongue.
A little sip, a little bite; no regrets.
Update, 28 October 2013: You might also enjoy my definitive cheese and wine pairing article, "Pairing Wine and Cheese, Made Easy."