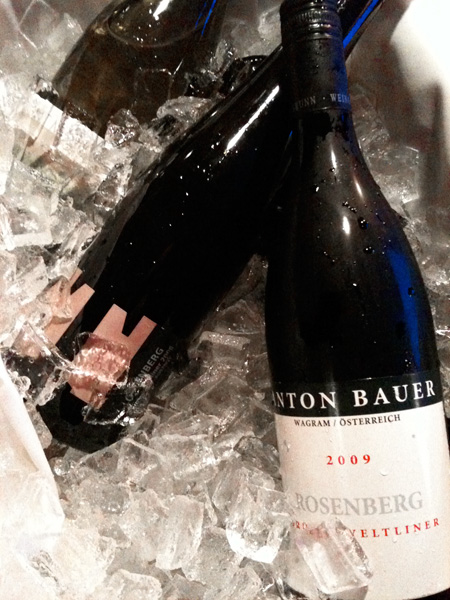 The venue: the quaint cellar room of the über-Victorian Norwich Inn, in Norwich, Vermont. The host: Rafael Flores, director of Artisanal Cellars, a boutique wine importer. The featured guest: Klaus Wittauer of KW Selection, an Austrian restaurateur turned wine exporter. The inn had laid out a spread of schnitzel with braised red cabbage, house-smoked salmon with crème fraiche, and delectable puff pastries with mustard sauce to accompany the nine lean, savory Austrian wines—from sekt to Riesling to Zweigelt—we had gathered to taste.
It was my first full Austrian immersion, and I found the wines on the whole exceptionally pleasant: low-alcohol, savory, mineral-intensive, cleansing, serious, and food-friendly. My tasting notes:
2010 Hillinger "Small Hill White"
12.0% ABV | Price: about $14
A blend of 70% Riesling, 20% Sauvignon blanc, and 10% Muskateller, the wine is a very pale, clear yellow. Quite aromatic (predominantly of Riesling), with a palate that offers good but not overwhelming acidity and stony minerality with an over-layer of stone fruits. It has a long, savory, slightly tart finish.
2009 Tegernseerhof Riesling "Terrassen"
12.5% ABV | Price: about $20
This riesling is grown in granitic soils, and the wine is made from the first harvest picking. It offers great minerality and a nose that is not exactly petrol; more like diesel, or steel pennies. It is an exceptionally dry and serious wine, and the aromatics are a haunting riddle to one more used to German Riesling.
2009 Anton Bauer Grüner Veltliner "Rosenberg"
12.5% ABV | Price: about $18
This vineyard has loess soils, and the wine is vinified in stainless steel and aged in concrete vessels. It offers lively tropical aromas, with some pineapple and a little oiliness. Bone dry and cleansing on the palate, it also has great weight and intensity. Recommended, and tied for best of tasting.
2008 Tegernseerhof Grüner Veltliner "Loibenberg"
13.0% ABV | Price: about $33
This wine hails from the largest single cru in the Wachau. The vineyard is south-facing, with some loess and granite soils, and the wine, Klaus informs me, is built for aging. This '08 is still a child, but it has great elegance and savoriness. I would love to try this vintage again in, say, 2018.
2009 Weingut Michlits Pinot Gris "Graupert"
13.0% ABV | Price: about $20
"Graupert" translates to "ungroomed," and refers to the wild, uncultivated vineyard in which this wine is grown. The winery is fully Biodynamic, and uses no trellising or pruning in the vineyard, but the vines have adapted to this hands-off approach, voluntarily producing low yields and small berry sizes. The wine is concentrated and focused, and—perhaps I'm just suggestible—"wild" tasting.
2009 Steininger Cabernet Sauvignon Sekt Rosé
Méthode Champenoise; disgorged February '11
13.0% ABV | Price: about $28
Cab sekt? It sounds like the start of an off-color joke. But the wine is wonderful: wildly aromatic, with bright cranberry and currant fruits, and more cranberry on the palate, plus a great texture and smooth, even mouthfeel. Pricey, but a show-stopper; a wine I'd love to serve to wine-knowledgable friends, blind. I can imagine the smiles. Recommended.
2010 Hillinger Zweigelt
13.5% ABV | Price: about $18
This unoaked Zweigelt offered a sharp, black pepper nose that reminded me a little of Grenache. But the palate was vegetal—more green pepper than black pepper—and a bit tannic. Lean and tight, it perhaps needed some air to unwind. Or another three years.
2007 Anton Bauer "Wagram Cuvée 13"
13.0% ABV | Price: about $20
A blend of 40% Blaufränkisch, 35% Zweigelt, 15% Cabernet sauvignon, and 10% Merlot, the wine delivers subtle pepper notes and brilliant berry flavors, but is restrained and settled overall. Lovely and a good value at $20.
2008 Hillinger Blaufränkisch "Leithaberg"
13.5% ABV | Price: about $34
Vinified like Pinot noir, but aged only in neutral oak; only 3,000 bottles were made. A beautiful nose of wild roses, with a palate of blueberry and purple flowers, plus great acidity and a lingering finish of sweet tobacco. Highly recommended, and tied for best of tasting.
"In Austria, we are wine growers, not wine makers," Klaus said to me, smiling, echoing a refrain I'd heard often when talking with German wine producers. In other words, make the wine that nature gives you, and thank your stars you can.