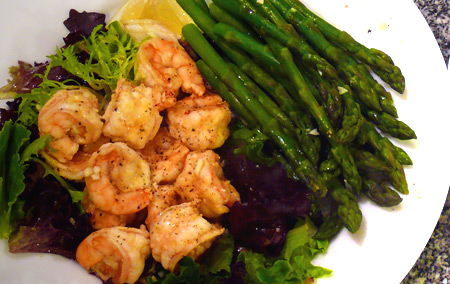 Here's another three ingredient meal, ready in a few minutes.
The Three Ingredients
1 pound large shrimp, peeled and deveined
2-3 cups mesclun salad greens, washed and spun dry
1 pound fresh asparagus
The Other Ingredients That Aren't Supposed to Count
1 lemon, cut into thirds
3 garlic cloves, minced
4 Tbs olive oil
paprika
salt and pepper
In a small bowl, combine the shrimp, 1 Tbs olive oil, the juice of 1/3 of the lemon, 3/4 of the minced garlic, a few shakes of paprika, a pinch of salt, and a few grinds of pepper. Toss with a fork and let marinate for 5 to 10 minutes.
Juice another 1/3 of the lemon into another bowl. Add the remaining minced garlic, 3 Tbs olive oil, and a pinch of salt. Whisk this dressing together and toss with the greens. Divide the greens onto two plates and garnish with the remaining 1/3 lemon, cut into two wedges.
Snap the asparagus and discard the tough ends. Rinse and place in a pan with half an inch of salted water. Cover and bring to a boil. Cook for 2-4 minutes, until bright green.
Meanwhile, heat a large sauté pan over medium-high heat. Add 1 Tbs olive oil, let it heat one minute, then add the shrimp plus its marinade. Cook 2 minutes, then toss to cook the other side. Cover briefly to steam the shrimp and cook through. Remove the cover for the last minute of cooking.
Drain the asparagus. Place the shrimp on top of the greens and set the asparagus alongside. Crack a little fresh black pepper over the plate. Serve with warm crusty bread and chilled Sauvignon Blanc or Viognier.