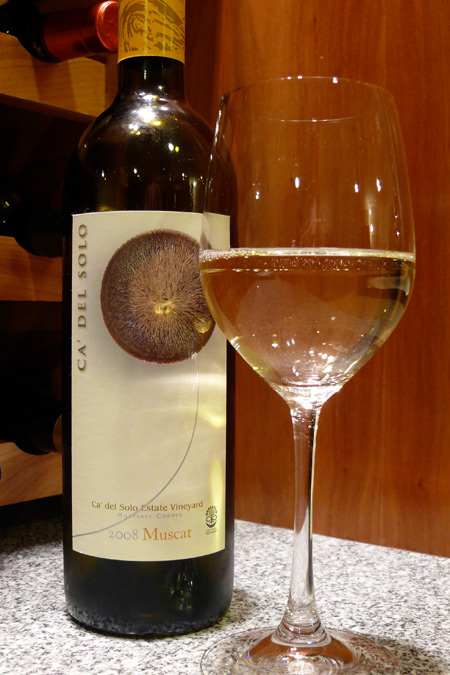 Ca' del Solo Estate Vineyard
Muscat
2008
Price: $18
This wine is a pale, translucent gold, a warm moonbeam in a glass. It offers a nose of apple petals and pear, with hints of orange blossom. On the palate it's broad and full, lush with melon, peach, and more pear, but it has enough acidity to keep it bright.
Here's how the winemaker describes it, on the verso label:
Our Muscat is a musky, melodious, melon-like meditation on minerality. Powerfully aromatic, with a bracingly clean acidity, the wine is just slightly off-dry. Absolutely brilliant as an aperitif, it is also a super complement to charcuterie and Asian food.

The photo illustration on the [front label] displays a sensitive crystallization of our Muscat. Sensitive crystallizations create a visual representation of a wine's organizing and growth forces—a snapshot of its internal harmony. By featuring this representation as well as enumerating the ingredients used in processing, we hope to demonstrate our commitment to natural, vital wines and to the great virtual of transparency.

Demeter-certified biodynamic, like all Ca' del Solo wines from Bonny Doon's vineyard on the outskirts of Soledad, California.
Grounded but vibrant. It would be delightful as a Thanksgiving aperitif. This wine's the moon.
Follow Maker's Table on Twitter: @makerstable