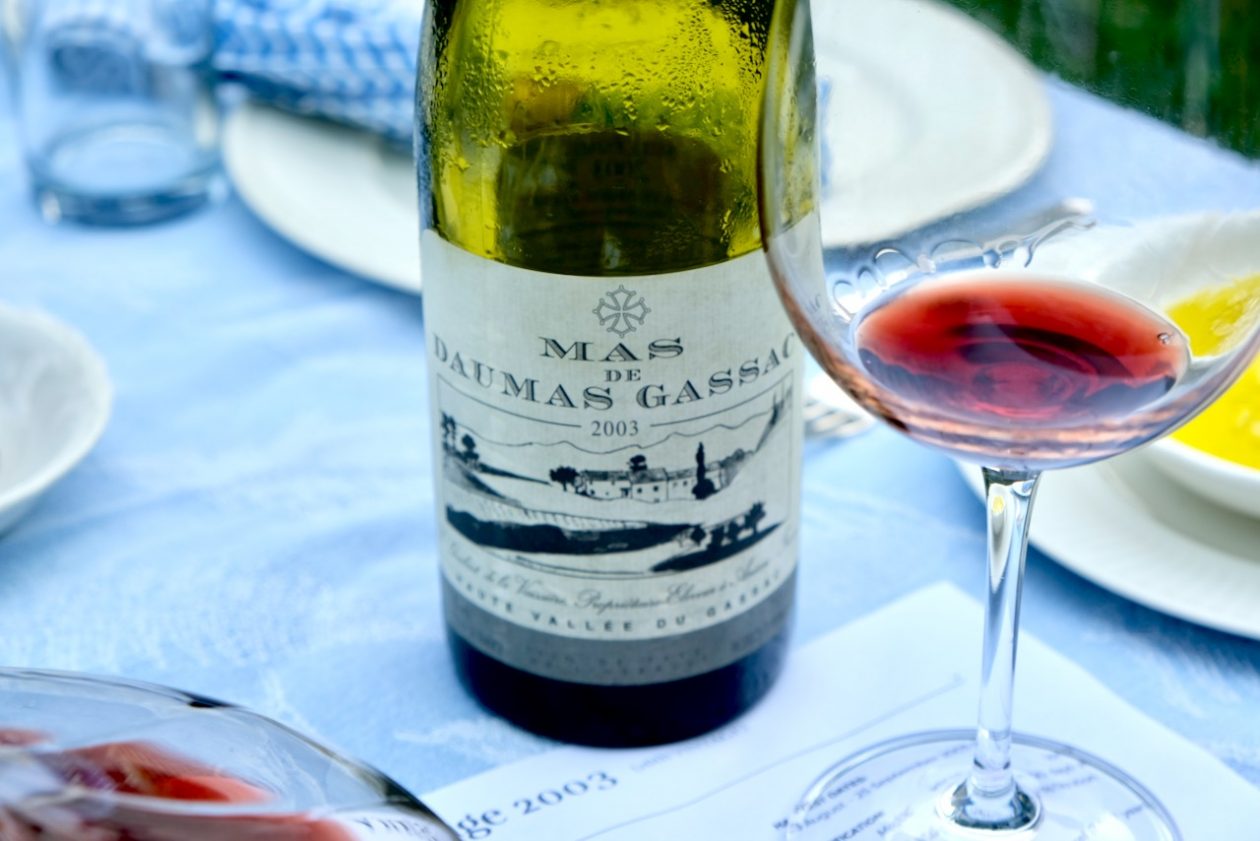 Mas de Daumas Gassac's cuvée changes each year, and while the anchor is usually Cabernet Sauvignon, the rest of the blend is a surprising mishmash: Merlot, Cabernet Franc, Pinot Noir, Malbec, Tannat, Syrah, Nebbiolo, Dolcetto, Bastardo, and — well, I could go on.
The unorthodox mélange of grapes, most planted in one-hectare parcels, has earned Mas de Daumas Gassac an international reputation, but only because the results are, in fact, balanced, age-worthy, and delicious. Farming is organic, fermentations are wild, and sulfur additions are miniscule.
After a wet spring, the 2003 vintage turned hot, baking southern France in two months of 40℃ heat. Harvest arrived 10 days early; the wines were ripe. (Many wine collectors avoid the region's 2003 vintage altogether.) Gassac's finished blend that year was 65 percent Cabernet Sauvignon, with 8 percent Merlot, 7 percent Syrah, 6 percent Cabernet Franc, plus a slew of those other oddballs.
This particular bottle was purchased at the domaine in 2005 by friends of ours who briefly lived nearby while on a university sabbatical. They hand-carried two bottles back on the plane and the wines have lain more or less undisturbed in a cool cellar ever since. The winery's literature indicated that the 2003 would be in its drinking window now, but could age awhile longer. We decided to open a bottle with grilled steak to find out.
Right now its first impression is a cool potpourri of dried lavender and violets with a plummy core of dark fruits — so, yes, mostly in its drinking window. But although there is some stain of age the wine is still quite tannic, gritty like blackberries with their snappy bitter bite. With air and a little time the wine attenuated, relaxed, and its sense became more like cherrywood and cedar and a bramble patch at night.
So — to drink or hold? The second bottle could age another two or three years, but as some of us observed, the fruit might begin to unravel, and the acidity, which is not firm, might make the wine falter.
Why wait? It was delicious with the steak.
2003 Mas de Daumas Gassac Vin de Pays de l'Hérault IGP
13% abv | $50 (new; current price about $100)
Mas de Daumas Gassac is imported by Polaner Selections