Joseph Bouchard bolted ahead to greet a small flock of sheep, then danced among them as they nuzzled his hands. A winemaker by heritage and education, Bouchard trained in Alsace, Burgundy, and Bordeaux, earning a master's degree in viticulture and vinification. But despite this pedigree, he is clearly more nature lover than scientist.

I'd nominally come to the hillside estate of Château de Poncié, in Fleurie, to taste the wines. Bouchard greeted me enthusiastically, then served a quick lunch with wine samples in the estate's modest tasting room. But soon he was bounding for the door, uncontainable. As we toured the grounds together, the wines receded in memory as the place emerged, a place getting a verdant re-boot.
Poncié has been farmed since at least the 10th century, likely far longer. Back then it was known by its Latin name, Villa Ponciago, and in the year 949 CE, the landowner donated it to the Abbey of Cluny, hoping the gesture might save his soul. It was continuously productive through the 20th century, and the wines earned some acclaim. But by 2008, when Maisons et Domaines Henriot purchased the property, the land had become fatigued, the buildings run down.
They started with the soils; the buildings could wait.
This northern reach of Beaujolais has an underlayment of bony granite and schist. Poncié itself sits atop a mix of weathered monzonite granite and crumbly gravel, with a few spots of clay where the water lies slack in the hollows. In all, the 120-hectare estate has 60 hectares of forest and pasture and 46 of vines, all Gamay except for 2 hectares of Chardonnay on that rich clay.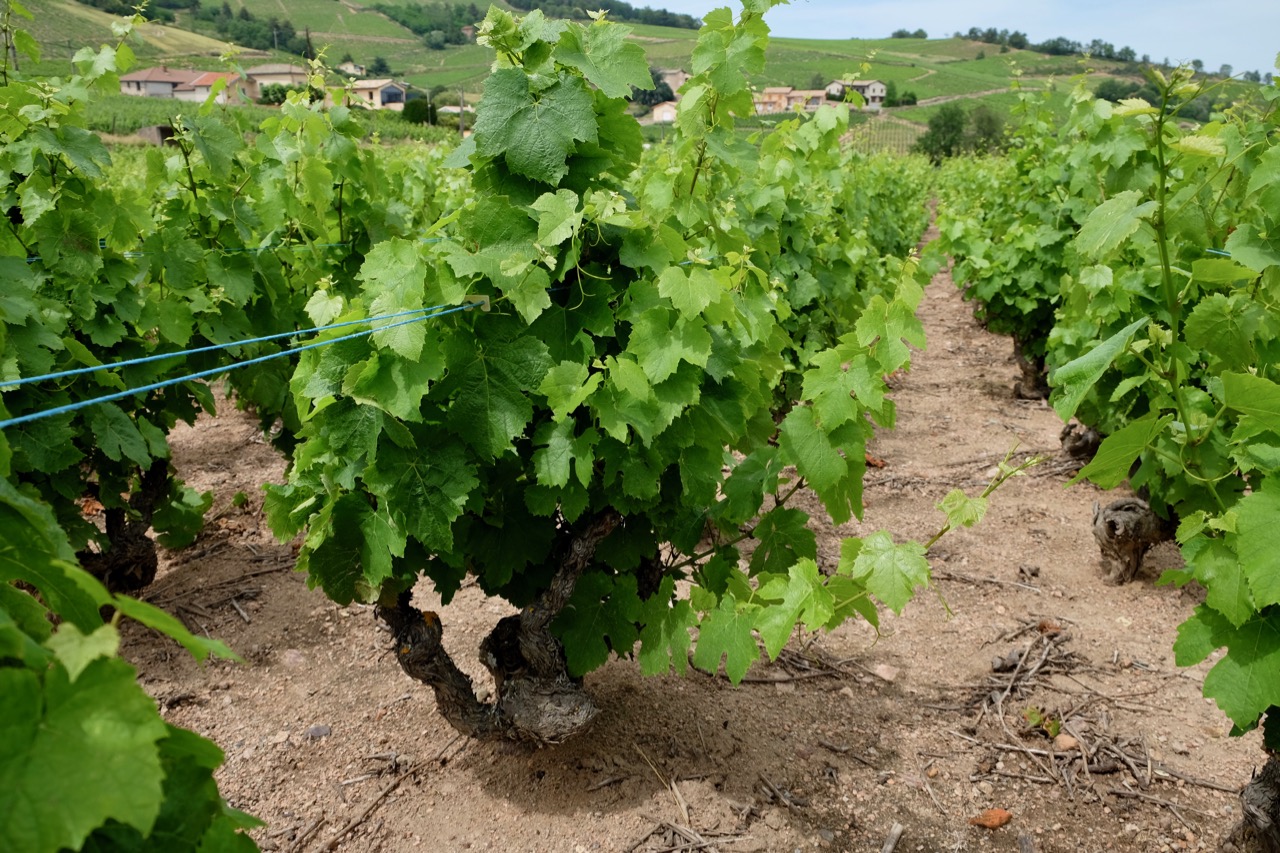 To restore the tired vineyards, Bouchard and his team tore out nonproductive parcels, leaving them fallow for five years before replanting. He's introducing organic viticulture, plus mixed polyculture, seeking to diversify the landscape.
"It's important to have animals to have biodiversity," Bouchard told me. Every animal plays a role. The sheep take the winter shift, foraging grasses and keeping the vine rows vital. The buffy-tan Limousin cows munch across the pastures, keeping the fields open and producing manure useful for compost. Hens and a rooster scratch in the "chicken parcel" near the old barns, eating bugs and aerating the top layer while their castings feed the microbes. Turkeys and geese eat pests that attack the beehives. There is also a peacock, which, if not useful, is at least fun to look at.
Eight people work at Poncié full time, and three families live on-site in a clutch of buildings that have been gently restored. Seasonally, about three dozen more arrive for harvest, a period from late September to early October when the compound becomes a hive of activity. Workers and apprentices who come from as far as Italy and Poland are housed in modest sleeping quarters, and enjoy big harvest lunches with produce grown in the estate's organic gardens.
To supplement the new organic commitment, the team has also begun integrating biodynamic applications into the mix, like decoctions of nettle (ortille) and fern (fougère) to address vine diseases. As we strode up the hill alongside the vineyards, Bouchard pointed to oak leaves dusted with powdery white oidium, an indicator of what the grapes also have to endure. "That's why we have to spray," Bouchard said, twirling a mildewed leaf in his broad fingers.
I asked him what had been hardest about introducing the new biodynamic practices. "The difficulty is for the team," he said. "For the young generation, it's not a problem. But we have one or two older people who are not as familiar" he said, echoing a sentiment I hear frequently when visiting transitioning estates.
Yields at Poncié are currently about 45 hectoliters per hectare, but some leaner plots skew as low as 25. Grapes are hand harvested and fermented dry with minimal to no carbonic maceration; sulfite is never used during fermentation, only after malolactic. The wine is transferred to cellars in Beaune for aging in a neutral oak barrels, an élevage protocol that's uncommon in Fleurie. Single-parcel wines, including La Solomine (see below), are aged in 400-liter demi-muids, and the rest age in 225-liter barrels. Production is just over 8,000 cases annually.
I asked Bouchard about climate change, and whether he was worried that it would move harvests earlier. "I think," he said, nodding in agreement with many vine growers I'd spoken to that week.
"We have to work differently today," Bouchard said, underscoring his philosophy of holistic land management. "For example, there are some plants native here that have the same properties" as chemical treatments—like that nettle and fern. Still, adopting this approach isn't easy. "It's more difficult," he said. "You need concentration."
Truthfully, I wasn't sure whether he meant concentration of the botanicals, or concentration of the mind. No matter.
TASTING NOTES
2017 Château de Poncié Grande Lamure Beaujolais Village Blanc
Chardonnay from the estate's tiny production. A sharp attack segues to creamy mid-palate lush with pineapple, lemon and mandarin orange. Not exported to the U.S.
2016 Château de Poncié Le Pré Roi Fleurie
A bottling that blends fifteen of the site's best climats. Crystal garnet in color, the wine is light textured with a wash of juicy cherry fruit and a hint of spice. About $22.
2015 Château de Poncié Le Pré Roi Fleurie
Less fruit-centric than the 2016 Le Pré Roi, and its tannic texture gives the wine added gravitas. About $22.

2016 Château de Poncié La Salomine Fleurie
Salomine is a parcel selection from a slope of Le Py, a slow-maturing site. Concentrated and spicy, its brambly fruit is embellished with potpourri, its structure is smooth and polished. About $40.
2015 Château de Poncié La Salomine Fleurie
A darker wine than the 2016 and needs a little air, but time in a decanter rewards with notes of licorice spice and blackberries. About $40.
Many thanks to Wine Business, Terroirist, and Alder Yarrow/Vinography for recommending this article to their readers.
I'm grateful to Maisons et Domaines Henriot for sponsoring my research travel. All wines were samples for review.