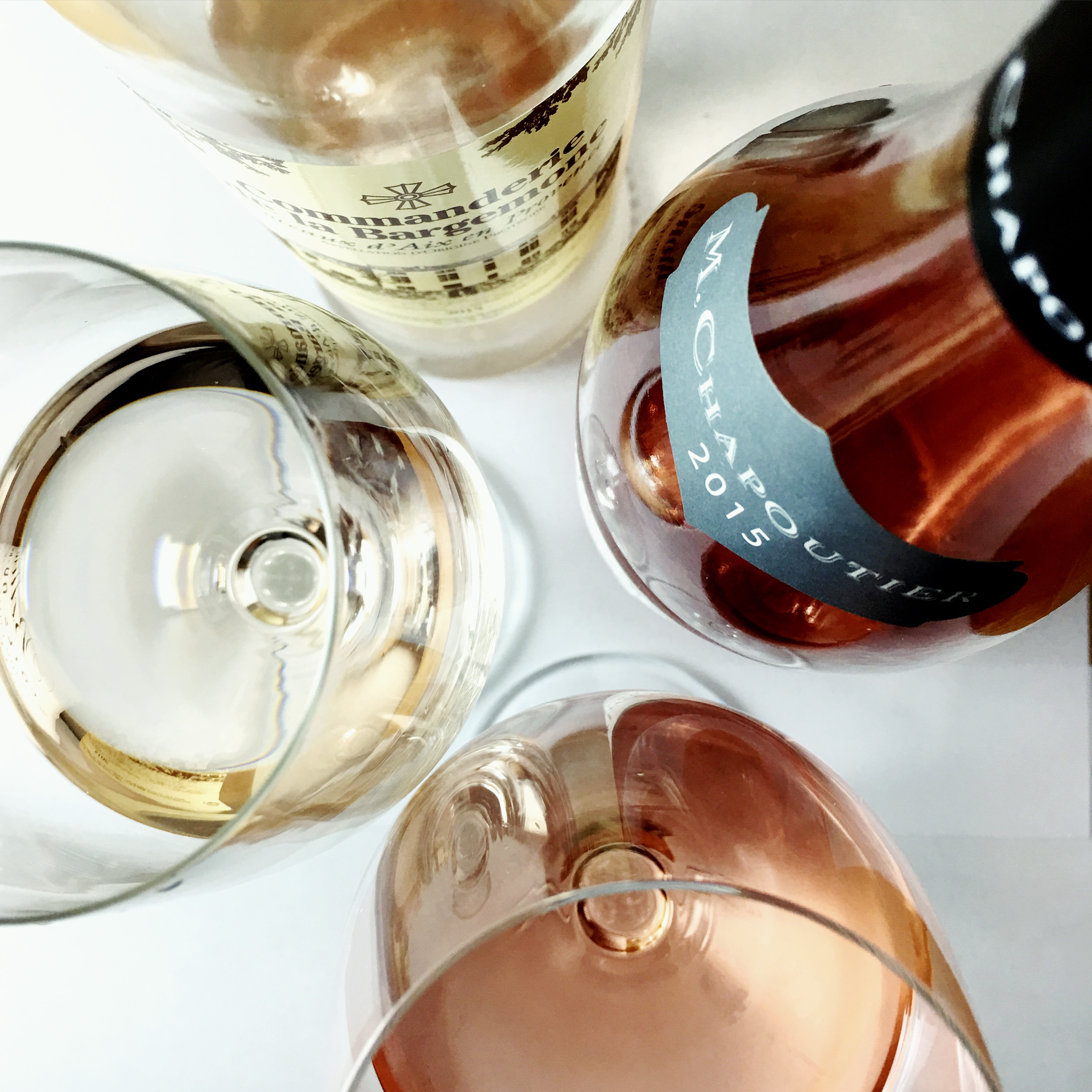 Spring is the season of rosé. (Also: summer, fall, and winter.) But it is in spring that the latest rosé vintages are showered upon us like a confetti of cherry blossoms, banishing winter's interminable drear and restoring our faith in fun.
Tapping the Zeitgeist, Wines of Provence recently held a series of North American tastings to release the 2015 vintage to the trade. The U.S. is a critical market for Provençal rosé, taking over a third of the region's exports, far more than any other country. I attended their Boston event, tasting about fifty wines from more than two dozen producers.
It wasn't all rosé, but it was mostly rosé, because Provence is mostly rosé. The style accounts for over half of the region's production, and in some appellations, like the sprawling, noncontiguous Côtes de Provence (whose wines dominated this tasting), rosé accounts for over 80 percent.
I found the best of the 2015 rosés to offer clarity, minerality, and vitality. My notes sport words like apple blossom, spearmint, tarragon, strawberry, green apple, and stone. These wines are anchored by a mineral core but have a drifting herbal aspect that adds cooling interest. Crackly acidity and a short astringent snap complement their blooming berry fruits. They seem ripe but not too, and sharp but not severe.
A number of wines, however, struck me as somewhat out of balance, lacking that critical pop of refreshment. Some were over-ripe and flabby, with fruit straying toward ripe bananas and soft peaches. Some had a distracting caramel sweetness from oak aging. A portion had been treated to lees stirring to build texture—sometimes to good effect, adding silkiness to the wine's clean acid wash—but sometimes rendering the wine unwieldy.
Overall, the 2015 vintage struck me as more generous and ripe than 2014 had been, but also somewhat more uneven.
For insights and understanding about what I was tasting, I turned to Elizabeth Gabay, MW. She is a British Master of Wine, wine educator, judge, and scholar who has lived in southeastern France since 2002. A specialist in Provençal wines, she has written and lectured about them extensively, and, as the Provence specialist for the Wine Scholar Guild, serves as lead instructor for the Provence Master-Level Program. In June 2016, she'll host the Guild's Provence Wine Study Tour. (I wish I could go.)
Elizabeth graciously offered the following thoughts about the 2015 vintage, and about Provence's most exciting rosé right now.
Elizabeth Gabay
Meg Houston Maker: Before we get to the qualities of the 2015 vintage, can you first describe the hallmarks of the best Provence rosé? What do you look for as key signifiers of high quality and deliciousness?
Elizabeth Gabay: A good Provence rosé wine should have a fine balance of ripe fruit, fresh acidity, no tannins, and lots of charm. It can be simple or more complex, but the balance needs to remain between fruit and acidity. Sometimes the fruit is balanced by a more mineral austere structure, sometimes the fruit is more white peach and floral, sometimes more red or black fruit, but it should be dry, with lively, fresh acidity.
For basic Provence rosé, what I look for is charm. It can have a stony minerality, but red fruit, creamy peachy fruit, and balanced acidity should all add up to a wine that is charming and a pleasure to sip. If it has to be icy cold to enjoy it, it has failed in my book.
More complex "premium" rosés are another style. The oak should not dominate—which is why in my new Nomacorc article, Rosé, at a Premium: A Growing Category, with a Greater Range of Profiles, I share my excitement about rosés in amphora, in neutral flavor barrels made by Austrian barrel-maker Stockinger, or grown at altitude, all of which give greater structure, fruit, and acidity without losing freshness and charm.
M.H.M.: I found the 2015 rosés more exuberant than the 2014s. Can you share some insights about the new vintage and how it affected the wines?
E.G.: The 2015 Provence rosé vintage has highlighted that making good rosé is not easy, and justified producers' beliefs that it is the most difficult wine to make well.
Two months of hot temperatures during July and August caused problems in many areas, in some places resembling the canicule (heat wave) of 2003. Some vineyards were lucky if they had older vines, which were better able to survive the heat and reach further down for any moisture (it was not hot and dry enough for permission to irrigate). Vineyards at slightly cooler, higher altitudes, or in more sheltered areas, discovered they had greater natural freshness. But on the whole, the heat seems to have posed problems.
Judging from all of my tastings this spring, it would appear that producers juggled between harvesting early to retain acidity, and harvesting later for ripe fruit character. If they harvested early to retain acidity, some wines have green gooseberry fruit. If the grapes were harvested a little later, the wine was more full of red fruit, but it could lack fresh acidity and feel a little fat—and suffer from higher alcohol. A number of rosés also show a certain bitterness on the finish, a result of harvesting a fraction too late.
I think the 2014 rosés were more uniformly consistent in quality: more rosés with a riper, creamy character. In 2015, the producers who did achieve the right balance have certainly made excellent rosés. No one region or variety has stood out as being better than others, but on the whole, the premium cuvées were the most successful.
M.H.M.: Provence is an expansive region (see this appellation map), with a wide variety of soils—including limestone, shale, and schist—a range of elevations, and influences from marine and Mistral winds. What do you believe are the ideal micro- or meso-scale factors for producing quality rosé? Are there any sub-appellations that particularly excite you?
E.G.: This very much depends on the vintage. The schist soils give good mineral stony character. This seems to be more typical of rosés from Fréjus, La Londe, Pierrefeu, and parts of Coteaux d'Aix—areas of schist, in particular.
I do like the rosés of Coteaux Varois, Sainte-Victoire, and Coteaux d'Aix from limestone soils. It gives the acidity a fresh, clean, vibrant character and, often with higher proportions of Mourvèdre, Syrah, or Cabernet, greater crisp red fruit to match.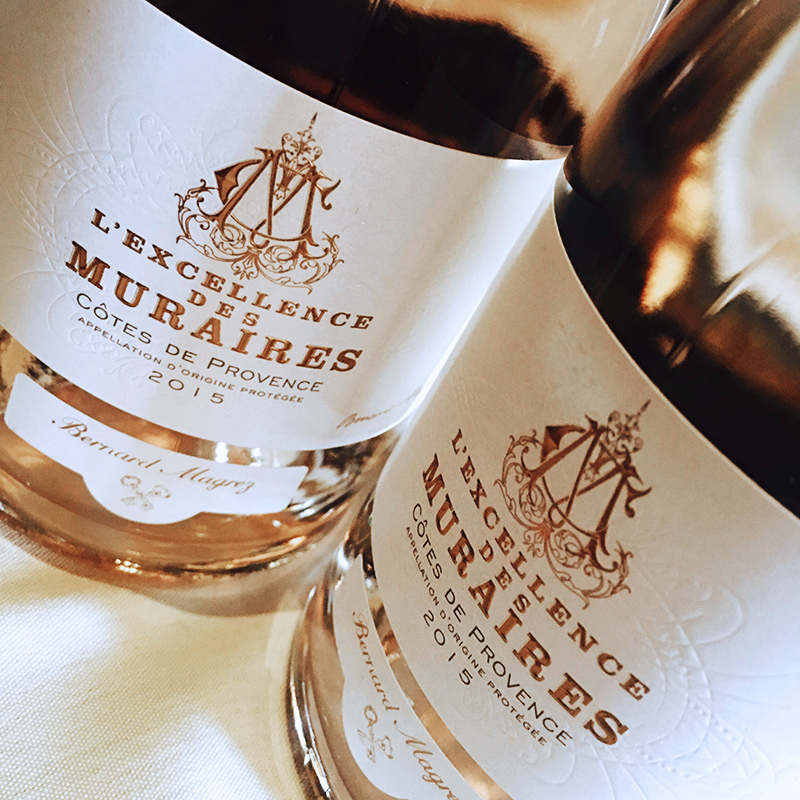 M.H.M.: Provence rosés range in color from very pale shell pink to deep rose. Wines that are direct-pressed are often lighter, while those that are macerated are darker, but these colors do not correlate with the resulting concentration and flavor of the wine. Can you help us understand how to think about color in Provençal rosé?
E.G.: I never judge a rosé by its color—which is heresy in Provence. For me a wine should certainly have clarity, but to lose points due to color reduces the style to mere fashion statement.
Interestingly, this has been the first year I have actually heard Provence winemakers complain about the fashion trend for pale rosés, where the color is getting in the way of making a good wine.
Sadly, many rosés are pale due to technical winemaking—enzymes to speed up maceration, filtration, etc.
Darker grapes can give extra color with only a small amount of extra skin contact, but not enough to gain extra fruit. I also have had some great rosés made with saignée—sometimes slightly darker and fruitier, but by no means the devil it is portrayed to be.[1]
So, no: Color does not necessarily mean more fruit. Maybe this is a major problem that rosé has to deal with in identity. By concentrating on color, they have rather hung themselves on style. Dark does not mean fruit or sweet, pale does not mean quality.
M.H.M.: Can you say more about great saignée?
E.G.: Many producers, especially those who are biodynamic, are in favor of saignée, feeling that it is more ecologically friendly—nothing is wasted. When I suggested this meant they were simply harvesting the grapes too late for rosé, they answered by showing me their wines. Their claim is that great rosé wines do not need to be harvested early just to retain the acidity. With careful viticulture and vinification (good saignée can mean sitting by the tank ready to stop! and draw off the juice), there should be good acidity, a fresh pink color, and that charming fruit and character we all want.
M.H.M.: Winemakers seem to be treating their wines to more cellar work now than is perhaps traditional. I tasted many 2015s with lees aging and stirring, new oak—some winemakers are re-discovering concrete. What trends to you see in the winemaking, and in particular, which ones are worth watching?
E.G.: Many rosés do have lees stirring, which does give extra weight. Larger oak barrels, and not new oak, do give some good neutral weight.
D'Esclans is doing high-tech berry sorting for greater purity of fruit, and using a lot of new oak. I love the fact that they have challenged the otherwise very narrow definition of what rosé should be, and have raised the bar in the development of more complex pink wines. But to me, while their Garrus and Les Clans are lovely wines, they are not classic rosés.
A growing number are using cement and amphora. Also, the few that are biodynamic are showing rosés with much greater fruit intensity.
Some of my favorites:
Côtes de Provence AOP: Château Gasqui, Château Vaudois, Château du Galoupet, Domaine Gavoty
Côtes de Provence Sainte-Victoire AOP: Mas de Cadenet, Château Gassier, Domaine Richeaume
Bellet AOP (made with Braquet grapes): Clos Saint-Vincent, Domaine Saint-Jean, Château de Bellet
Bandol AOP: Château de Pibarnon, Domaine Tempier
Château d'Esclans and Château du Rouët are both good, too.
M.H.M.: According to Wines of Provence, American customers currently pay on average over $17 for a bottle of Provençal rosé. This price puts the wine in the "super-premium" sales category, and since many consumers still hold a perception of rosé as a light-hearted quaff, there may be a mismatch between price and expectations. What advice would you give a consumer trying to make a good purchase decision?
E.G.: My conclusion this year has been don't go cheap on rosés. There are many cheap and nasty rosés, with low residual sugar instead of fruit and nothing other than color and alcohol as saving graces.
M.H.M.: Any other thoughts about Provence rosé that will help us slake our thirst for wine and understanding?
E.G.: Just as you would buy a red or white according to variety, origin, and winemaker, the same needs to be done for rosé—if it wants to become a grown-up wine.
I would say do not buy for color alone. Yes, sure, rosé is pretty—but think about the taste. A good rosé with acidity, fruit, and charm can be a delightful wine to match all sorts of foods where a tannic red or a green-fruit white wine will never work. I have had some lovely dark Spanish rosés that are almost light summer reds. I have had fresh, leafy, and red-currant Cabernet Franc rosés from the Loire. The range is enormous, and the wine should not be sold just by color.
I think rosé is ready to grow up.
—Many thanks to Elizabeth Gabay, MW.
Thanks also to Wine Business and Wines of Provence for recommending this article to their readers.
View my Sample and Travel Policy.
Follow me on Facebook, Twitter, and Instagram.
[1] Saignée—literally "bleeding"—is the process of drawing a portion of juice from tanks in which red grapes have begun to macerate to produce a red wine. The step concentrates the must remaining in the tank, creating a higher skin-to-juice ratio and ultimately yielding a red wine with more color and flavor. The pink-hued juice that was drawn off is considered a byproduct and is sometimes poured out, but it's a common practice in France and elsewhere to vinify it into a rosé wine. This recoups investment by yielding a wine that's ready to drink—and sell—early, but these benefits hardly overcome the wine's second-class status as a winemaking afterthought. The alternative method of rosé production calls for a short period of maceration of red grapes, followed by direct pressing; those grapes, in other words, were picked and vinified to be rosé. These are called "pressed" wines and, simply because they are not a byproduct of red winemaking, generally enjoy a higher status in wine's baffling echelons.↵ back to text