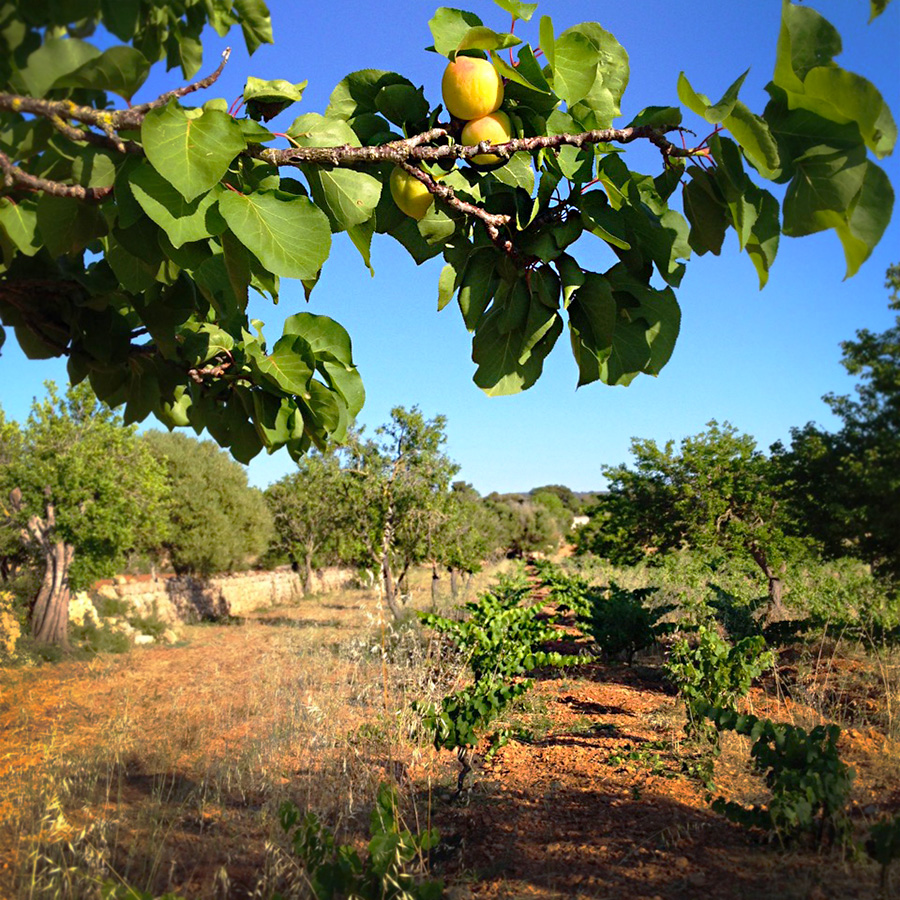 The Mallorcan light is shimmering, high-toned, buoyant and drifting in its medium, which is the Mediterranean sea air. It seems easy and at home here, a gleaming veil rippling in the breeze that teases the island's dry, red landscape. It kindles contrast everywhere, white light against dark earth. It is as much about black as white.
The undulating terrain of Mallorca is peppered with almond, citrus, stone fruit, and carob trees. The Tramuntana Mountains, along the island's western flank, are fringed with olive groves producing fruit and oil. The gently rolling central zone, the Pla de Mallorca, is home to grains, grasses, fodder, and potatoes. For a desiccated land, it yields.
Mallorca from the air
Almost everywhere, there are grapevines. Wine has been grown on the island for over a thousand years. After phylloxera, many indigenous vineyards were replanted with international varieties, or ripped and retrofitted to tree crops. Still, some contemporary producers are committed to working with the island's native grapes—Callet, Manto Negro, Giro Ros, Prensal Blanc, and others.
Pere Ignasi Obrador and Miquelàngel Cerdà are such winemakers. They produced their first vintage, two small barrels for their own use, in 1994. It was made from Callet, a native red grape that thrives in the old vineyards surrounding Obrador's family holdings in the southeast corner of Mallorca.
I said "barrels." Actually, they used milk cans.
Pere Ignasi Obrador in his vineyard
The Obrador estate, Son Burguera,[i] was a dairy farm. Located near the town of Felanitx, the property has been in agriculture since the thirteenth century. (And of course, wine has been made on farms—in the house or barn, the cellar or loft, the back kitchen or main hall—for thousands of years. We use what we have to make what we need.)
Friends and family threw praise on their first small batch. Emboldened, the makers transformed the cow barn into a working winery, adding stainless, cement, and, yes, barrels over time. They began purchasing vineyards and striking deals to source fruit from small nearby growers who shared their commitment to organic, sustainable, and biodynamic agriculture, and to the grapes native to their landscape. They named their label Ànima Negra, "Black Spirit."
I visited and tasted with Obrador in June 2015. Our first stop was a one-hectare vineyard of eighty-year-old, head-trained vines. The dry iron and limestone soils were brick red against the slanting day, the stones casting warped black shadows in the dust. A soft breeze tussled the grasses tangling in the vine rows. The place had a rakish, feral mien, agriculture just this side of nature.
This particular vineyard is planted only to red varieties, the native Fogoneau, Callete, and Manto Negro, plus a smattering of red table grapes. Along the perimeter, skirting limestone block walls that described a rangy clos, stood mature apricot, peach, and plum trees glowing with orbs of juicy fruit. These yield for their families four months of the year, said Obrador, through a translator. Plus, the mixed permaculture encourages biodiversity.
Stone fruit ripening in the vineyard; soil in the raking light
This plot lies just a few kilometers from the Mediterranean, and the onshore breeze the locals call embat generates a drying mesoclimate. The peaceful susurration of the winds that day was broken only by the grinding of a tractor dragging an agricultural sprayer along one edge of the parcel. I asked if they were applying biodynamic or organic preps. No, just water, said Obrador—"irrigating." It would be a short, shallow sip for these parched vines.
Rain is fickle during the growing season, he said, although it kicks up during harvest in September and October, when botrytis and other rot become a concern. Another problem is bird predation, but rather than canopy entire rows, as in many viticultural regions, they've developed white mesh nets that they tie over every cluster. Let that sink in. The hand labor must be staggering, and since the nets are nearly opaque, ripening demands the island's penetrating light.
The men now source fruit from one hundred and thirty-five tiny vineyards totaling merely forty hectares. Vine age averages fifty to eighty-five years. Their production is small by international standards, only twenty thousand cases. Grape contracts are of the good-faith, handshake variety in this rural corner of the island. In fact, said Obrador; "If you want a legal contract, they become suspicious."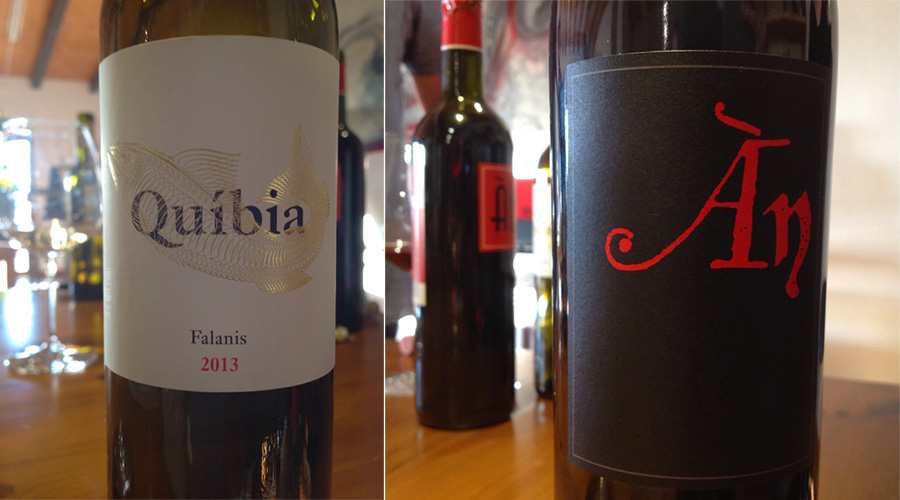 After our vineyard visit, we returned to the winery for a tasting of white and red wines across recent vintages. Although there are two appellations on Mallorca, Pla I Llevant and Binissalem, Ànima Negra's wines are classified as Vi de la Terra Mallorca—essentially table wine—because the appellation laws forbid use of the varieties and protocols the winemakers value.
I loved the wines. I loved the wild, rare-meat rusticity of the reds, the interplay of earth and fruit and succulence. I loved the way the whites modulate savoriness and sunlight, honey and straw, their rhythm of yellow fruit against white stone.
As we concluded the tasting, the raking afternoon light began playing against our bottles and glasses, lighting the wine from inside—and reflecting the landscape outside, perfectly.
TASTING NOTES
2013 Ànima Negra Quíbia Falanis Vi de la Terra Mallorca
A white wine blended of the red Callet with white grapes Prensal Blanc and Giro Ros, vinified cold in stainless and concrete, then aged in concrete vats. It is pale and straw-scented, with a fragrance of the herbs in that warm, dry vineyard we visited. It has a honeyed sweetness, like yellow pear or peach skin, but it's also dusted with petrichor, like water on limestone. The body is really lit up, and herbs return at the finish, with more straw and salt.
2014 Ànima Negra Quíbia Falanis Vi de la Terra Mallorca
The 2014 vintage was dry, and the house made 40 percent less wine that year. But it was also a warmer and riper vintage, and this wine shows the resulting concentration. The blend is similar—mostly red Callet with Prensal Blanc and Giro Ros—but it's a more fruit-centric wine, less herbal. Quince, Asian pear, Anjou pear, and Crenshaw melon flesh out the middle, and the wine finishes in a blaze of sweet birch wood and ginger.
2013 Ànima Negra Àn/2 Falanis Vi de la Terra Mallorca
This red is a blend of Callet, Manto Negro, and Fogoneu, brilliant garnet with cherry-red glints. The scent hits high notes of red flowers and mint and bass notes of cured meats and smoked herbs. The body feels fine-toothed, sharp and see-through, with lean red fruits shot with striations of dark anise and woodsy spices. It's juicy and complicated.
2012 Ànima Negra Àn Falanis Vi de la Terra Mallorca
Àn is the winery's flagship red, made from 95 percent Callet with a balance of Manto Negro and Fogoneu. The fruit is grown in a calcareous limestone vineyard called Son Negre—"Dark Region"—then fermented in concrete and aged in new French barriques. This vintage is a dark garnet ruby color, much darker than the Àn/2, not opaque but not transparent, either. The aromas are mixed: raw fruit and rare meat, violets, smoke, earthy red flowers. It's moody and mixed on the tongue, too, with more meat and black fruits and bitter herbs, and a finish like espresso. It's a dark, brooding, earth-tied wine.
2011 Ànima Negra Àn Falanis Vi de la Terra Mallorca
This is biggest of the three vintages of Àn tasted here, with the wine's characteristic smoked earth flavor rinsed by darker, rounder fruits. There's also a pronounced mineral element, as if those black cherry and brambly berries had been macerated with salt. It wears its oak well.
2010 Ànima Negra Àn Falanis Vi de la Terra Mallorca
Higher toned than the 2012 and less fleshy than the 2011, but it still has ample meat and spice and savoriness. It reads almost like a Syrah but without the weight of those made in most warm climates. This wine is pulled back a little, more linear, with the oak a veil across the fruit's native purity and brilliance. These wines love it when the soil and sun shine through.
[i] In the Mallorcan dialect, "son" refers to a small area surrounding farm buildings. I asked if this was similar to the French word "mas," meaning farm or estate. It's similar, replied Obrador, but much smaller. Perhaps it's akin to what we in New England call a "dooryard."↵ back to text
Travel was sponsored by Wines of Spain and the European Union. All wines were tasted at the winery and were media samples for review. Imported by MundoVino, a member of The Winebow Group.
View my Sample and Travel Policy.
Follow me on Facebook, Twitter, and Instagram.