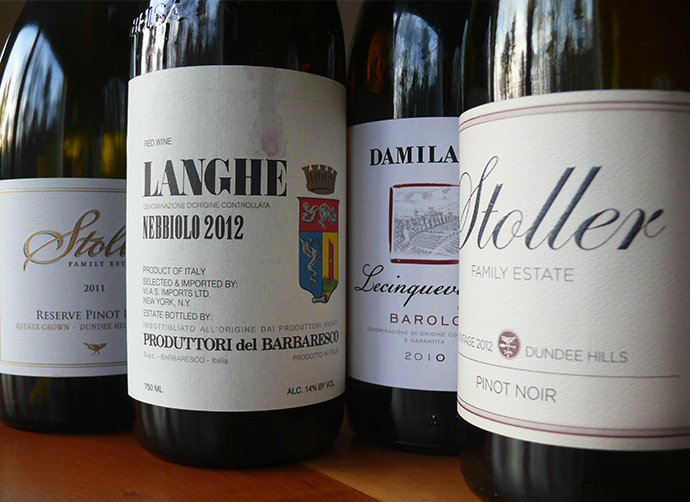 Pinot Noir and Nebbiolo might seem strange bedfellows. The first is the grape of Bourgogne, the second of Piemonte, and although you could drive from Barolo to Beaune in under six hours, the regions are as different as Gorgonzola and Gruyère.
As European zones with deep histories, they maintain fiercely independent and undiluted cultural identities, which naturally find expression in their culinary traditions. Wine and food grow up together, and they collaborate to produce a region's gastronomic signature: Think Pinot Noir and Boeuf Bourguignon, Nebbiolo and Brasato al Barolo. You cannot lift one element out of context and fit it neatly into another, because despite similarities, the elements are specific and precise and local. Food is a declaration of tradition. Wine rings the bell of culture. Repeat the sounding joy.
And yet, and yet—. Pinot Noir and Nebbiolo share a sensibility, a gestalt, some aromatic ingredients. Both have clear-eyed intelligence. In the hands of deft farmers, these grapes will produce wines with great transparency, keen acidity, and a tannic framework bedecked with garlands of spring flowers, red berries, herbs, forest, and earth. Age burnishes their texture and tea-tartness, elaborating the broader features and sharpening them into fine details. These render them more individual, but even fully developed, they may seem akin.
I might have known intellectually about this similarity; perhaps I'd read about it—there's ample commentary in the literature. But this week's tastings afforded the opportunity to feel it, to ruminate on Pinot Noir, Nebbiolo, and the affinities that belie origin.
Both vines have rambled afield over the last few hundred years, taking root in vineyards throughout the New World, but Pinot Noir is indisputably the more promiscuous grape. It now has a strong presence in North and South America and the Antipodes.
Along our country's cool Pacific fringe, Pinot Noir speaks with its best American accent. The Pinots of the Dundee Hills, in Oregon's Willamette Valley, are noteworthy. Grown primarily in iron-rich Jory soils rather than in the limestone clay of the Paris Basin, their spare precision nonetheless evinces a kinship with true Burgundy.
Traveling recently in Oregon, I had the opportunity to taste many Pinots from the recent vintages. As my notes here repeat, the riper 2012s are genial now and possibly more age-worthy than the 2011s. But the best from that cooler 2011 vintage have a chiseled angularity I find both decorous and alluring.
Nebbiolo, meanwhile, is far less common than Pinot Noir everywhere, even in the anything-goes United States. Most of our Nebbiolo is grown in California's Central Coast and Sierra Foothills, and some in the Pacific Northwest. You'll even find a little at Barboursville Vineyards in Virginia, husbanded by piemontese winemaker Luca Paschina. Chalk it up to an expat's devotional ardor.
The only American Nebbiolo with which I'm at all familiar came from Randall Grahm's Ca' del Solo estate in Soledad, California. That vineyard was a party mix of grapes skewing heavily Northern Italian—Moscato Giallo, Dolcetto, Barbera, Freisa (but also, curiously, Albariño). I use the past tense here because the vineyard has since been sold, ripped out, and replanted. It's a pity. The 2007 Ca' del Solo Nebbiolo is drinking gloriously now, all leather and violets, a success that surprises even the winemaker.
This week's tastings confirmed that I don't drink nearly enough Barolo or Barbaresco, nor enough red Burgundy. But I follow the grapes, the family inheritance, wherever they roam. When my tongue finds the bloodline, I drink.

2010 Damilano Lecinquevigne Barolo DOCG
14% abv | $35 (sample)
How can a wine smell simultaneously of leather and spring flowers? It's earthy, like the forest after autumn rains. It's fresh, like just-sprung daffodils and violets. There is also anise, crushed basil, oiled wood, and mint; the finish is tea and blossoms. The Nebbiolo derives from 30- to 50-year-old vineyards in Barolo, Verduno, Grinzane Cavour, La Morra, and Novello—hence Le Cinque Vingne, the five vines or, colloquially, five vineyards. Although it lacks the grit and authority of most young Barolo, it's an incredibly accessible and light-textured wine, ready to drink now.
2012 Produttori del Barbaresco Nebbiolo Langhe DOC
14% abv | $22
Clear brilliant garnet, a color that radiates youth and acid. The perfume of strawberries macerated in balsamic, Thai basil, and pine yield to an exceptionally light textured and tea-sweet body with lustrous acidity. Its tannins seem reticent at first, then slowly pull you into their velvet grip; it finishes with tart woodsy berries. This 100% Nebbiolo was grown in several vineyard sites in Langhe, all on limestone soils. It's an exceptional value when Nebbiolo calls.
2012 Stoller Family Estate Pinot Noir Dundee Hills
13.8% abv | $30 (sample)
Lyrically floral, sweetly fruity, and beautifully rubescent, this estate Pinot is ripe with plum fruits and raspberries, mint and juniper, cranberries, red currants, and cypress. Its silky tannins are carried in a fretwork of acid and minerals, but the wine also has enough structure and substance to age agreeably. The 2012 vintage in Oregon was warm and smiling, and this wine's restraint, elegance, and expressiveness reveal the deft hand of winemaker Melissa Burr.
2011 Stoller Family Estate Pinot Noir Reserve Dundee Hills
12.5% abv | $45 (sample)
Oregon's 2011 vintage was cool and slow, and when rains hit in September, winegrowers had a tough choice: Pick under-ripe fruit immediately, or wait out the rains, risking mold and disease. Happily, Stoller's estate enjoyed warm dry weather in late September. Harvest began in mid-October and continued into early November—the winery's latest vintage to date. This wine's lissome clarity beautifully articulates the season's elements. Pale garnet color, it has a perfume like strawberries steeped with tea and basil, plus bass notes of leather and earth. The body carves a clear line across the palate, with a filigree of lean pink fruits and spring herbs playing across the top. This is an extremely light-hearted and elegant Pinot Noir, sharp like a little jewel. Highly recommended.
Follow my reviews on Vivino and Delectable.